ALL OF MY RECORDS ARE FOR SALE:

Hello fellow record enthusiasts:

In preparation for an eventual move away from Seattle, I've decided to sell my record collection. I started collecting records as a teenager in Cleveland, Ohio, eventually working in record stores in Chicago for 10 years, then owning my own store in the Hyde Park neighborhood on the Sound Side of Chicago. For the last four years I've worked at Sub Pop records in Seattle. So, I've accumulated a massive amount of all types of records, most in excellent condition. Rare r+b, jazz, rock, 20th century classical, hip hop, US hardcore, house, electronic, private pressings, northern soul, oi, dub, disco, UK punk, indie, singles, LPs. Original pressings mostly, but also deluxe reissues, bootlegs, endless amounts and heaps of stuff.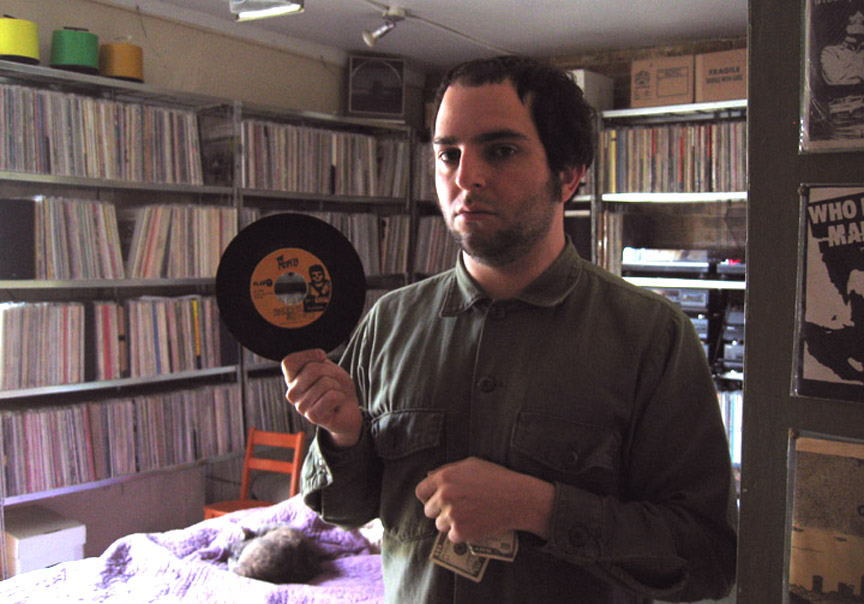 These LPs will be priced approximately 20% below the current going online rate on sites like Discogs or eBay (completed sales for reference). For people buying larger amounts, I'll be happy to give a percentage off of the total sale.
If you're in the Seattle area, please make an appointment to stop by. You can have a leisurely day of browsing the collection with some hot tea and toast. Take your time, listen to things, do some online research compliments of my high speed wi-fi connection. When you're done I'll give you prices for all of the records that you've selected. You're under no obligation to buy them. This is low pressure sales at its finest.
If you're not in the Seattle area, make an appointment to call on the phone and we'll talk about what you're looking for. We can discuss early pressings of Fall LPs, Victoria Spivey, the good and bad eras of Cecil Taylor. Pointless Beatle bootlegs, Phil Cohran 7"s, and how I ended up with 12 copies of Fripp + Eno's No Pussyfooting.
In all honesty, there are some really incredible records here. I've collected them as a safety net after growing up somewhat poor. Luckily I've never had to use that net, and I'd prefer to not have to lug these to the next place I move. What doesn't sell this way will be listed on Discogs or sold in chunks on eBay.
Thanks for reading all of this. Feel free to contact me at derekerdman@gmail.com with any questions you have. Below are a bunch of photos of spines for you to look at, click on the photo to make it much bigger. It's a tedious process, I know, but it will give you a slight idea of what we're dealing with here. I also have a ton of books, you can buy that stuff too if you want.
Take care,
Derek Erdman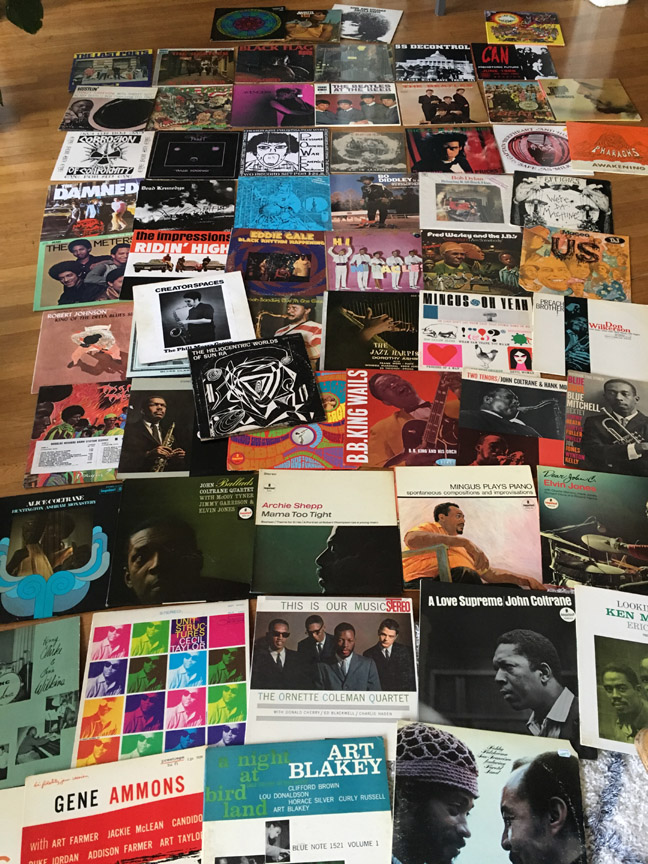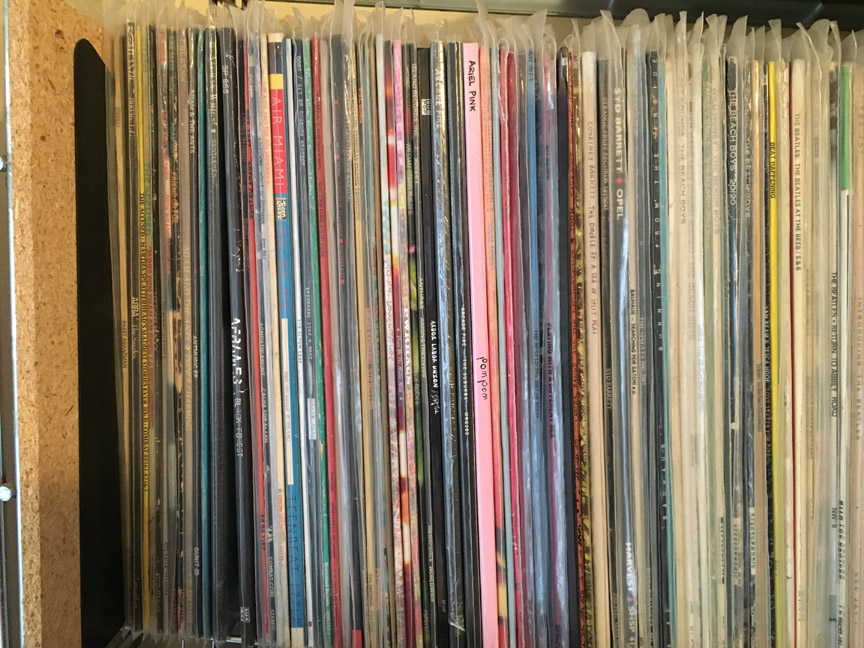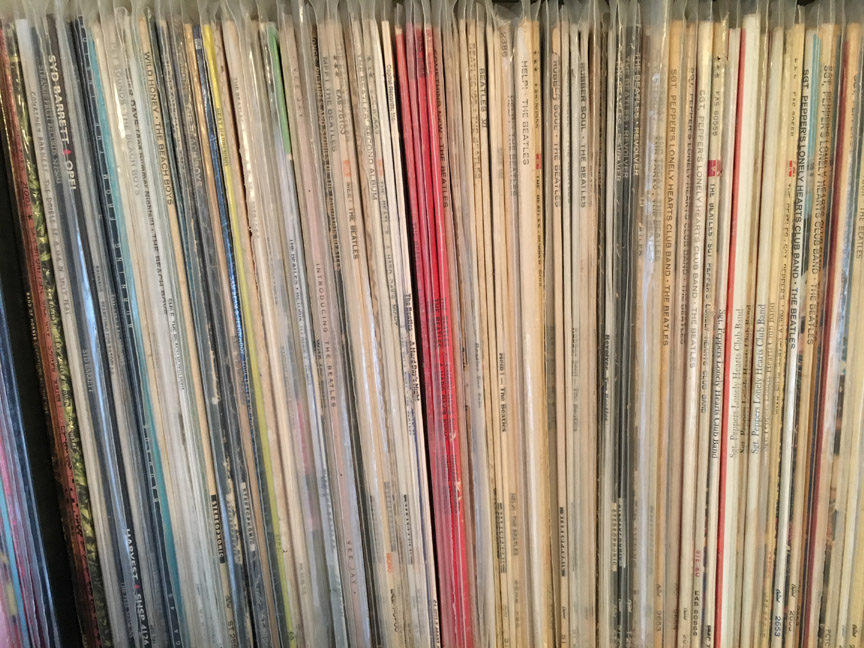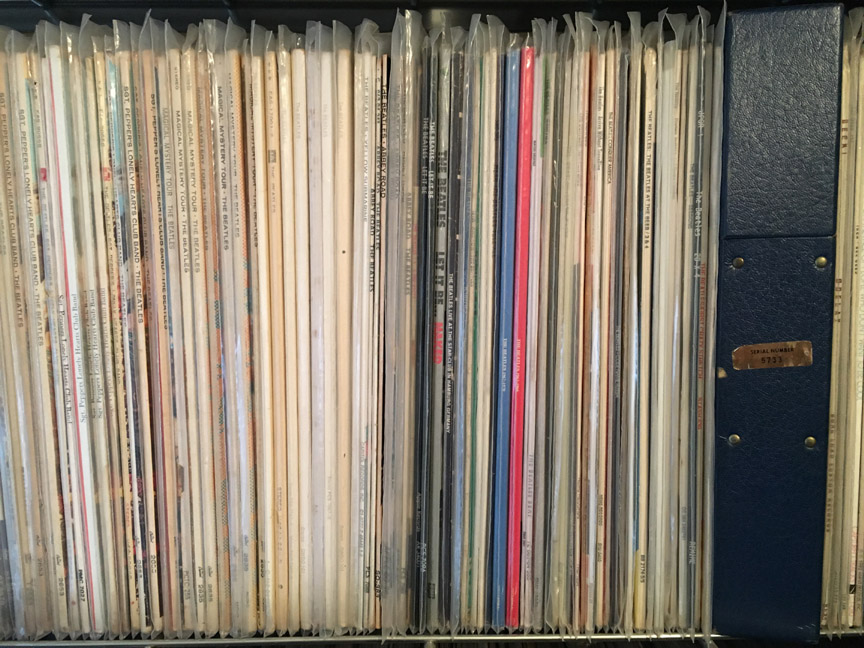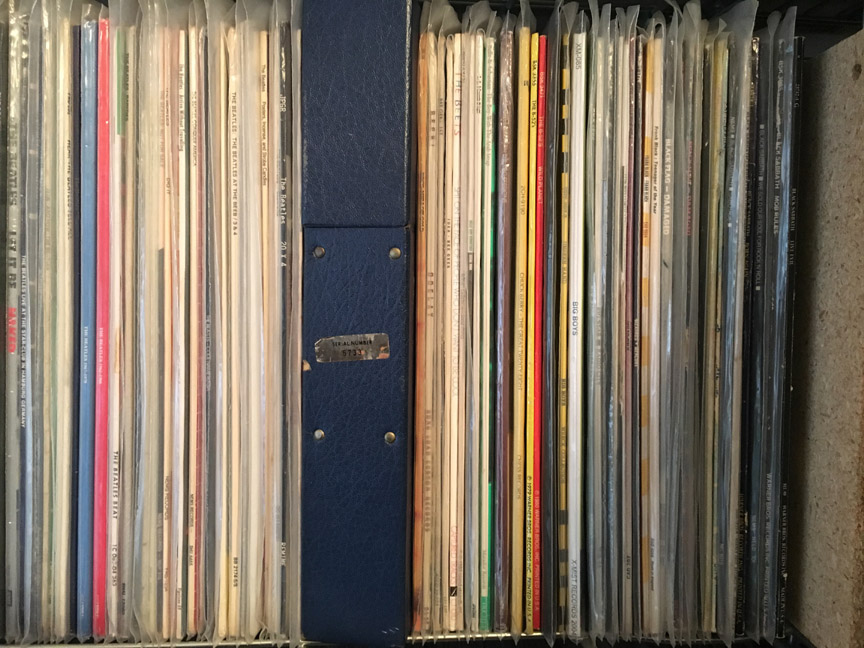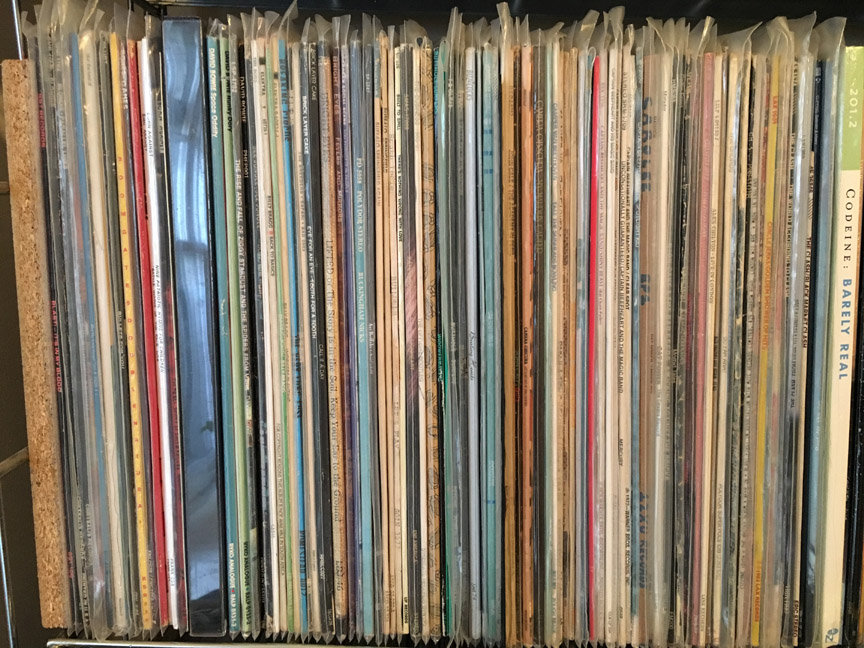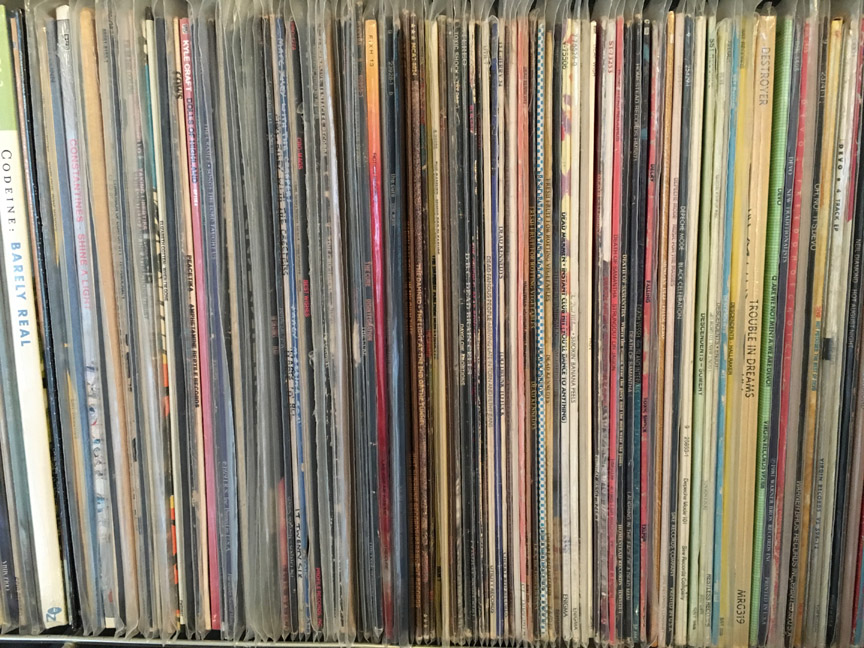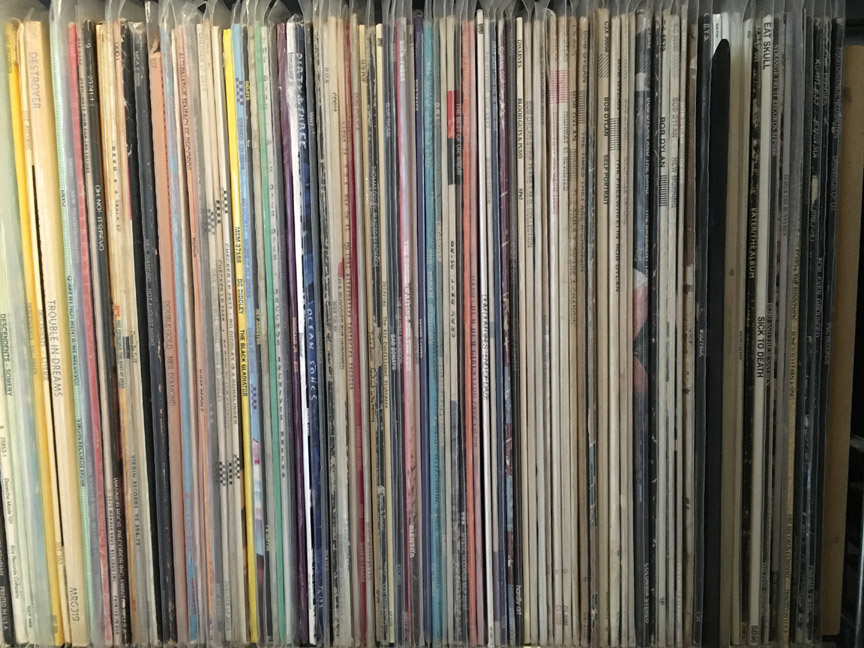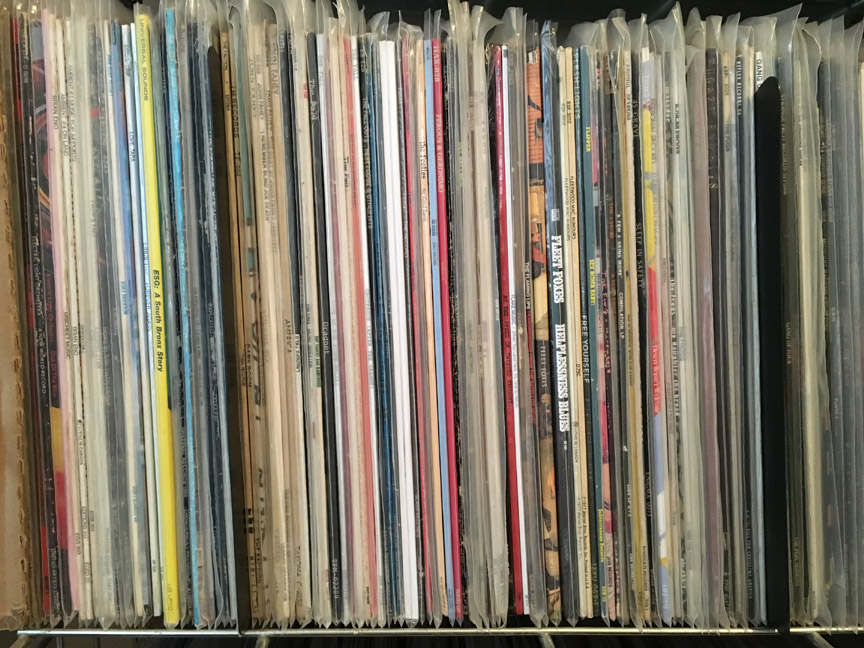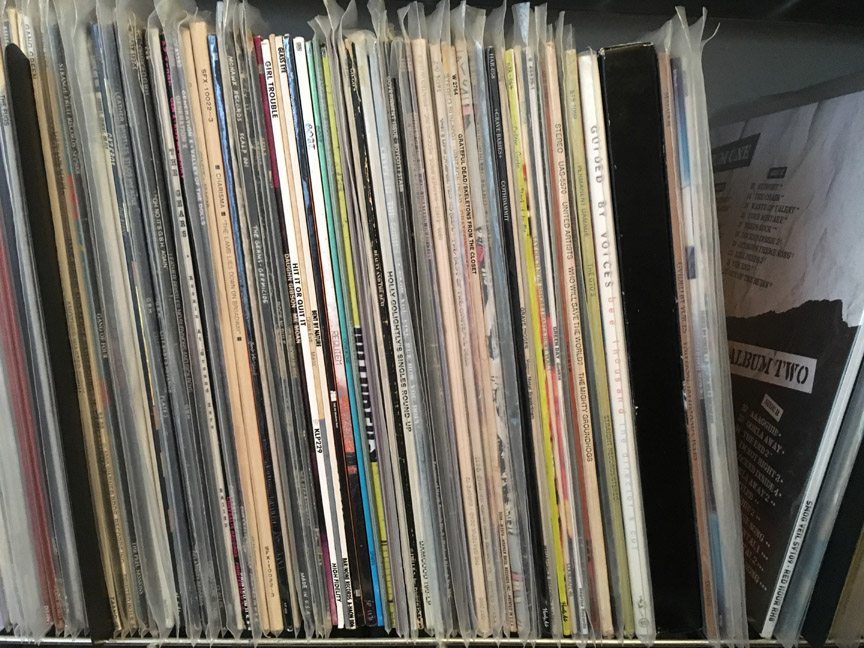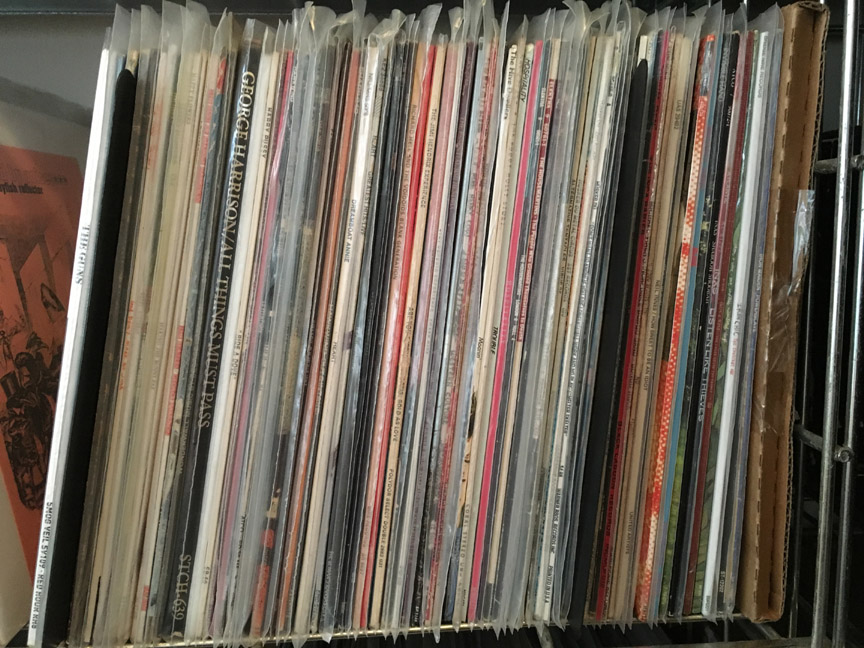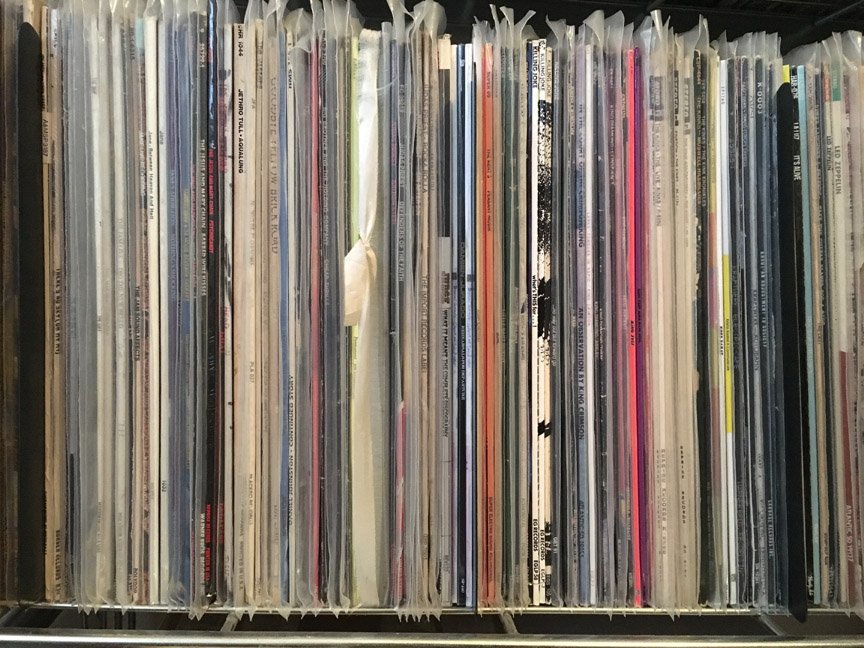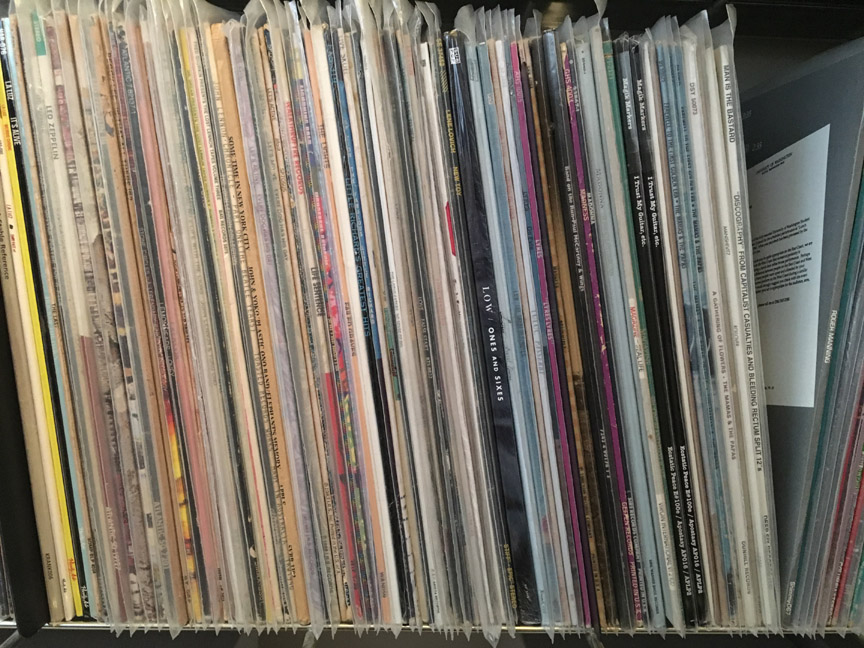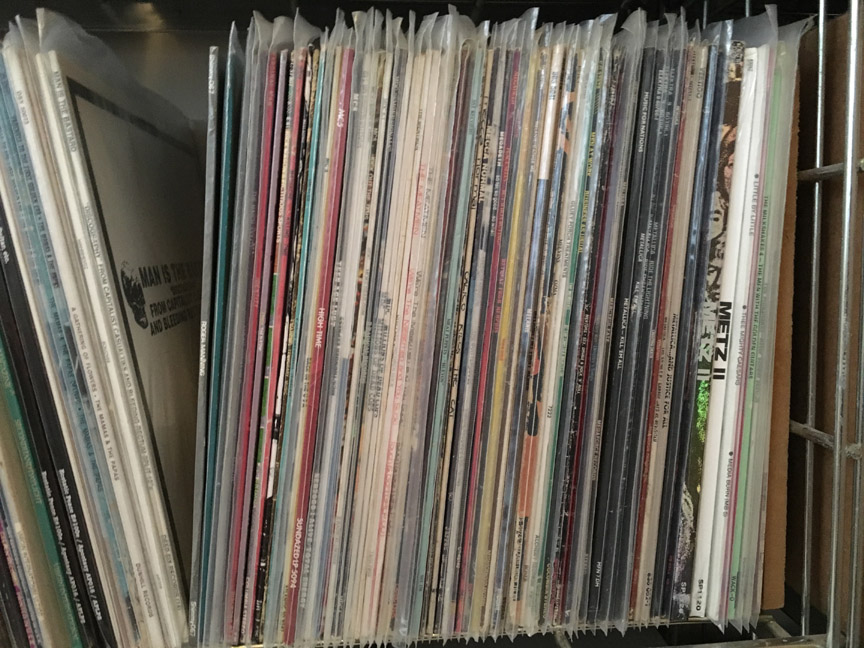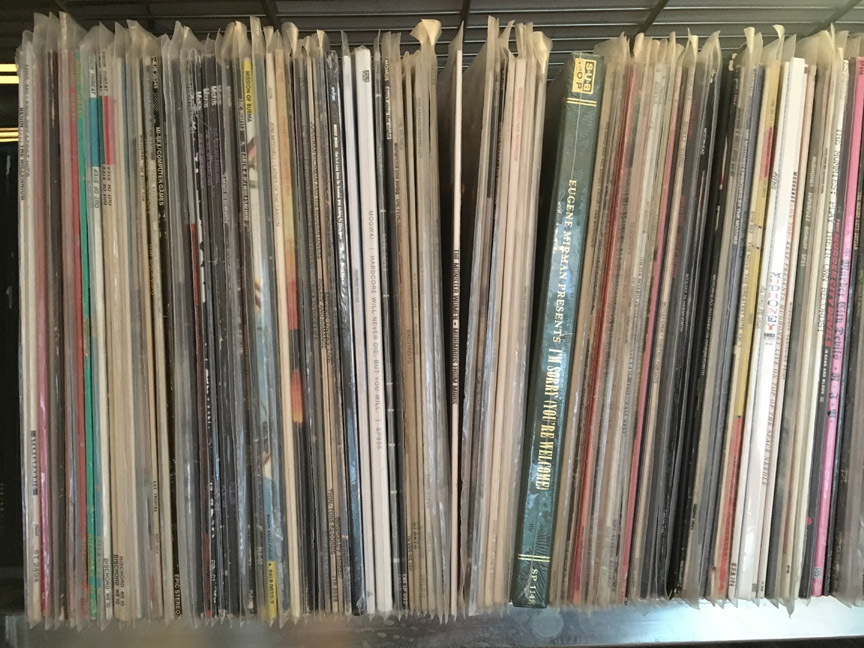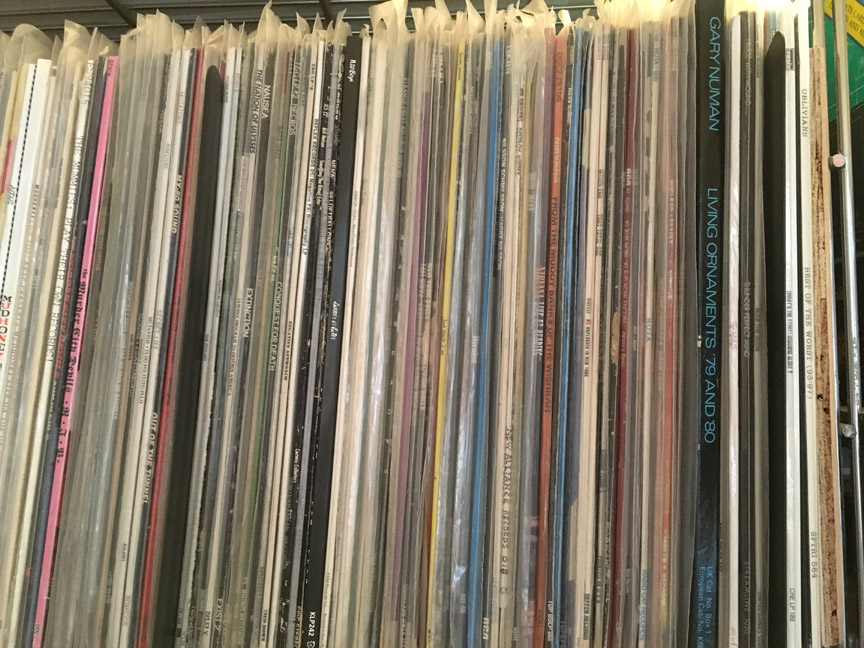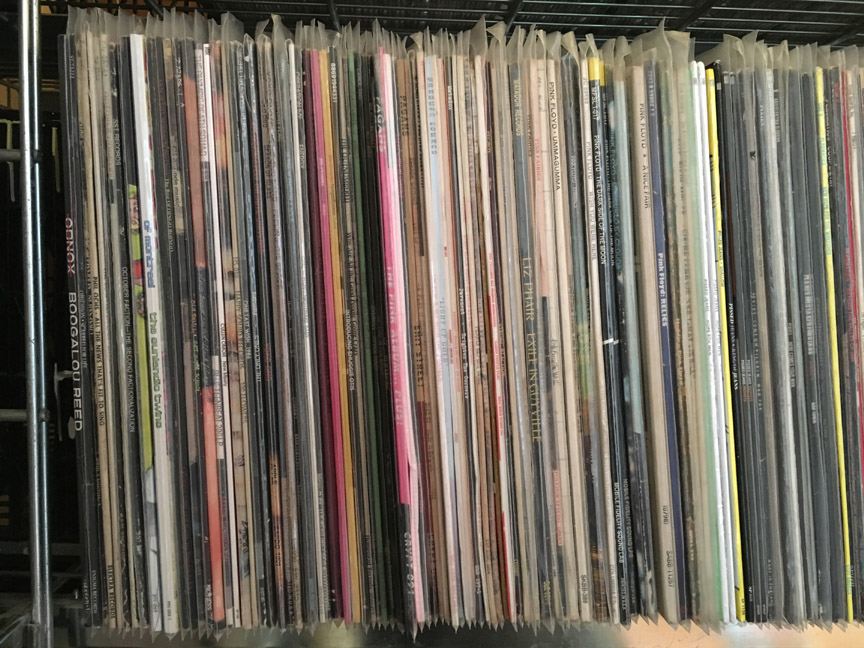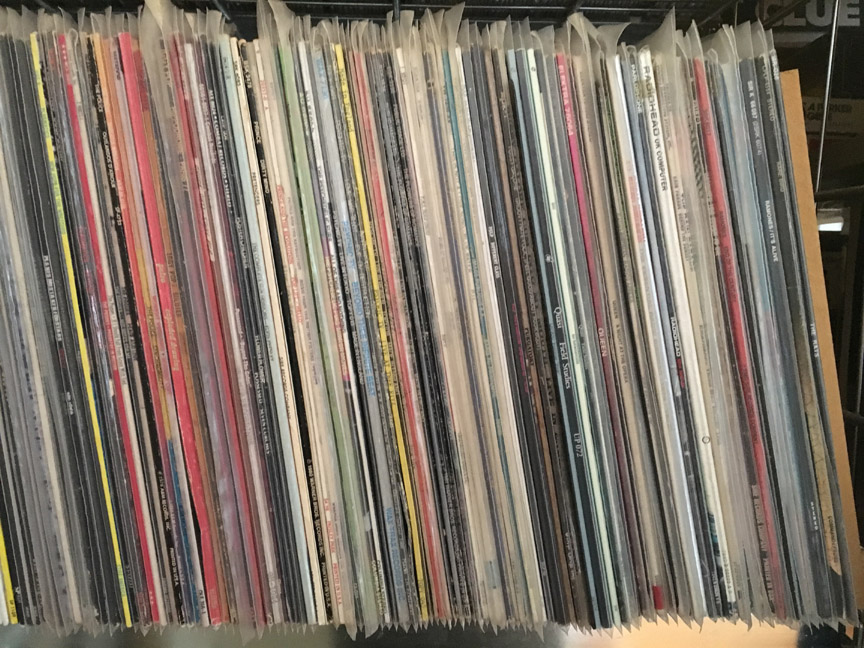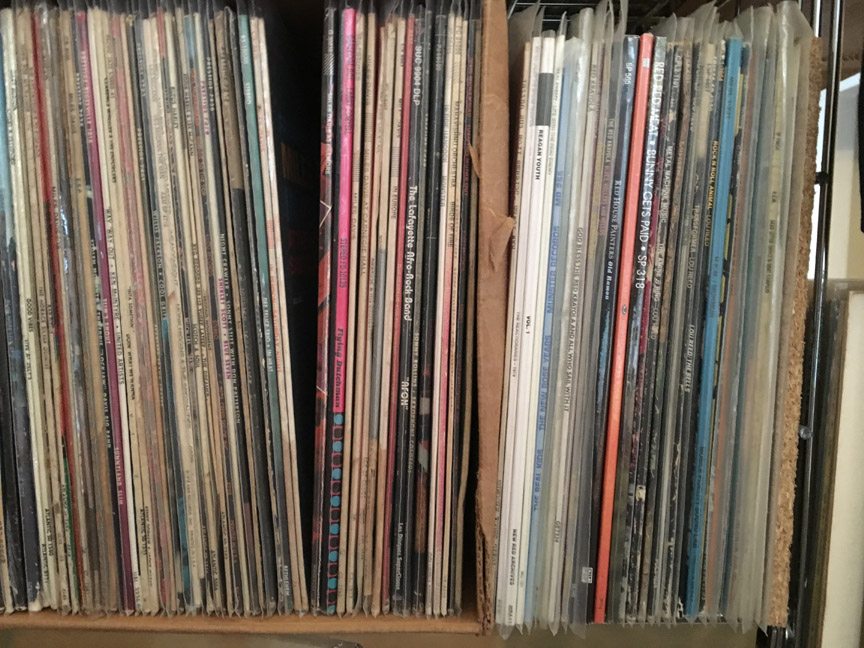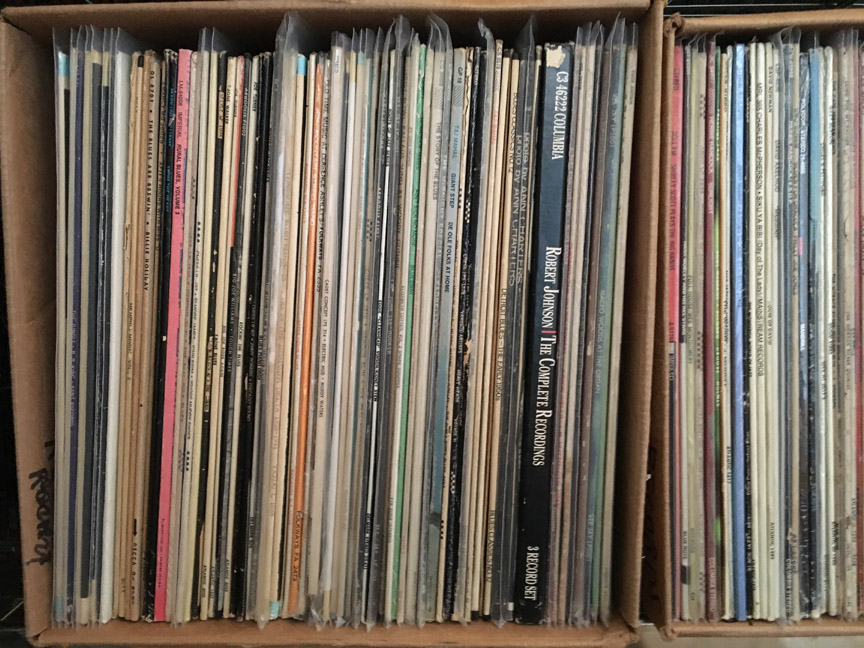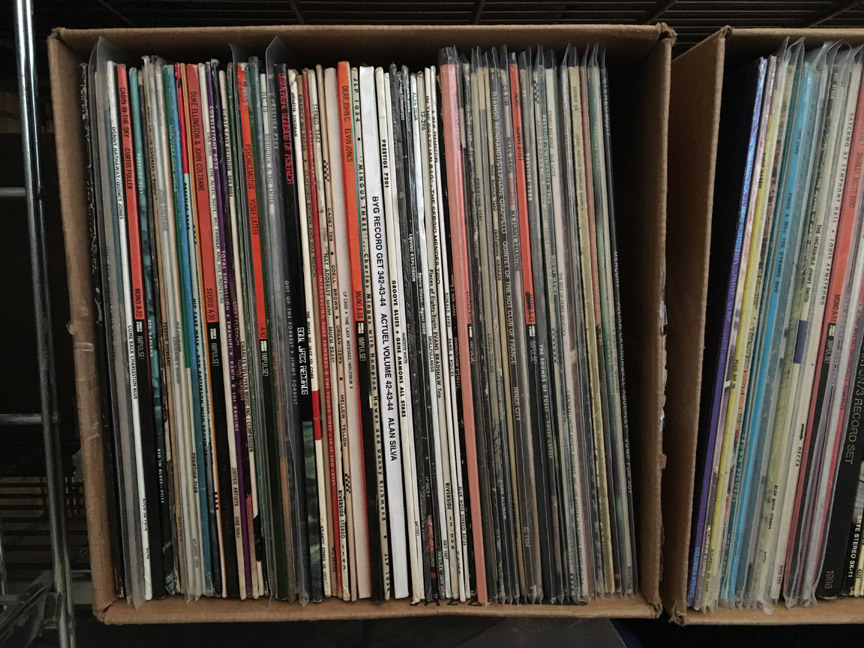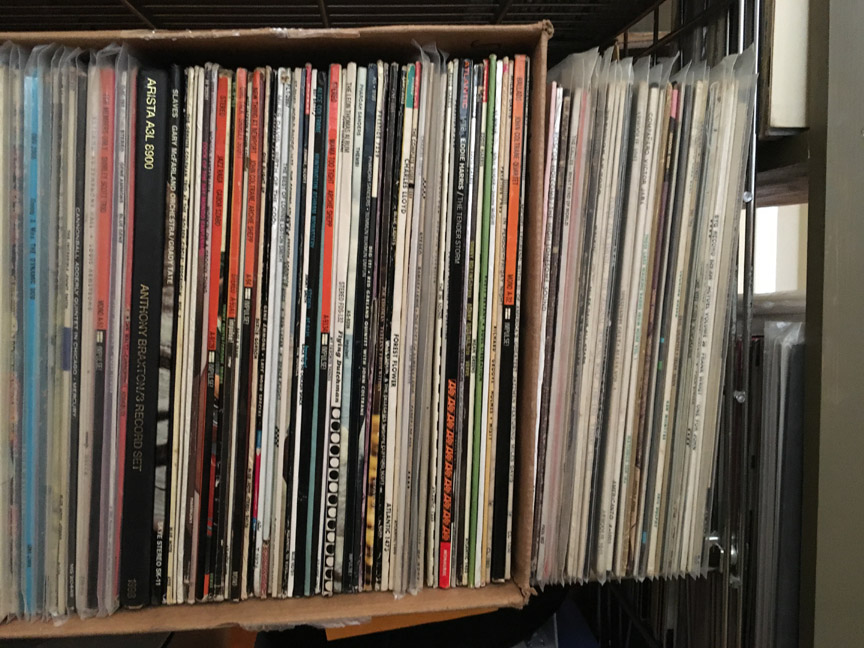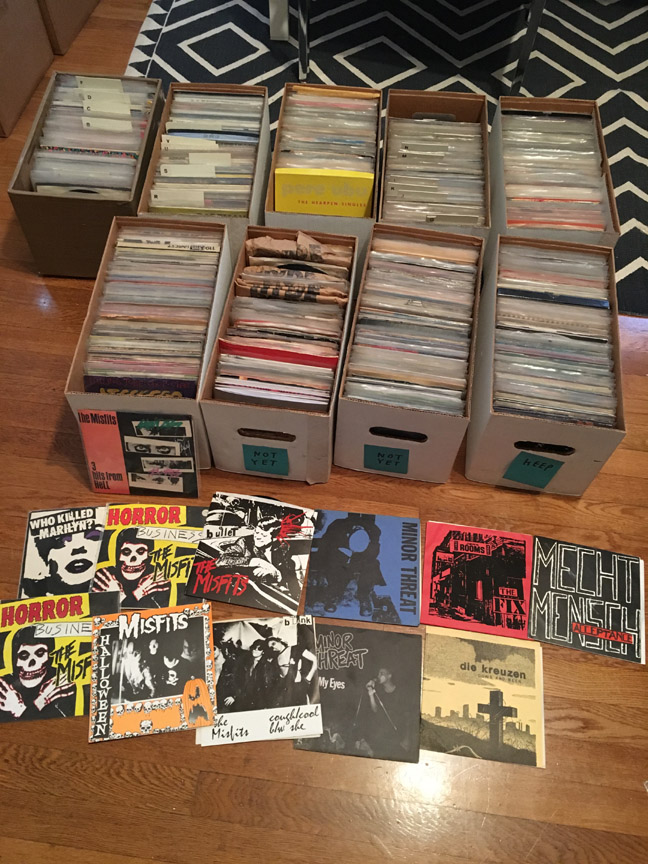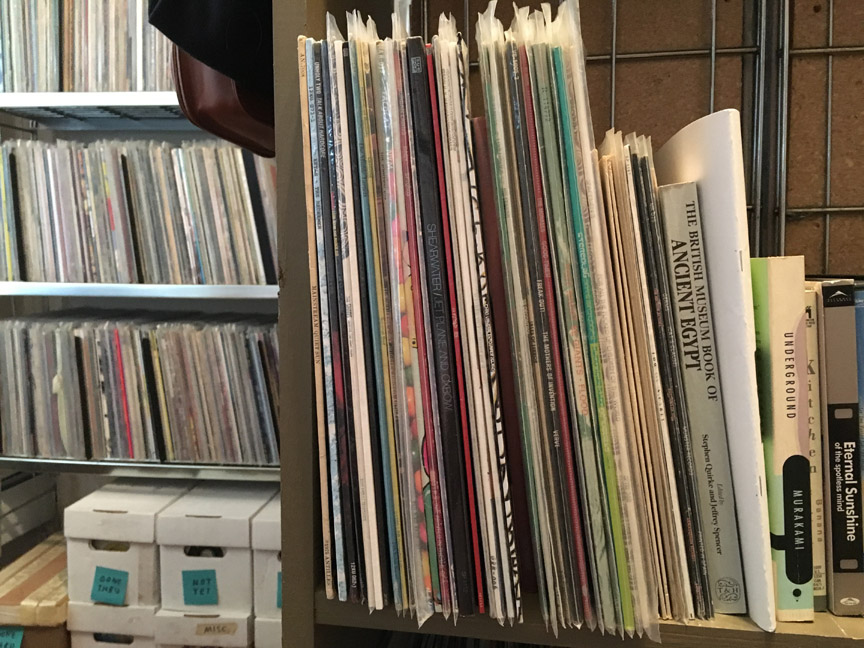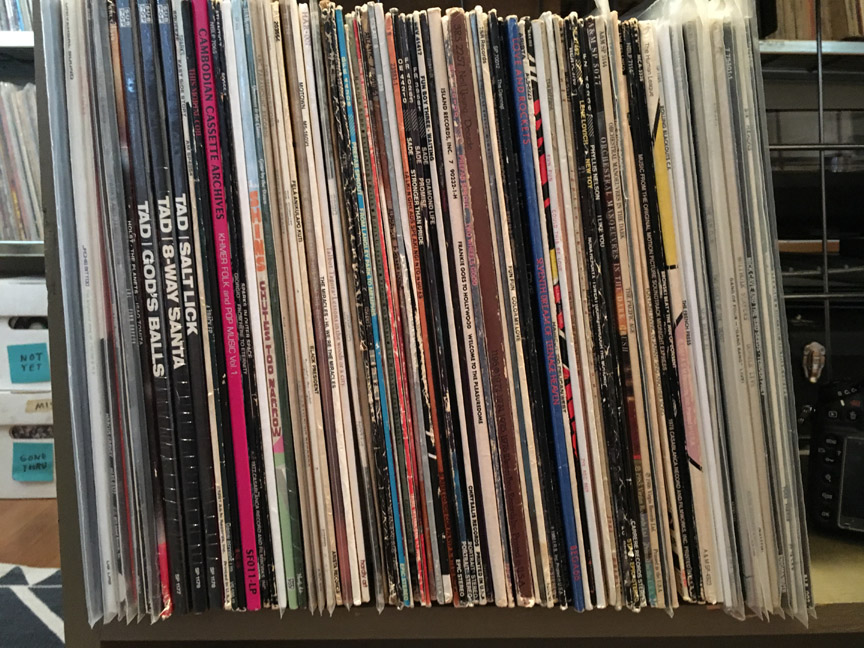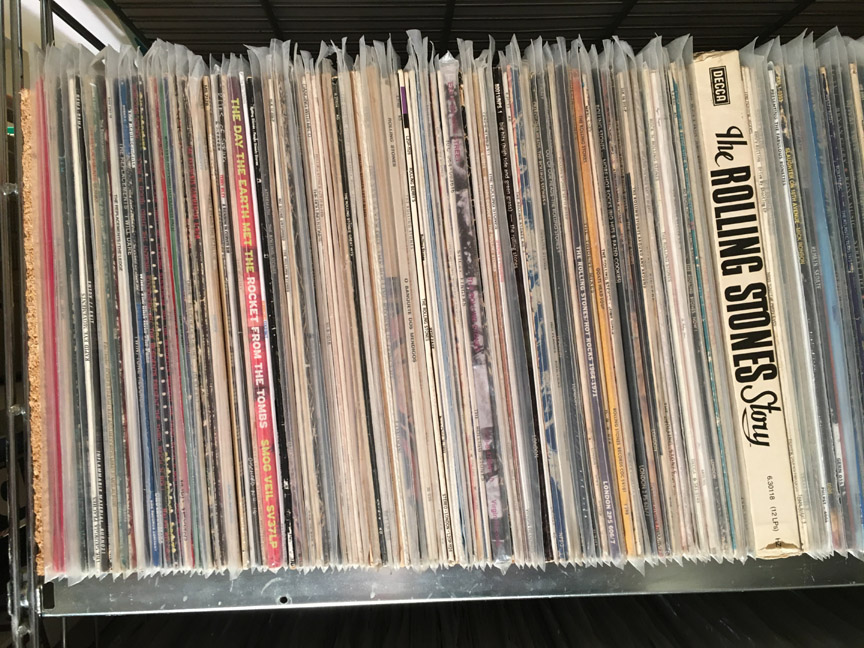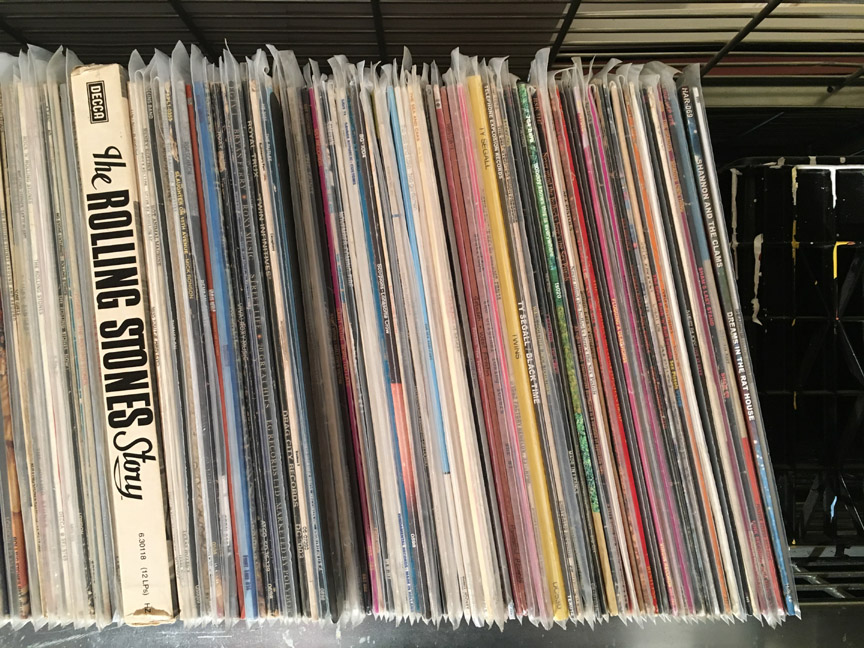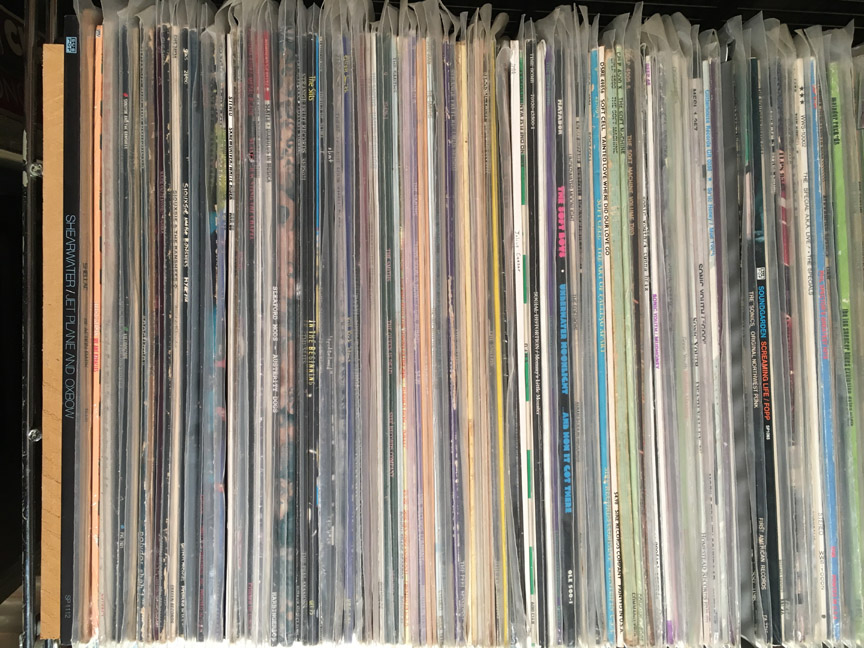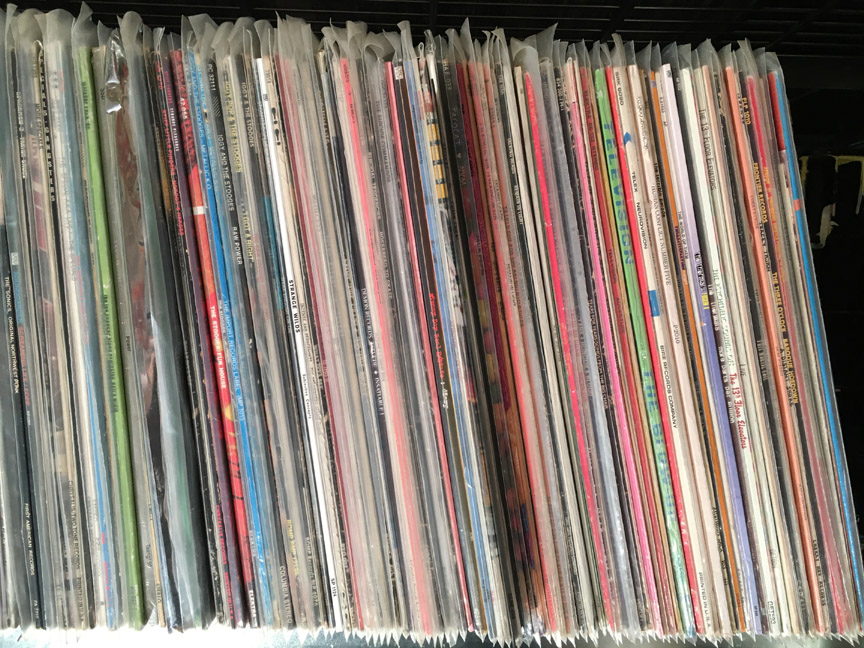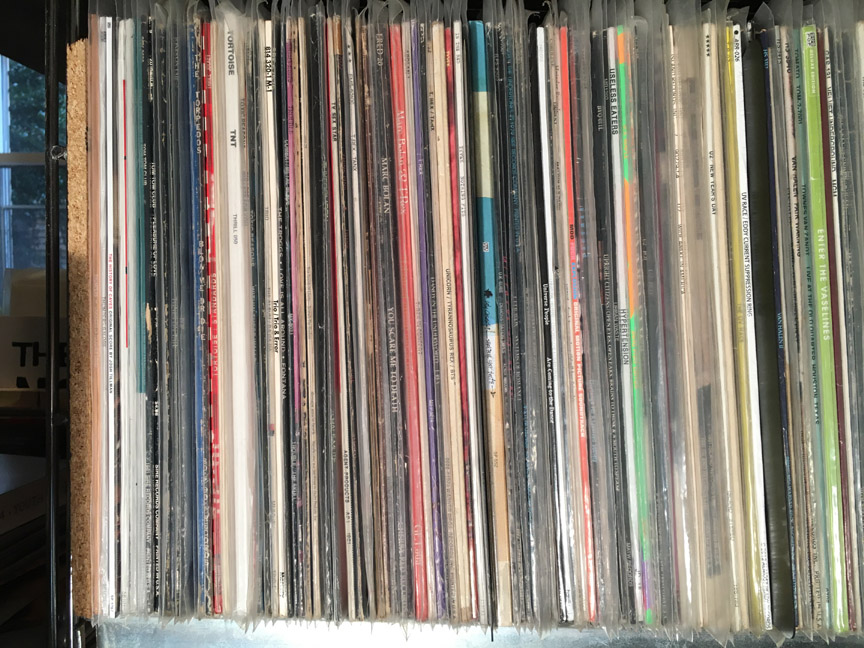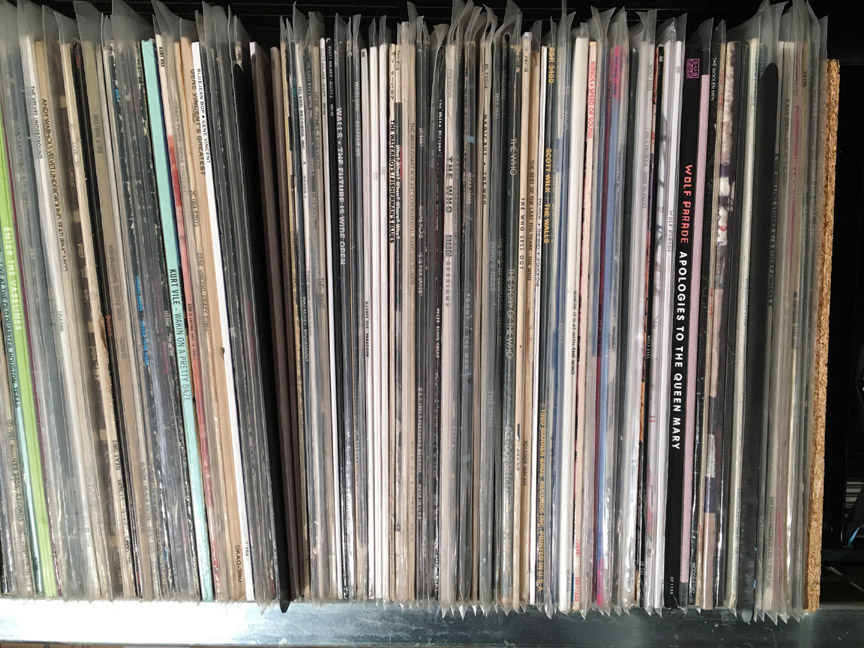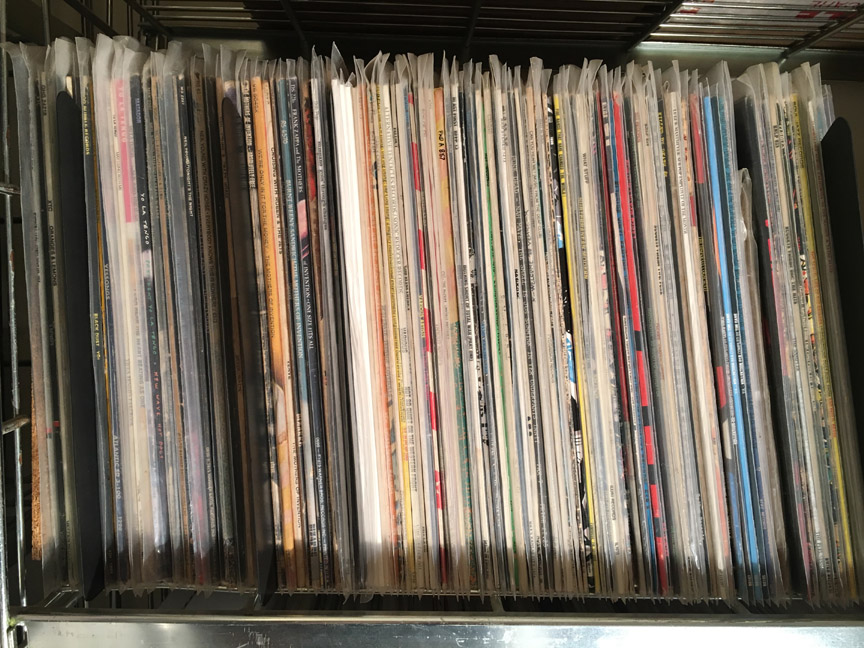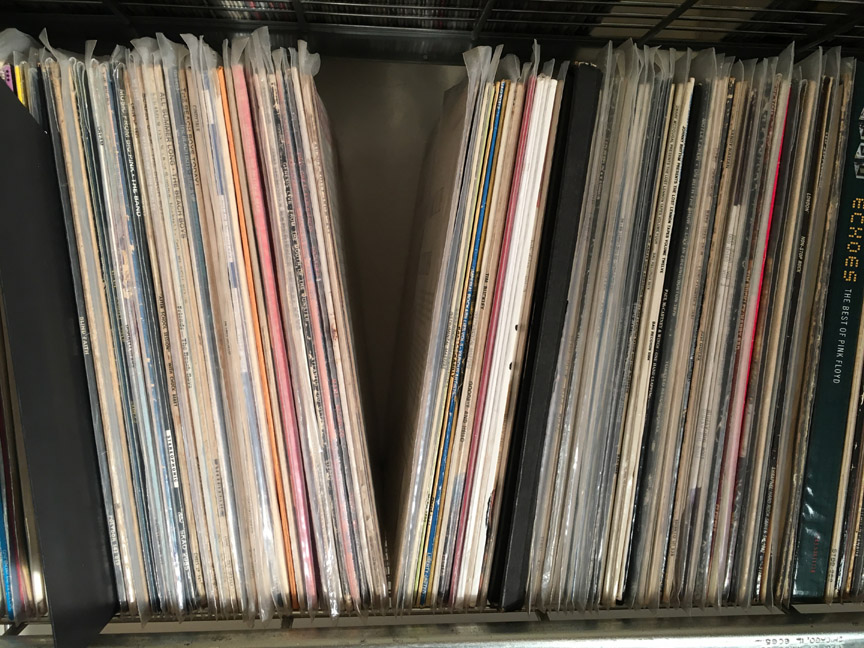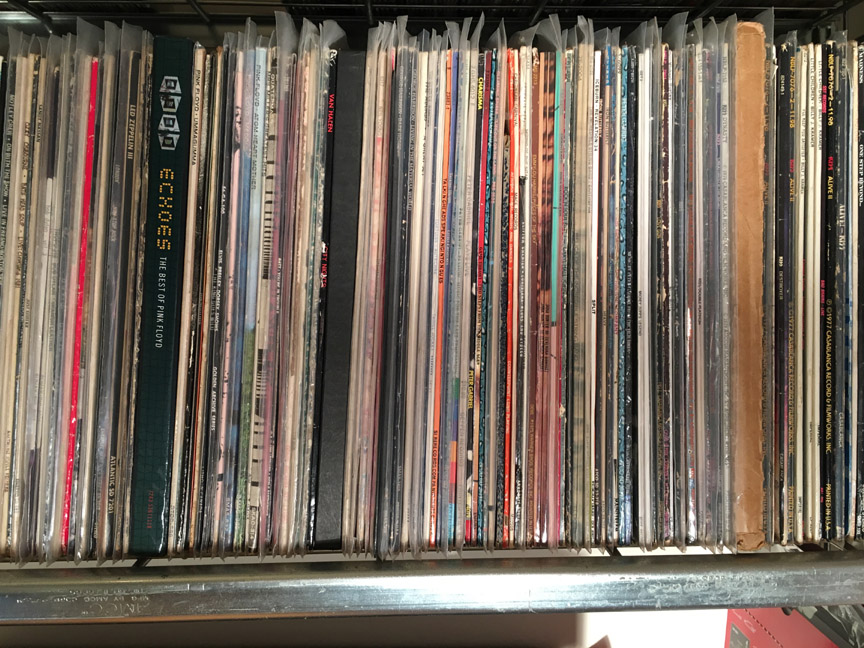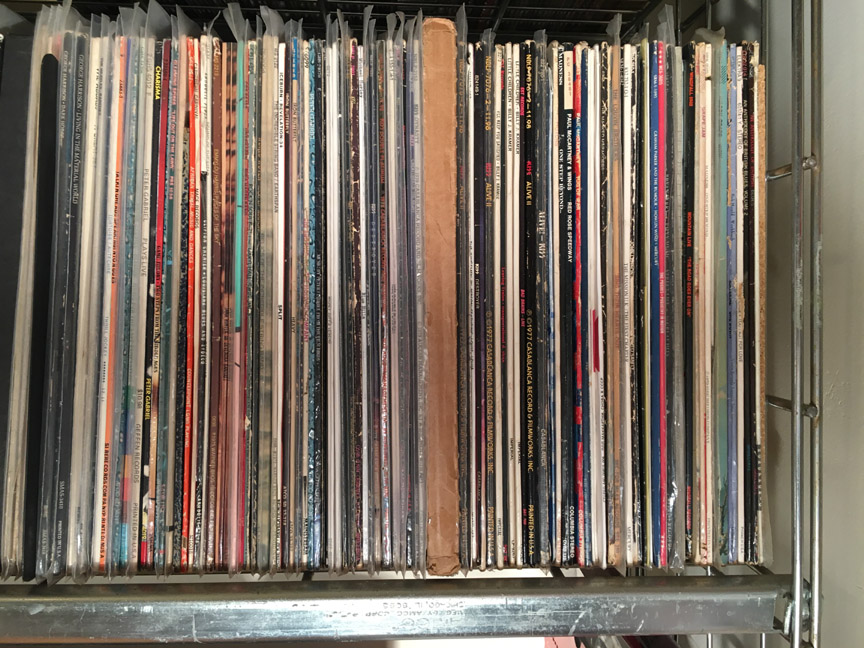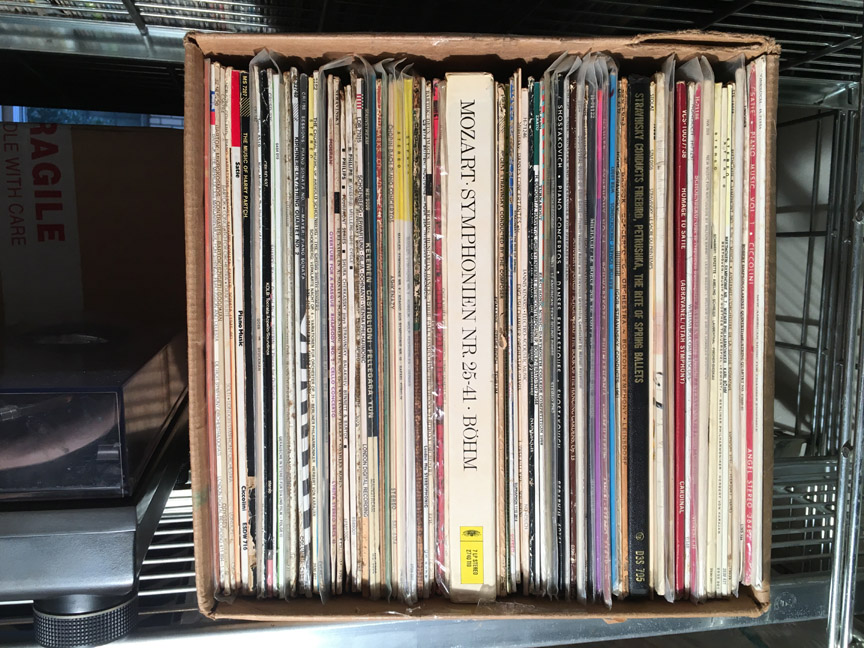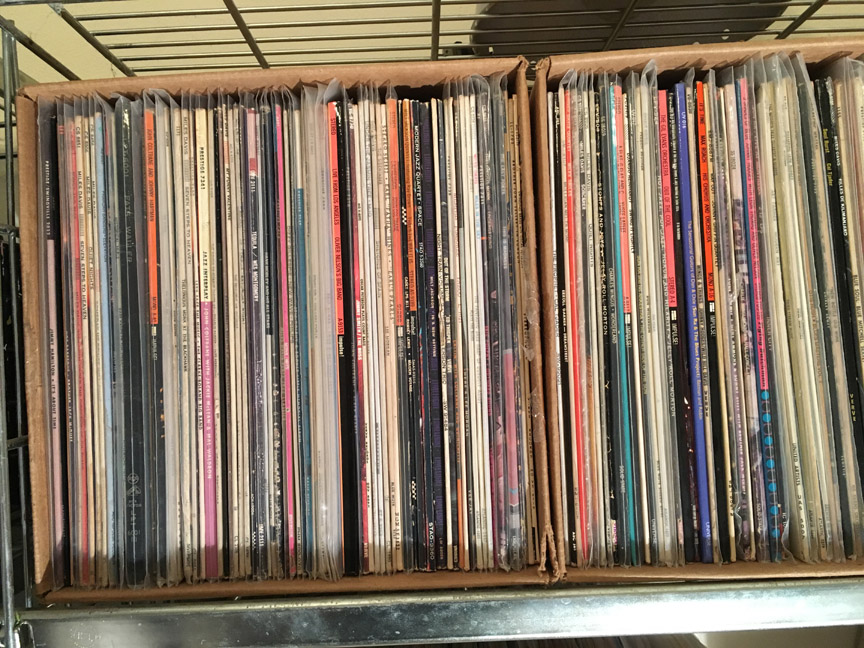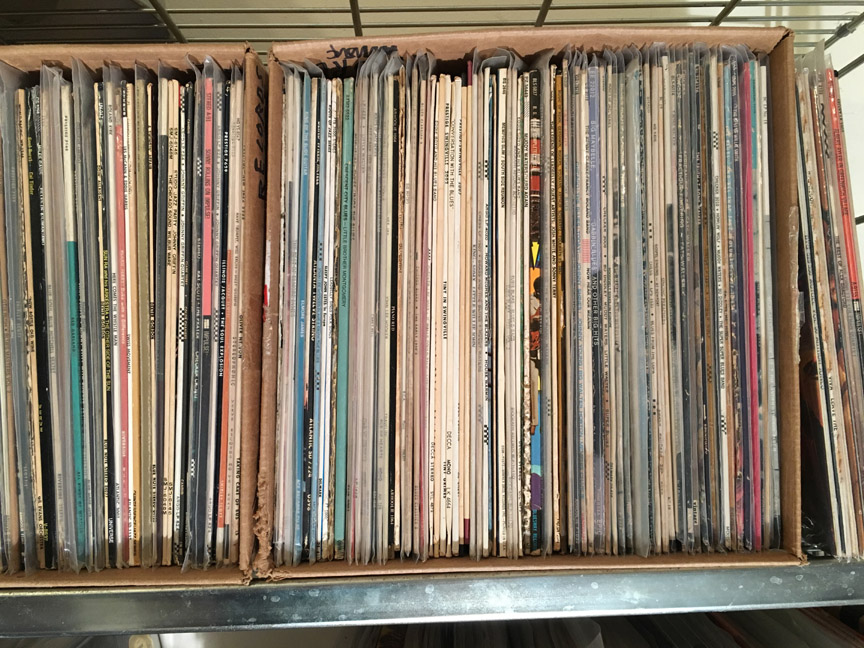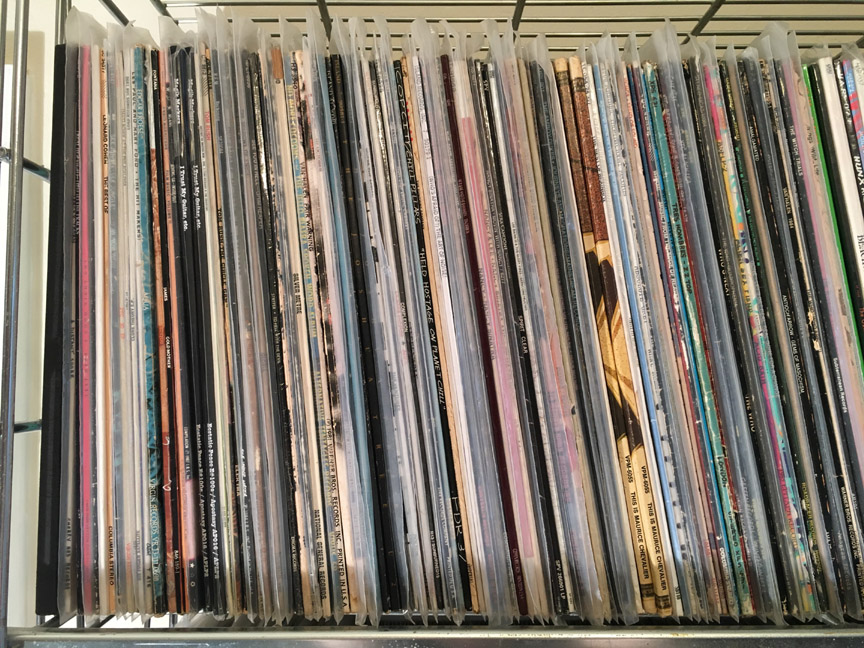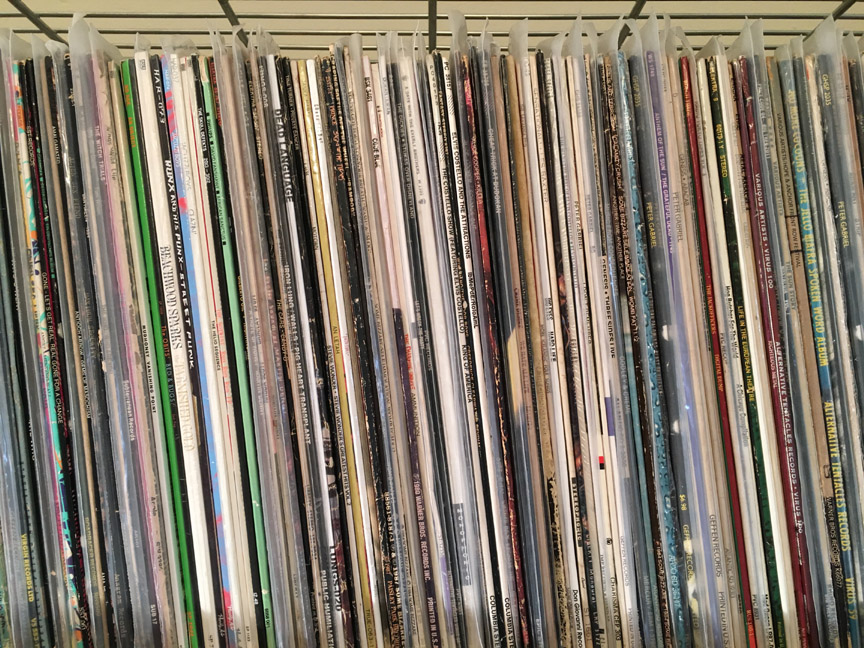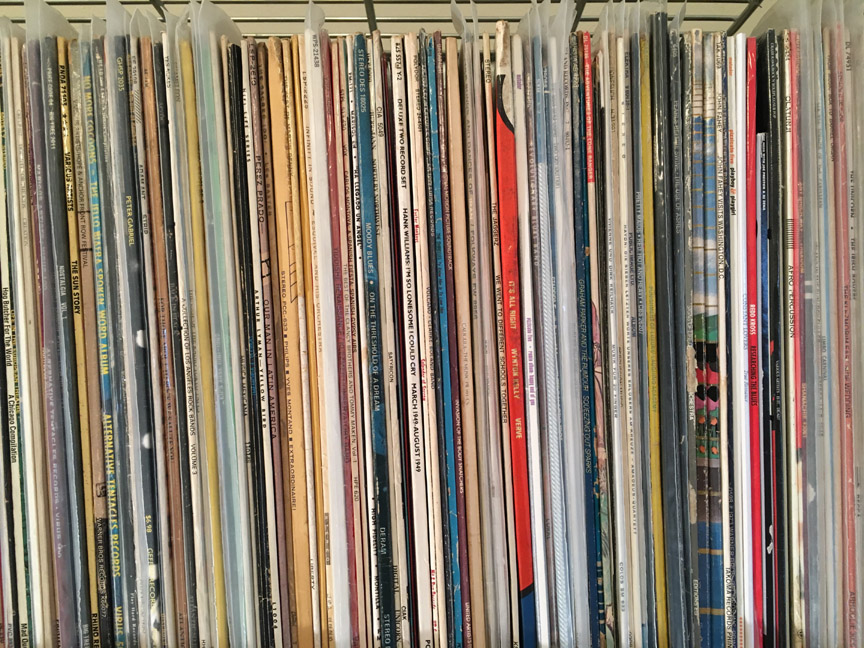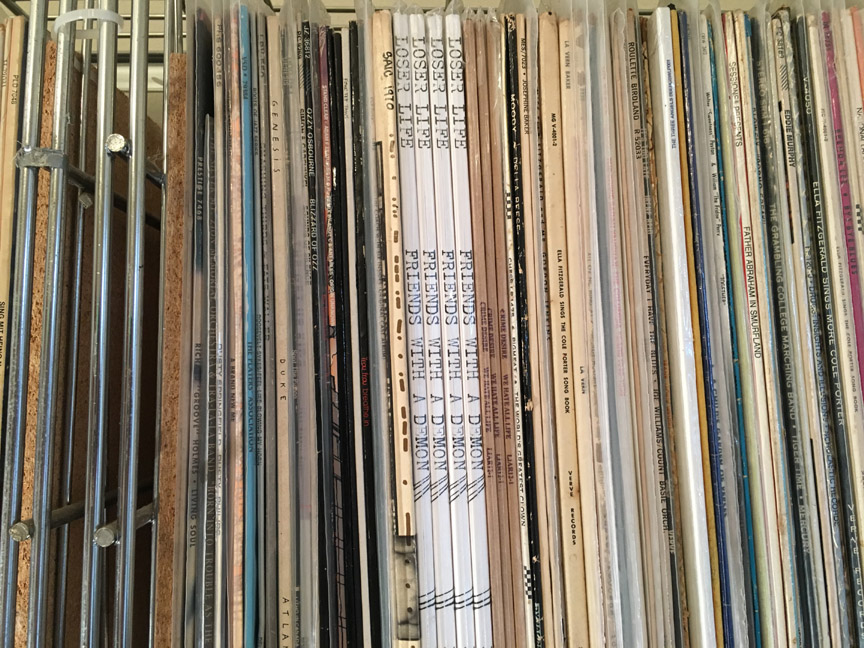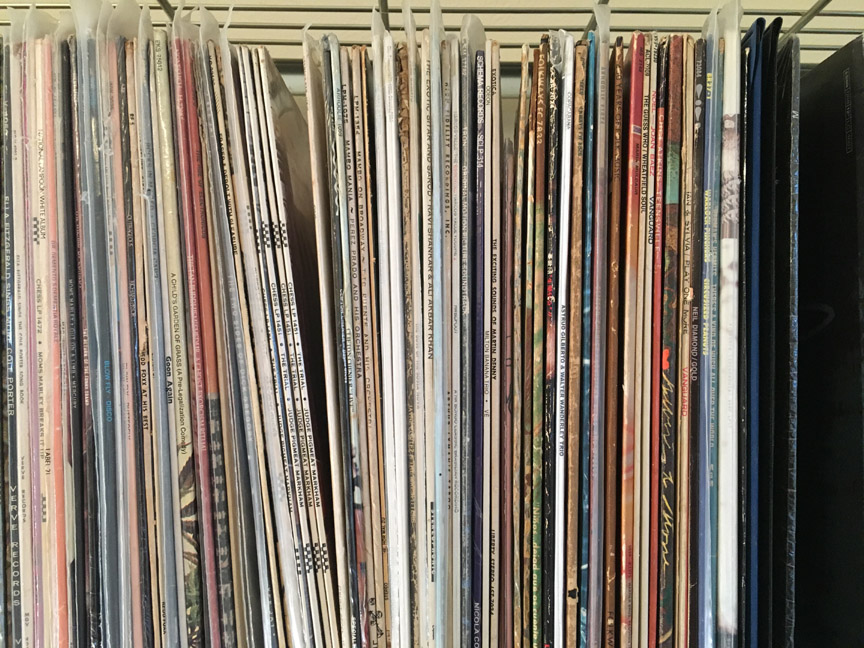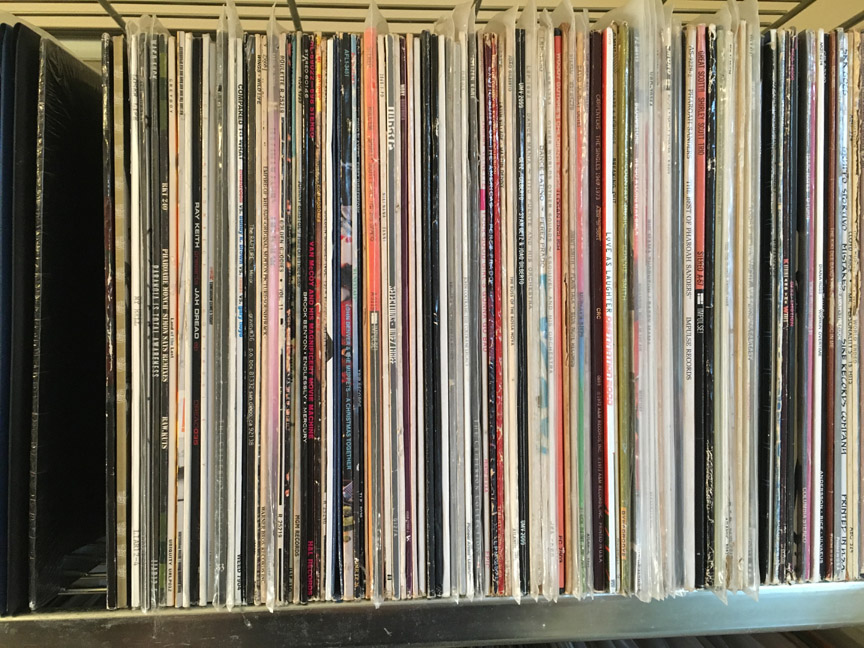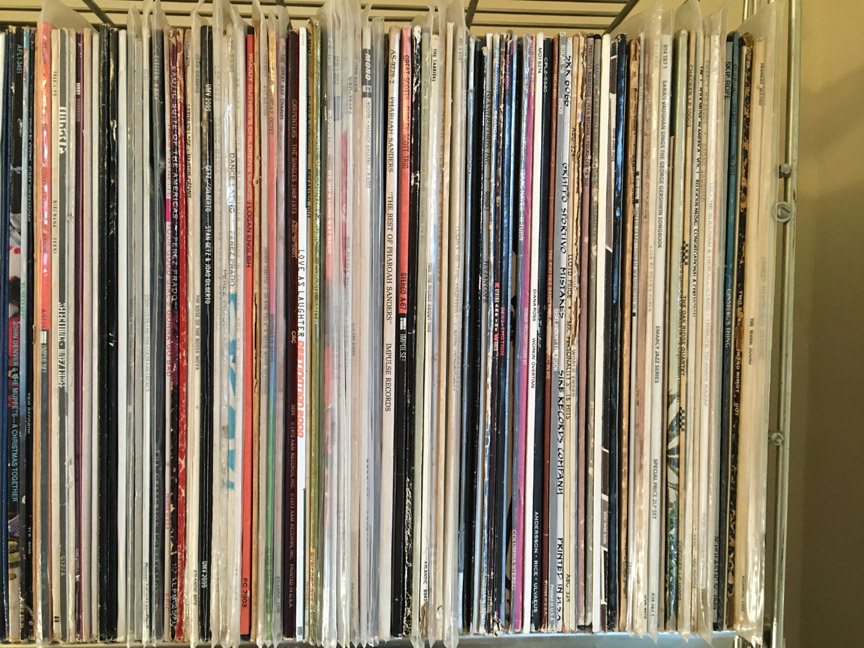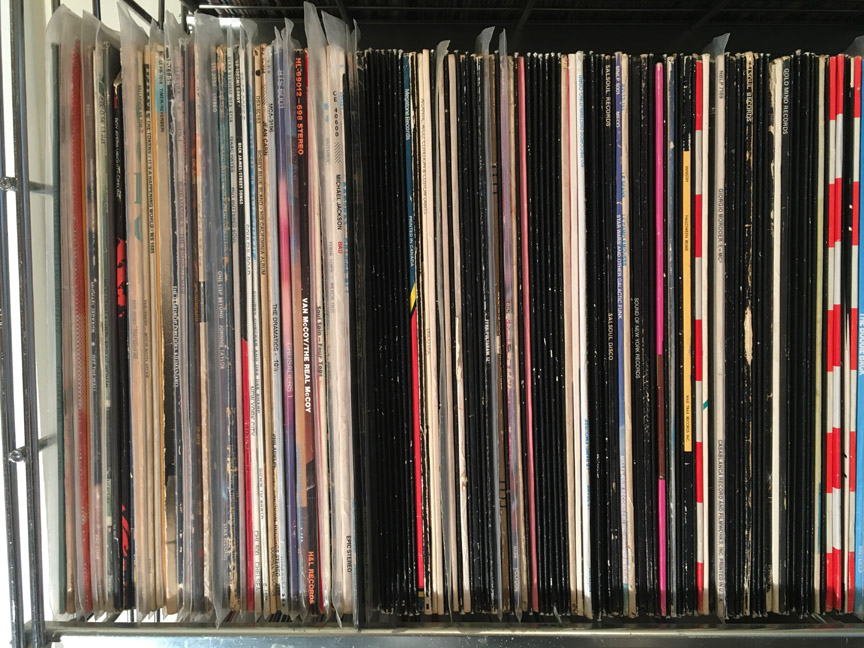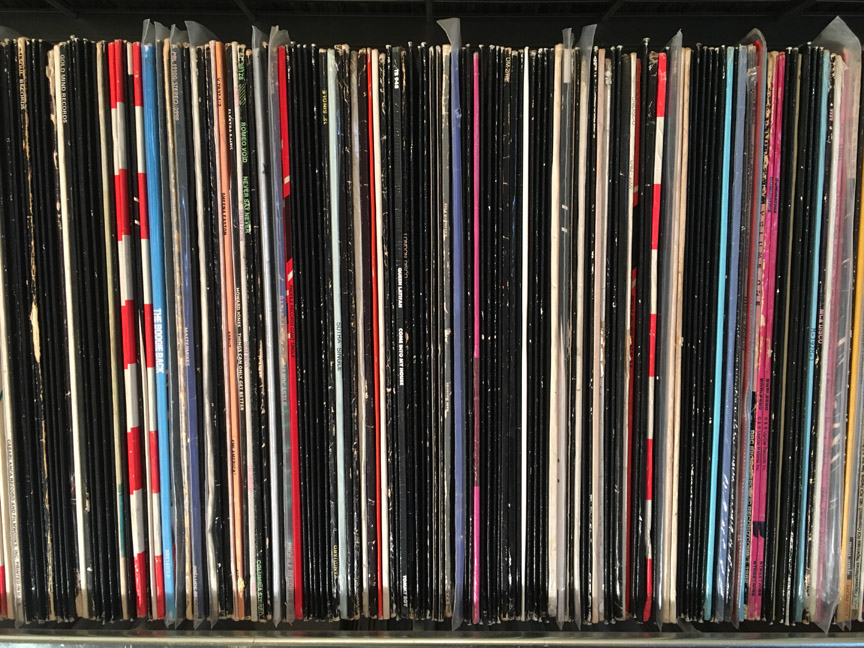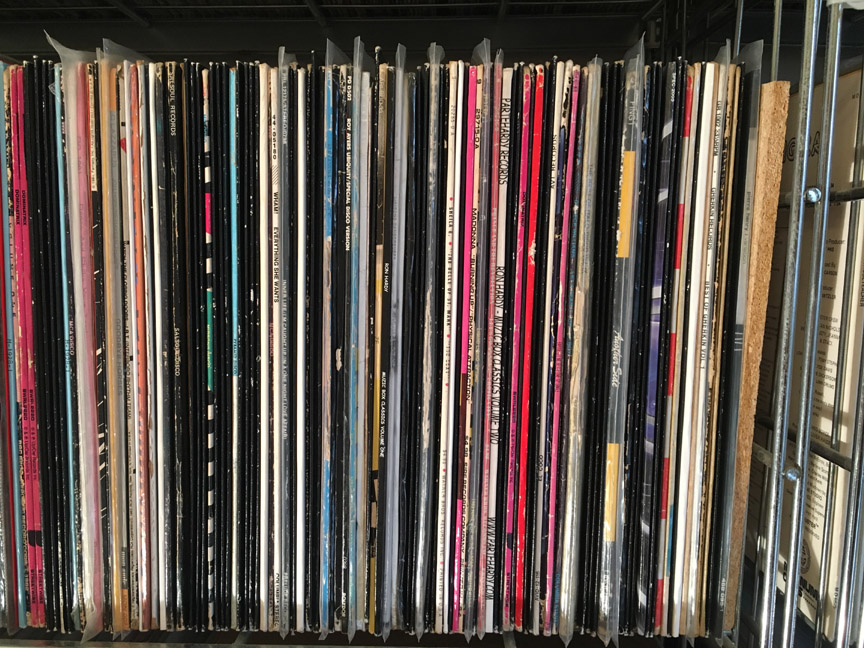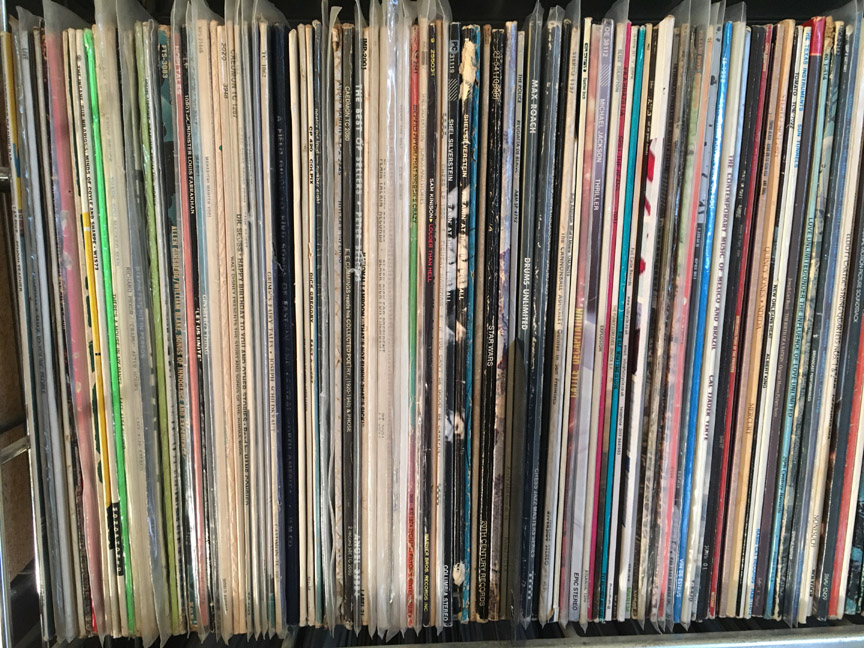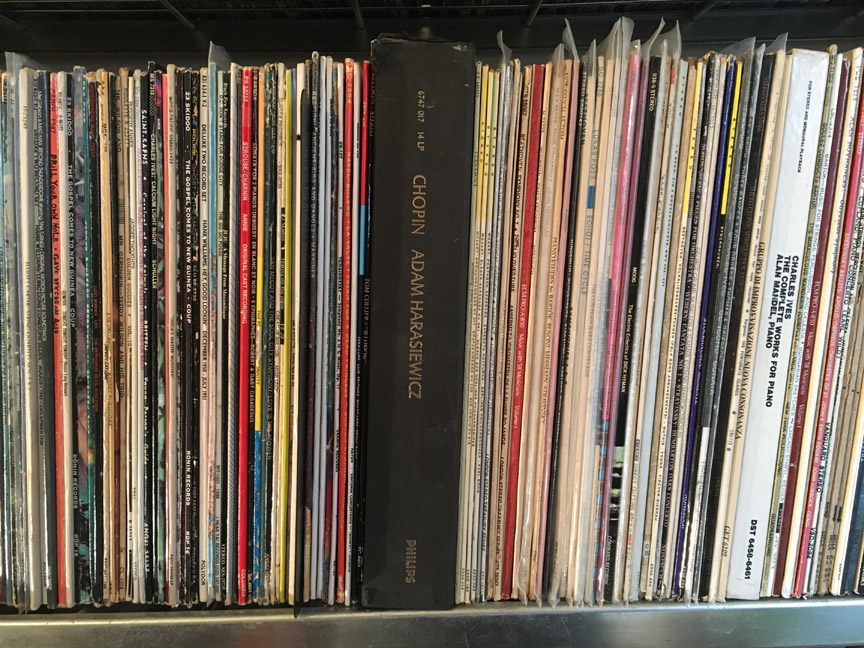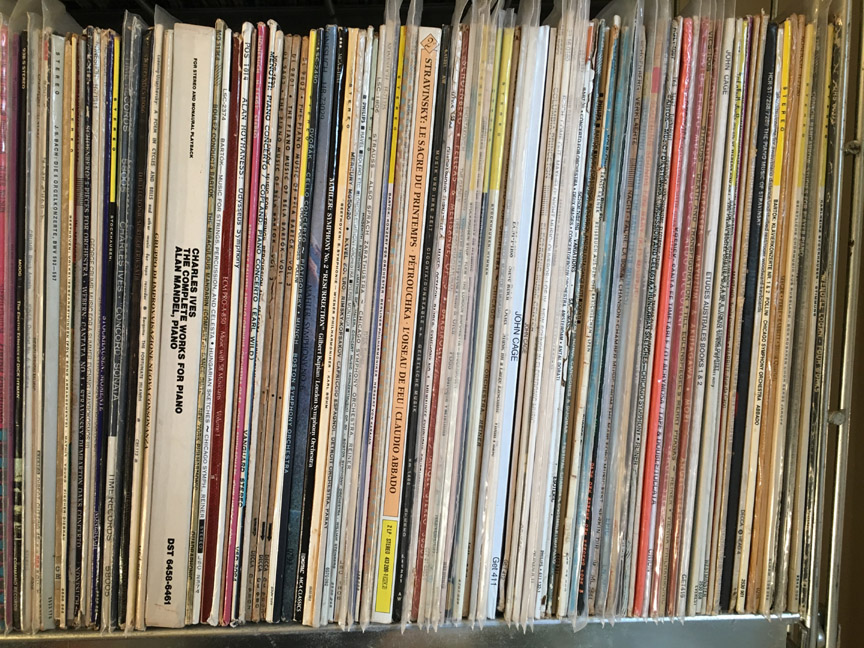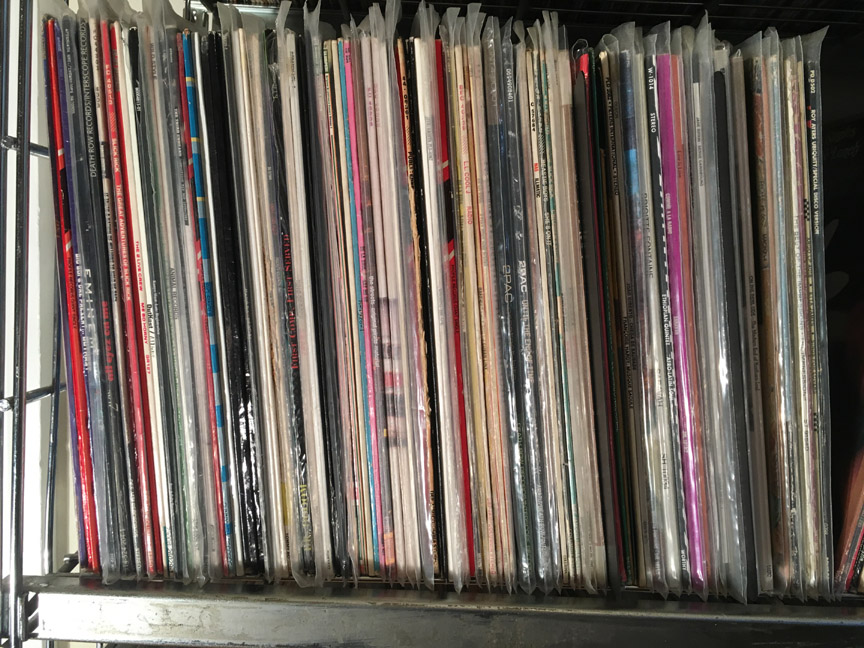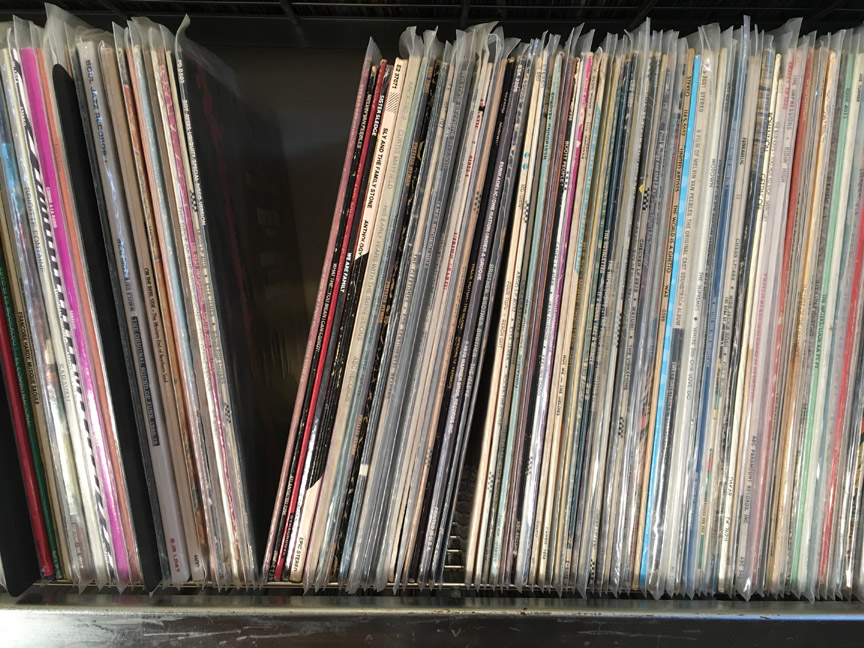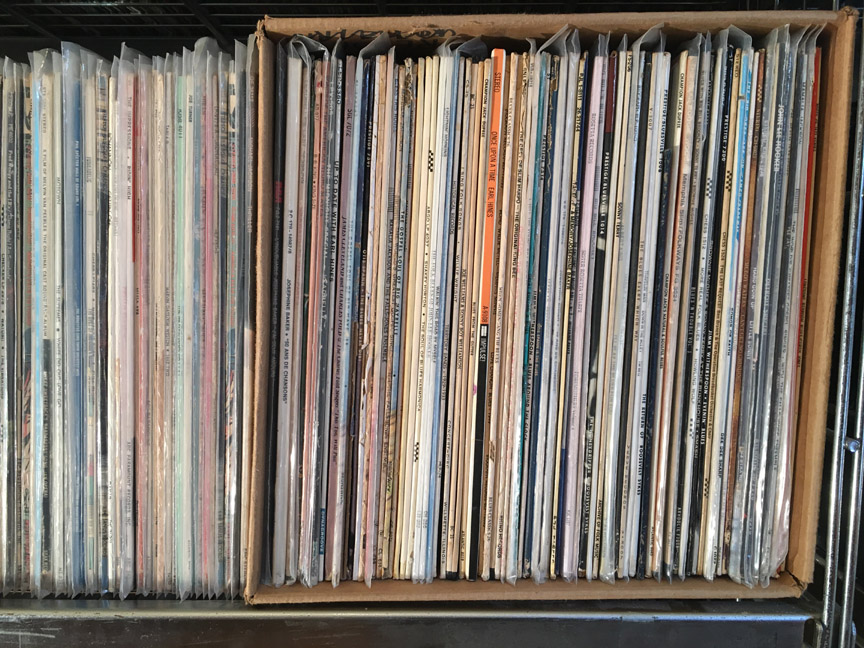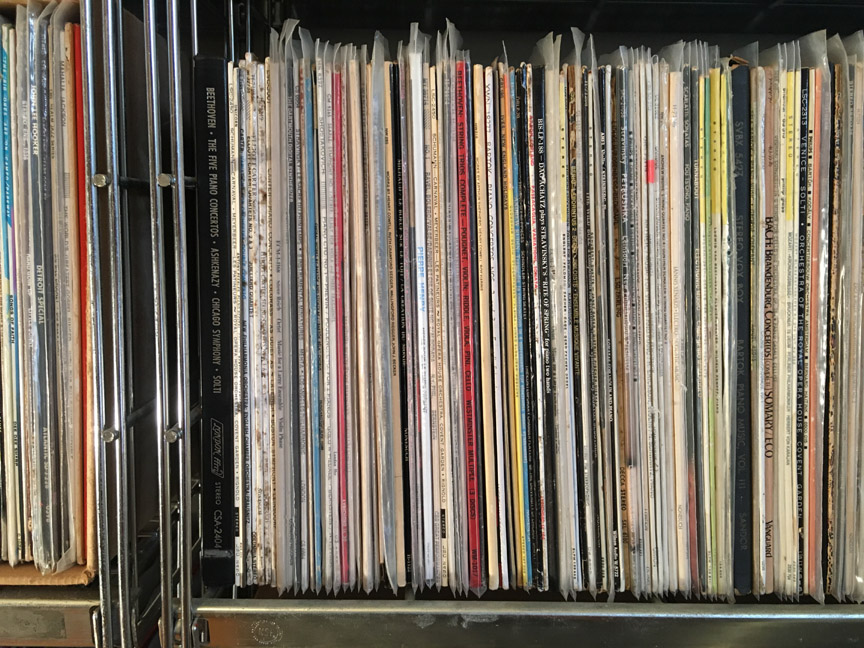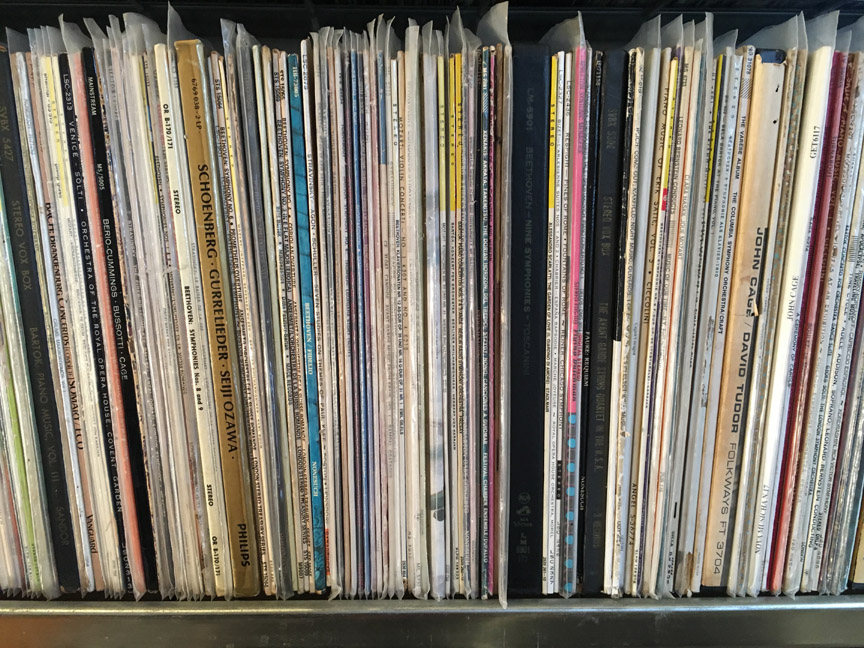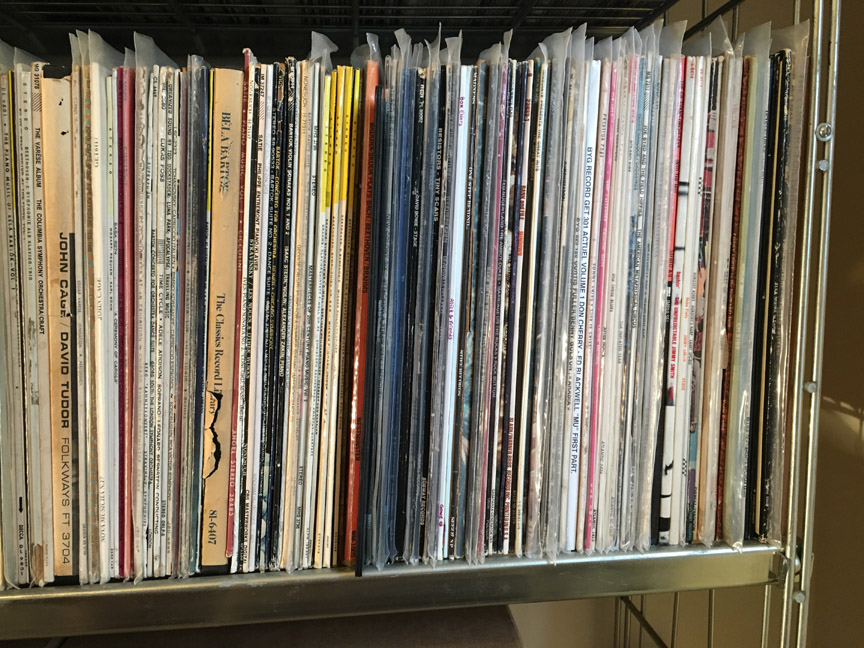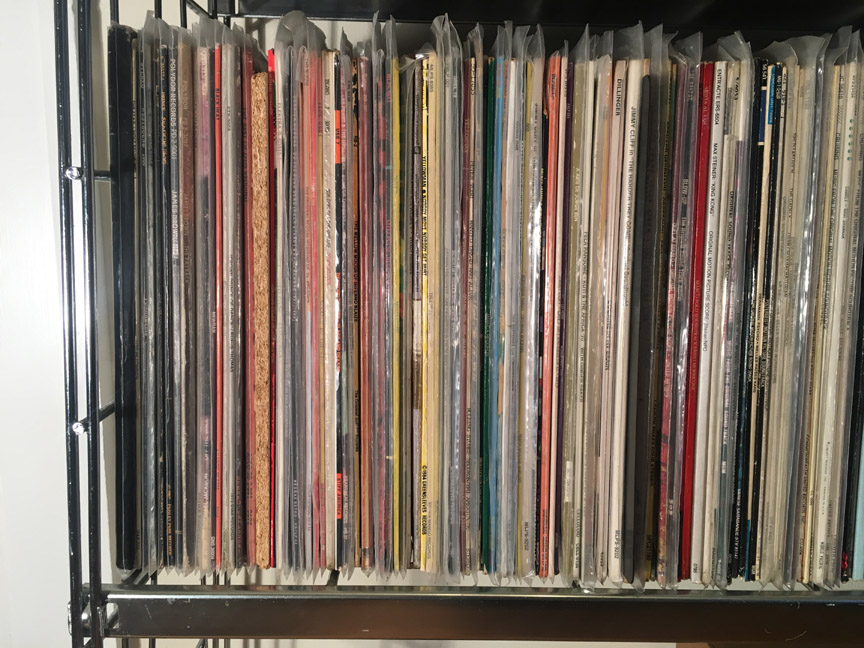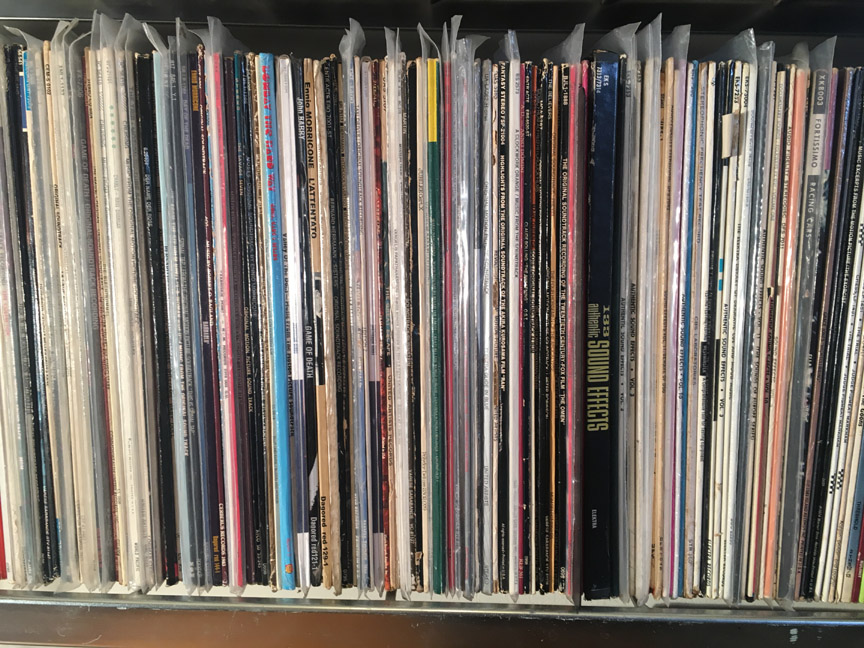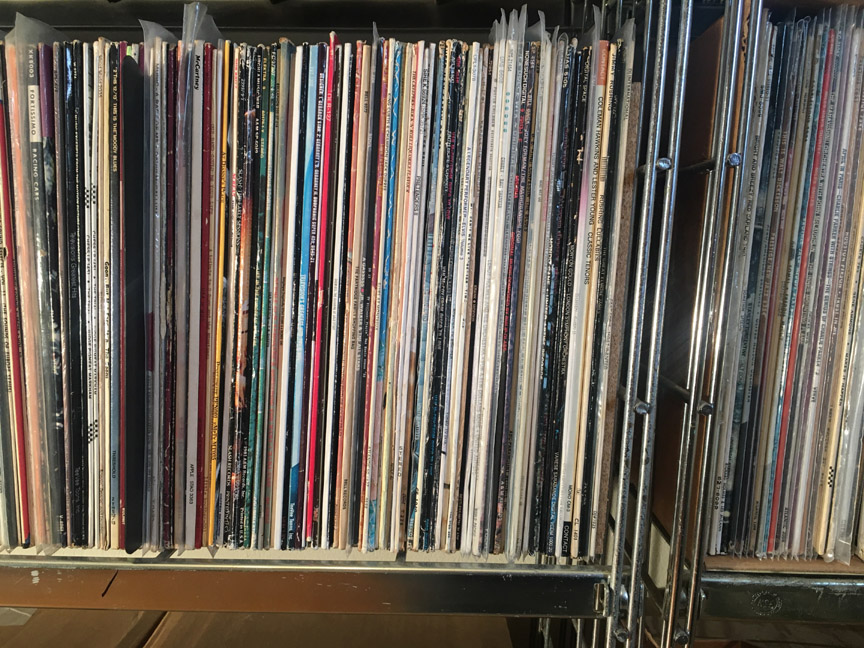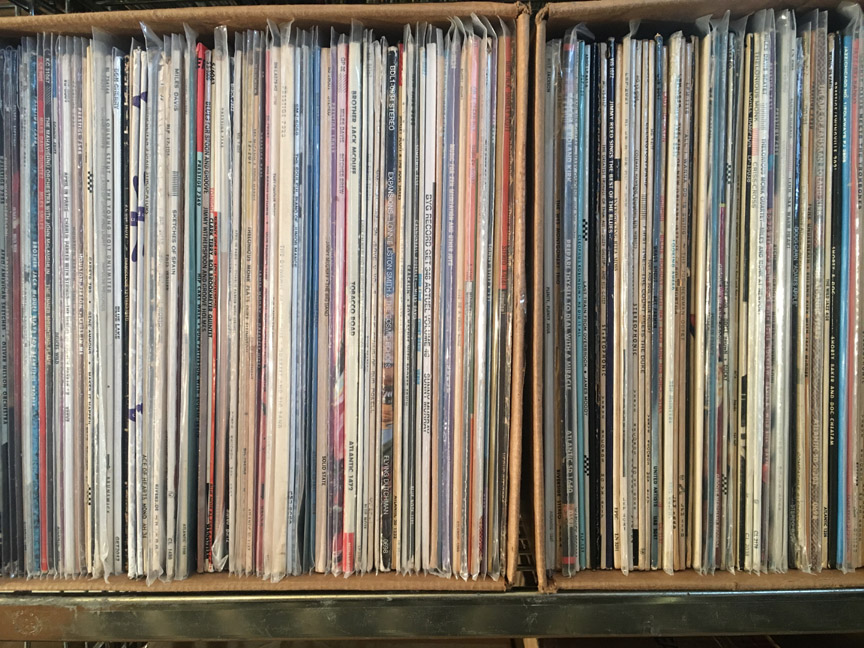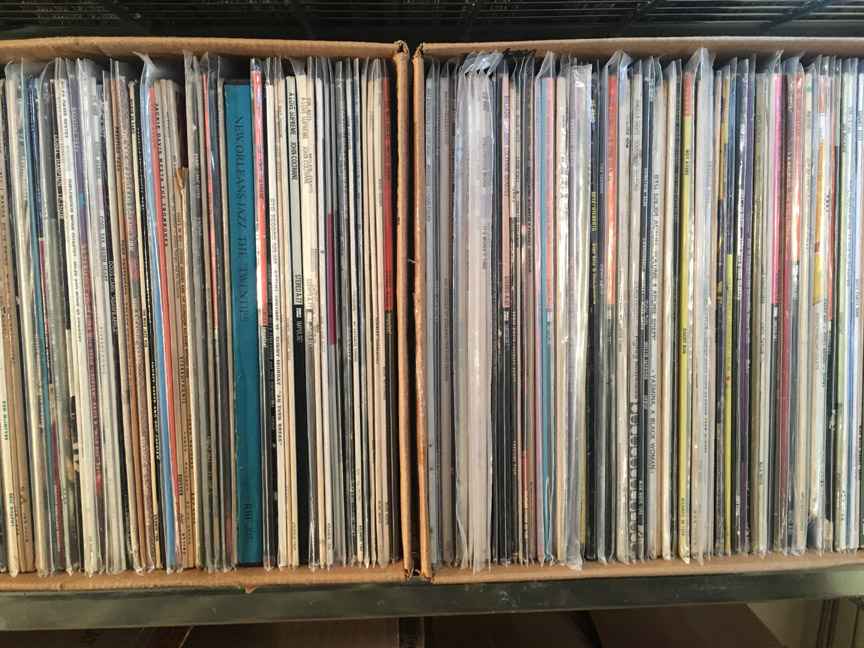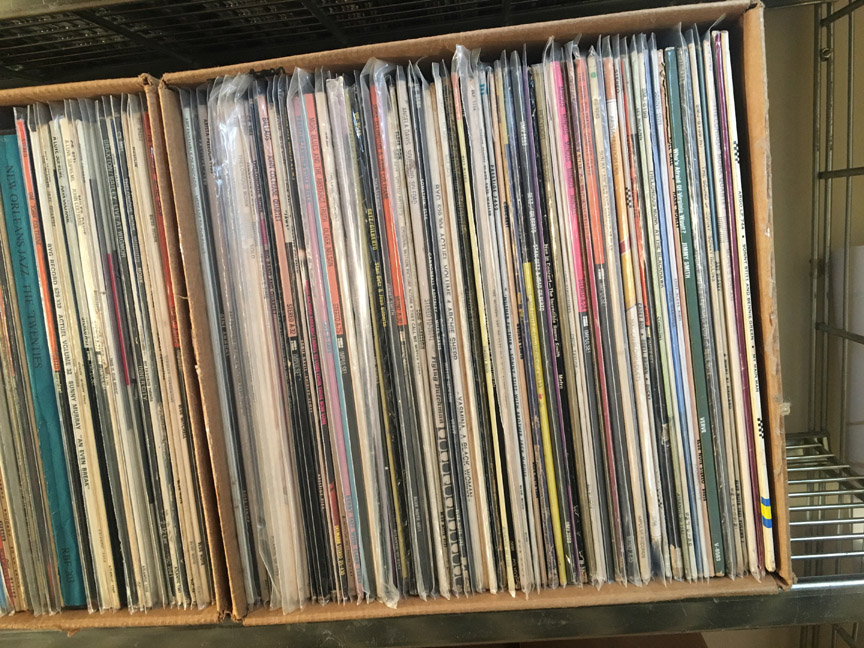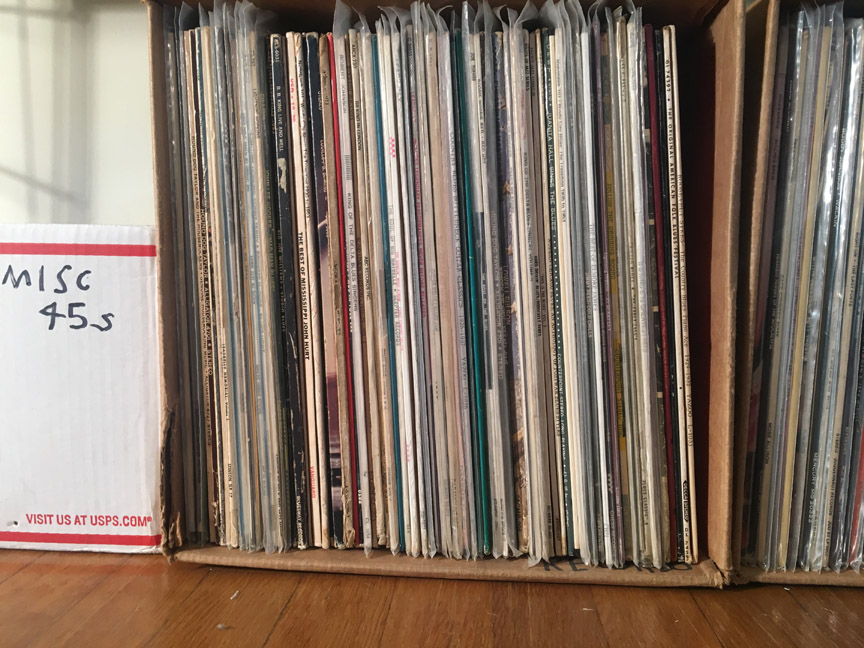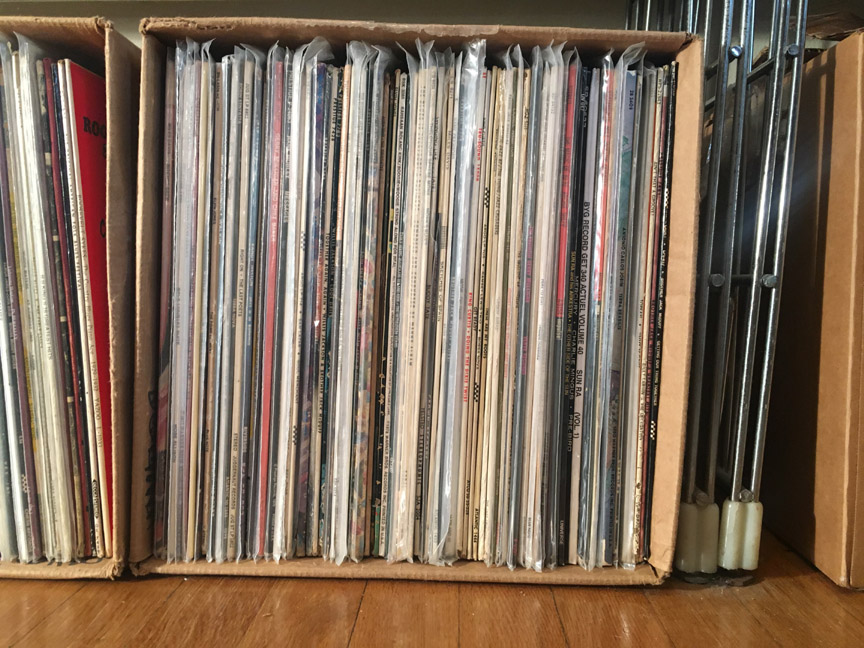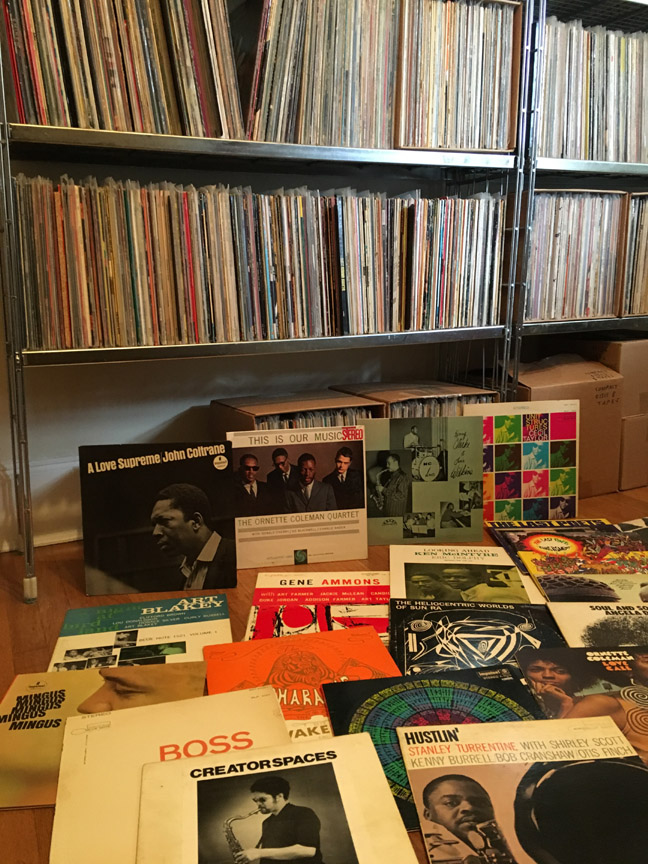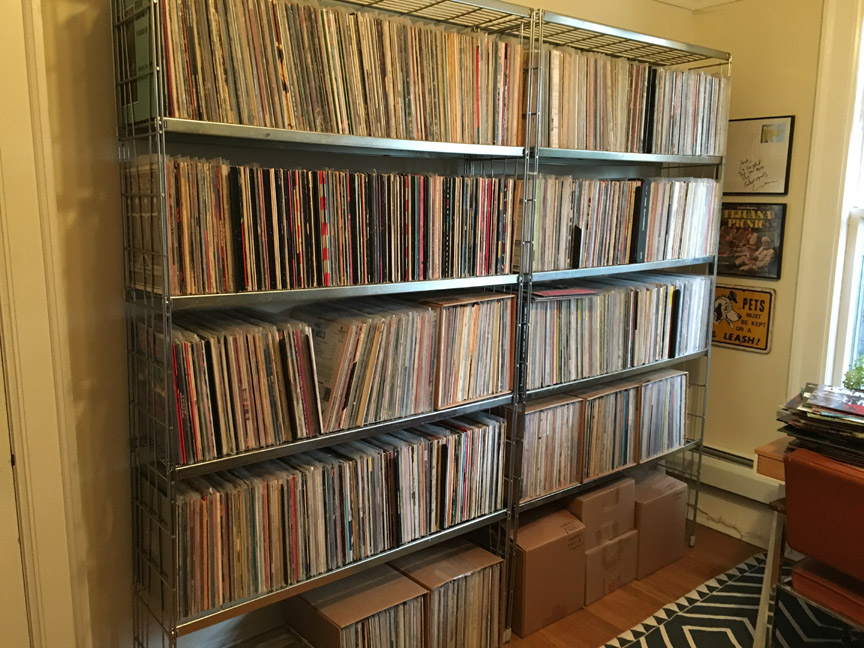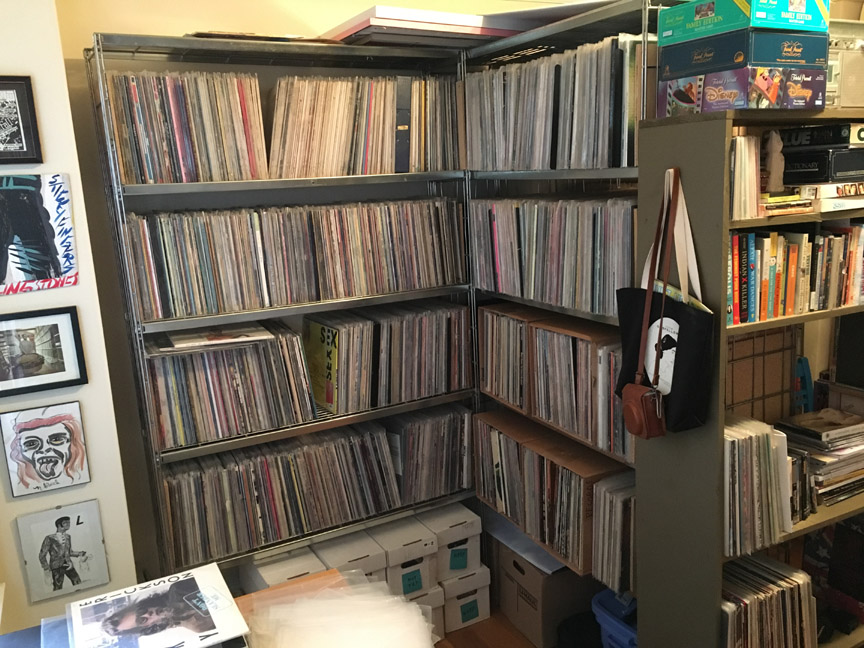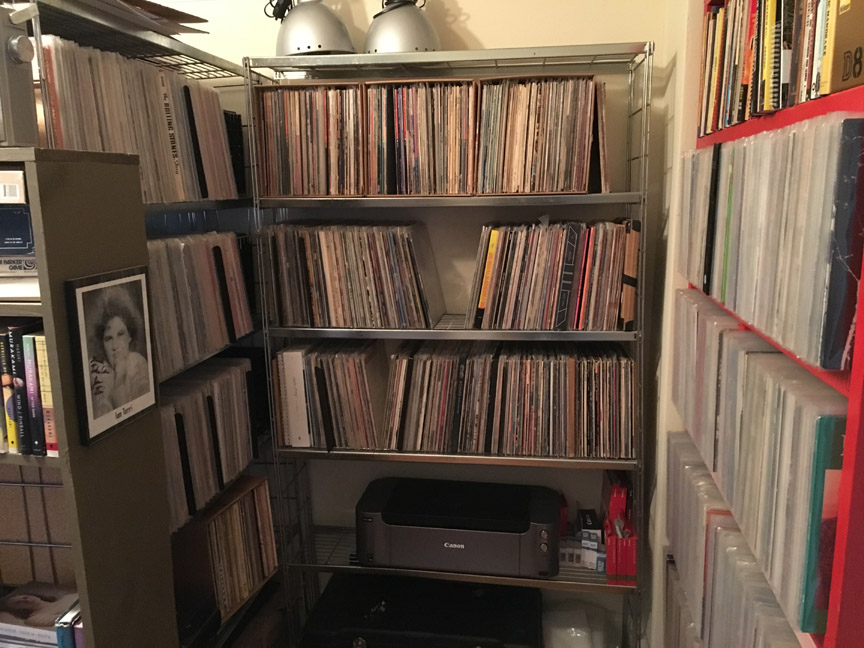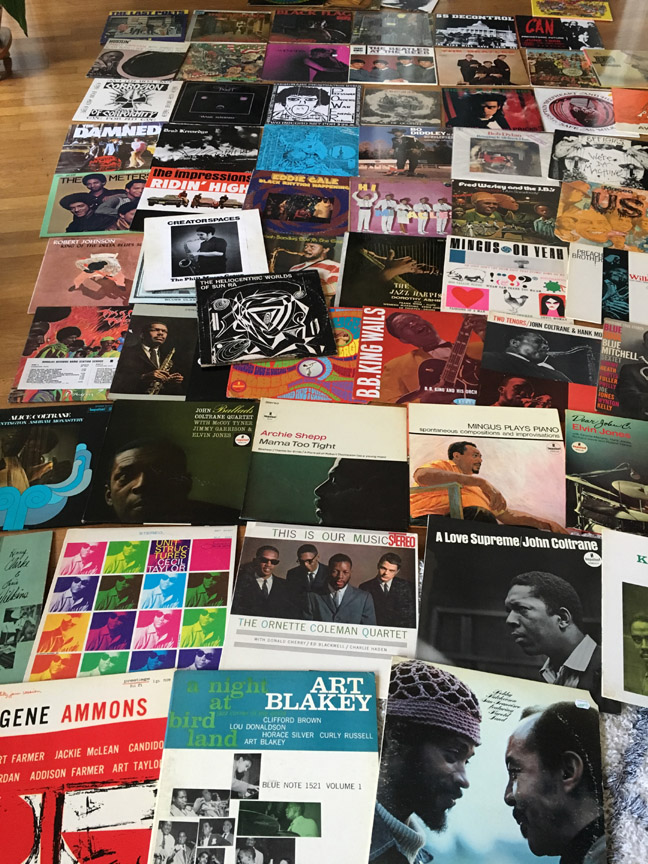 Some things already priced / some have sold (THIS IS JUST A SMALL SAMPLING)
Bikini Kill / Huggy Bear ?– Yeah Yeah Yeah Yeah / Our Troubled Youth $12
Black Flag – Black Flag Interview With Frazier Of KLOS NM $125
Corrosion Of Conformity – Eye For An Eye (No Core White on Black) NM/VG+ w/ insert $130
Danzig – Danzig II - Lucifuge w/ lyric sleeve NM/VG+ $110
ESG - Come Away With ESG (99 Records (3)) LP, Album, RP, Unofficial $30
Fear - Live...For The Record (Restless Records) LP w/ lyric sleeve NM/VG+ $30
Charged G.B.H - Leather, Bristles, Studs And Acne (12", RP) $18
Guru Guru – Känguru Brain 1st Pressing VG+/VG $60
Ill Repute - What Happens Next (Mystic Records) 12", MiniAlbum NM/VG+ $25
Fela Ransome—Kuti* And The Africa '70* With Ginger Baker ?– Live! VG+/VG+ $18
Fatal Rage – Fatal Rage NM/VG+ w/ insert $500
Mental Abuse – Streets Of Filth NM/VG+ w/ insert $275
Obituary ?– Slowly We Rot R/C Records w/ insert $45
Rest In Pieces - My Rage (One Step Ahead Records) LP, Album NM/VG+ $175
Rudimentary Peni - Cacophony (LP, Album) NM/VG+ (w/ booklet) $30
The Seeds - The Seeds (GNP Crescendo, GNP Crescendo) LP, Album, Club VG+/VG+ $35
Stray (6) ?– Saturday Morning Pictures UK LP $18
Tales Of Terror - Tales Of Terror (CD Presents, Ltd.) LP, Album NM/VG $110
Buzzcocks - I Don't Mind / Autonomy (7", Single) VG+/VG+ $10
Dead Boys* – Sonic Reducer 7" NM/VG+ (signed) $75
Dead Kennedys - Holiday In Cambodia (Optional Music) 7", Single VG+/VG+ w/ insert $70
Descendents* - "FAT" E.P. (New Alliance Records) 7", EP NM/VG+ $150
Die Kreuzen – Cows And Beer Yellow Cover w/ insert VG+/V+ $375
Mecht Mensch – Acceptance VG+/VG+ (no insert) $160
Mentally Ill - Sex Cells NM $120
Minor Threat - Filler (Dischord Records) (no insert) 7", EP, RP, Blu VG+/VG+ $300
Minor Threat - In My Eyes (Dischord Records) 7", RP (no insert) $250
Shadows of Knight - Oh Yeah / Lightbulb VG+/NM $10
Shadows of Knight - I'm Gonna Make You Mine / I'll Make You Sorry VG+/NM $40
Shadows Of Knight – Willie Jean / The Behemoth VG+ $18
Social Distortion – Another State Of Mind VG++ $50
x_x - A / You're Full Of Shit NM $90
x_x - No Nonsense / Approaching The Minimal With Spray Guns NM $60
American Percussion Society*, Paul Price ?– Varèse: Ionisation (Urania) VG+/VG $3
The B-52's ?– The B-52's VG+/NM (shrink) $10
The B-52's ?– Wild Planet VG+/VG+ $4
Syd Barrett ?– Melk Weg VG+/VG+ $40
Syd Barrett ?– The Peel Sessions VG+/VG+ $20
Beastie Boys ?– She's On It VG+/VG+ $5
Beck ?– Mellow Gold (OG First Pressing) NM/NM $65
Beck - Odelay (LP, Album, 180 OG) NM/NM Sealed $80
Jorge Ben ?– Sacundin Ben Samba Philips 2003 VG+/VG+ $10
Jorge Ben ?– A Arte De Jorge Ben (2xLP Brazil 1975) VG+/VG+ $30
Big Black ?– Headache / Heartbeat (bodybag cover / NM) UK Blast First $90
Big Black - Headache (OG T+G w/ insert) VG+/VG+ $8
The Birthday Party - It's Still Living (LP, Album) VG+/VG+ (OG Aus Missing Link) $25
Blurt ?– Bullets For You VG+/VG+ $25
Blurt ?– Blurt (Red Flame 1982) VG+/VG+ $20
David Bowie - Hunky Dory (LP, Cle + LP, S/Sided, Cle + Album) (Ryko 1990) VG+/VG $80
David Bowie - Space Oddity (LP, Album, Ltd, RE, RM, Cle + LP, S/Sided, Comp, L) VG+/VG+ $60
Billy Bragg - Talking With The Taxman About Poetry (LP, Album) VG+/VG+ $6
John Cage / David Tudor ?– Indeterminacy: New Aspect Of Form In Instrumental And Electronic Music (2xLP Box Set 1959 OG w/ booklet) VG+/VG $30
John Cage ?– Cheap Imitation (Get Back 2000) NM/NM $14
John Cage ?– Music For Keyboard 1935 - 1948 (2xLP 1970) VG+/VG+ $18
Cluster & Eno* ?– Cluster & Eno (Sky / Germany / 1977) VG+/VG+ $30
Elvis Costello ?– Live At The El Mocambo 1978 VG+/VG+ $27
Crass ?– Christ - The Album / Well Forked - But Not Dead (Box Set w/ booklet) VG+/VG+ $25
The Cure - The Peel Sessions (12", Ltd) VG+/VG+ OG UK $10
The Cure ?– The Top VG+/VG+ $20
The Cure ?– Japanese Whispers (USA 1983) VG+/VG $9
The Cure ?– Kiss Me Kiss Me Kiss Me (UK 1987 2xLP Printer inners) NM/VG+ $45
Brian Eno ?– Music For Films 1982 US Editions $12
Brian Eno ?– Ambient 1 (Music For Airports) (US Editions EG 1982, shrink, printer inner) VG+/NM $25
Brian Eno ?– Ambient 4 (On Land) (Editions EG USA 1982) VG+/VG+ $15
Brian Eno ?– Discreet Music (Editions / Obscure 1983) VG+/VG+ $25
Eyeless In Gaza ?– Caught In Flux (2x12" LPs) Edigsa Spain 1982 $11
John Fahey ?– I Remember Blind Joe Death VG+/VG+ $20
John Fahey ?– The Yellow Princess (Vanguard 1968) VG+/VG+ $16
John Fahey ?– Volume 6 / Days Have Gone By (Takoma 1975) VG+/VG+ $30
John Fahey ?– Volume 2 / Death Chants, Breakdowns & Military Waltzes VG+/VG+ $17
John Fahey ?– Volume 3 / The Dance Of Death & Other Plantation Favorites VG+/VG+ $17
John Fahey ?– Fare Forward Voyagers (Soldier's Choice) VG+/VG+ $17
The Fall - Room To Live (Line Records / white vinyl) VG++/VG++ $25
Fripp & Eno ?– (No Pussyfooting) (USA Editions) VG+/VG+ $9
Françoise Hardy ?– Mon Amour Adieu VG+/VG+ $13
Gang Of Four ?– The Peel Sessions VG+/VG+ $8
Gang Of Four ?– The Peel Sessions Album VG+/VG+ $18
The Grateful Dead ?– Europe '72 (3xLP) VG+/VG+ $40
GTO's ?– Permanent Damage (1969 Straight w/ insert) VG++/VG++ $90
Gregory Isaacs ?– Cool Ruler VG+/VG+ Frontline / Virgin $14
Kraftwerk ?– Kometenmelodie 3 NM/NM $14
Kraftwerk ?– Ruckzuck! NM/NM $15
Love ?– Out Here (2xLP Blue Thumb 1969) VG+/VG $22
Magik Markers ?– I Trust My Guitar, Etc. LP NM/NM $12
Mary McCreary ?– Butterflies In Heaven VG+/VG $2
Roscoe Mitchell ?– L-R-G / The Maze / S II Examples (2xLP) VG+/VG+ $20
Thelonious Monk ?– Underground (1968 OG 2 eye) VG+/VG+ $22
The Monks ?– Black Time (International (4) ?– 2499000) VG+/NM $14
Moondog - Moondog And His Friends (10", RE) $10
The Mothers Of Invention* ?– Freak Out! 1966 Verve NM/VG++ $65
My Dad Is Dead - Peace, Love & Murder (LP, Album) VG+/VG+ w/ insert $12
15:60:75* (The Numbers Band) ?– 2 (Water Bros Records 1982) VG+/VG+ $35
Yoko Ono With The Plastic Ono Band And Elephants Memory ?– Approximately Infinite Universe (OG UK) NM/NM $45
Jim O'Rourke ?– Halfway To A Threeway M/M (sealed) $8
Palace Music* ?– Arise Therefore M/M (sealed) $8
Pavement ?– Brighten The Corners VG+/VG+ $40
Pavement ?– Range Life VG+/VG+ $8
Pere Ubu ?– New Picnic Time (Get Back 1999) VG+/VG $7
Radiohead ?– The Bends NM/NM $65
Thos. Rapp*, Pearls Before Swine ?– City Of Gold VG+/VG+ $7
Rare Bird ?– As Your Mind Flies By VG+/VG- $13
Saccharine Trust ?– Surviving You, Always VG+/VG+ (w/ lyric sleeve + insert) $30
Bridget Saint John* ?– Songs For The Gentle Man Elektra/Dandelion VG+/VG+ w/ insert $29
Skrewdriver ?– All Skrewed Up (Brunswick Orange Cover) NM/NM $30
Slick Rick ?– Children's Story VG+/VG+ $6
Smog ?– Burning Kingdom VG+/VG+ $17
Smog ?– Kicking A Couple Around VG+/VG+ $25
Soft Machine ?– Six (2xLP) VG+/VG $10
Soft Machine ?– Third (2xLP) VG+/VG+ $12
The Soft Machine* ?– The Soft Machine (2xLP Command 1973) VG+/VG $9
Soft Machine ?– Fourth VG+/VG+ $7
Spacemen 3 - For All The Fucked-Up Children Of This World... (First Ever Recording Session, 1984) (LP, Album) VG+/VG+ $45
Spacemen 3 ?– The Perfect Prescription (Genius 1988) VG+/NM $65
Stereolab ?– Dots And Loops (white/blue vinyl) VG+/VG (light wear, probably VG+) $70
Sun City Girls ?– Midnight Cowboys From Ipanema VG+/VG+ $27
Telenovela (2) ?– You're Gonna Need It NM/NM $3
They Might Be Giants ?– Flood VG+/VG+ $15
Throbbing Gristle ?– Grief VG+/VG+ $17
Throbbing Gristle ?– 1st Annual Report NM/NM $20
Throbbing Gristle ?– Very Friendly (Spurt 1987) VG+/VG+ $40
Throbbing Gristle ?– D.o.A. The Third And Final Report (Italy 1981) VG+/VG $17
Tuxedomoon ?– Desire (OG Ralph Records) VG+/VG+ $25
Edgard Varèse, Robert Craft, Columbia Symphony Orchestra - The Varèse Album (2xLP, Comp) VG+/VG+ $5
Violent Femmes ?– Violence In The Streets VG+/VG+ $25
Various Artists ?– A Christmas Gift For You From Philles Records VG+/VG+ $75
Various ?Artists – 20 Reggae Classics Volume 2 VG+/VG+ $7
Various Artists ?– You're A Hook (Giorno Poetry Systems ?– GPS 030) VG+/VG+ $15
Kinks – Lola Versus Powerman And The Moneygoround, Part One OG UK VG+/VG $65
George Lewis And His New Orleans Stompers – Volume 2 - OG Lexington VG+/VG+ $35
Stan Getz / Joao Gilberto Mono w/ sticker VG+/VG+ $20
The Dream Syndicate – The Days Of Wine And Roses French VG+/VG+ $18
The Residents – Commercial Album 1st Pressing VG+/VG+ $28
Roxy Music – Country Life VG++/VG+ $15
The Rolling Stones ?– Singles Collection - The London Years 4xLPs VG+/VG+ $75
Sleep – Sleep's Holy Mountain Green Vinyl VG+/VG+ $75
Pink Floyd – The Dark Side Of The Moon MFSL VG++/VG+ $70
Smog – Dongs Of Sevotion 2xLP VG+/VG+ $17
The Chills ?– Brave Words (with instert) VG+/VG+ $22
The Cramps - Bad Music For Bad People (LP, Comp) VG+/VG+ $35
Didjits ?– Fizzjob w/ inserts NM/NM $20
Bob Dylan ?– Bringing It All Back Home Mono (in shrink w/ sticker) VG+/NM $180
Bob Dylan ?– Highway 61 Revisited Mono (in shrink) VG+/VG+ $200
Bob Dylan ?– Blood On The Tracks (Black Liner Notes, Santa Maria Pressing) VG+/VG+ $10
Faust ?– So Far UK OG w/ art prints NM/VG+ $130
Hawkwind ?– Quark Strangeness And Charm VG+/VG+ $12
Kool Keith ?– Sex Style VG+/VG+ $30
Blur ?– Parklife (2015 reissue) NM/NM $20
Prince ?– Sign "O" The Times VG+/VG $15
Angry Samoans ?– Inside My Brain VG+/VG+ $12
Syd Barrett ?– The Madcap Laughs / Barrett VG+/VG (water damage) $17
Jackie Mittoo ?– The Keyboard King At Studio One NM/NM (probably unplayed) $22
Burning Spear ?– Marcus Garvey VG+/VG+ $22
Burning Spear ?– Garvey's Ghost VG+/VG+ $17
Joyce ?– Feminina (Unofficial Release) NM/NM $12
Elvis Costello And The Attractions* ?– Blood & Chocolate VG+/VG+ $2
Kinks ?– Something Else By The Kinks VG++/VG+ $40
Hüsker Dü – Statues VG+/VG+ $65
Gories - Here Be the Gories: VG+/VG+ $17
Dead Moon - Over the Edge: VG+/VG $6
Dead Moon - Don't Burn the Fires: VG+/VG $6
Dead Moon - Black September: VG+/VG $6
Dead Moon - Ricochet VG+/VG $8
Dead Moon - Fire in the Western World VG+/VG $8
Minutemen - Courage (promo, no sleeve) VG+ $9
Mud Hutters - The Declaration $27
Offbeats - Why Do You Hang Out VG+/VG+ $35
Only Ones - Lovers of Today $10
Zeros - Don't Push Me Around NM/VG+ $85
Unrest - Catchpellet (w/ inserts) NM/VG+ $20
Suburban Lawns - Gidget Goes to Hell NM/VG+ $25
Stiff Little Fingers - Alternative Ulster NM/VG+ - $17
Various - Process of Elimination (1st Press w/ inserts) NM/NM $175
Philip Cohran And The Artistic Heritage Ensemble – The African Look, Black Beauty (w/ picture sleeve) VG++/VG $375
Philip Cohran And The Artistic Heritage Ensemble – Loud Mouth (No PS) G $100
Sun Ra - Hiroshima (Stars That Shine Darkly, Vol. 1) LP - NM/VG+ (autographed, hand made cover, warped) $150
Sun Ra - Hiroshima (Stars That Shine Darkly, Vol. 1) LP - NM/VG+ (autographed (Danny Thompson), hand made cover) $160
Skip James – Greatest Of The Delta Blues Singers (Melodeon MLP7321) NM/VG+ $50
Alice Coltrane – A Monastic Trio NM/VG+ (light water damage) $55
Sun Ra And His Solar Arkestra* – Art Forms Of Dimensions Tomorrow VG+/VG $150
Lowell Fulson - Lowell Fulson (Arhoolie Records) LP, Mono NM/VG+ $50
Various – Rare Blues Of The Twenties No. 4 NM/VG+ $40
Various – Those Cake Walking Babies From Home: Vol. 1 NM/NM $18
Roscoe Holcomb – The High Lonesome Sound (shrink, insert) NM/NM $45
Big Bill Broonzy – The Young Big Bill Broonzy 1928-1936 NM/NM $40
Mance Lipscomb - Texas Sharecropper And Songster (Arhoolie Records w/ booklet) LP, Album NM/VG+ $60
Various - Favorite Country Blues Guitar-Piano Duets (1929-1937) (LP, Comp) NM/VG+ $25
Big Bill Broonzy - His Story - Big Bill Broonzy Interviewed By Studs Terkel (LP) VG+/VG+ $22
Various - Africa In Revolutionary Music (LSM Records (3)) LP VG+/VG+ $22
Ahmed Abdul-Malik - East Meets West: Musique Of Ahmed Abdul-Malik (LP, Album, RE) NM/NM $9
U-Men – Step On A Bug VG+/VG+ $23
U-Men – Stop Spinning VG+/VG+ $13
Various – A Texas Trip NM/NM $12
Snooks Eaglin – New Orleans Street Singer VG+/VG+ $30
The Pharaohs - The Awakening (Scarab Records (2)) LP, Album VG/VG+ $120
The Mummies – Never Been Caught (OG pressing / black labels) VG+/VG+ $45
Nig-Heist – Snort My Load (w/ rare insert) NM/VG+ $50
Monitor – Monitor (World Imitation) NM/NM $35
M.I.A – Murder In A Foreign Place (1st pressing w/ insert) NM/VG+ $35
The Mekons - This Sporting Life / Frustration (12") NM/VG+ $15
Millions Of Damn Christians* ?– This Blood's For You (still sealed) NM/NM $30
Jerry's Kids - Is This My World? (Xclaim!) (lyrics sleeve) NM/VG+ $200
The Frogs - It's Only Right And Natural (Homestead Records) NM/NM $75
F.U.'s* - My America (Xclaim!, Xclaim!) 12" (w/ insert) VG++/VG+ $175
Nick Cave And The Bad Seeds* ?– Tender Prey (w/ 2 inserts & shrinkwrap) NM/VG+ $50
Gang Of Four – The Peel Sessions Album NM/NM $18
Sun Ra – Sun Song (1967 Delmark reissue) NM/NM $30
Sun Ra And The Arkestra* – Sound Of Joy (1968 Delmalk 1st Pressing) NM/VG+ $42
Frank Wright – One For John (BYG Records 1970 France / gatefold) VG++/VG++ $55
François Baschet And Bernard Baschet ?– Structures For Sound (10" 1965) VG+/VG+ $40
Muddy Waters - Folk Singer (Chess) LP, Album, Mono (1964 1st Pressing) VG+/VG+ $75
Sun Ra And His Astro-Infinity Arkestra* – Continuation (1970 El Saturn Records ?– ESR 520) VG/VG $200
John Coltrane - Lush Life (Prestige, Prestige) LP, Album, Mono (1st Pressing) VG++/VG++ $175
Blind Blake & His Royal Victoria Calypso Orchestra* ?– A Third Album Of Bahamian Songs G/G $10
Philip Cohran & The Artistic Heritage Ensemble ?– The Malcolm X Memorial (A Tribute In Music) VG+/VG+ $150
Philip Cohran And The Artistic Heritage Ensemble* ?– On The Beach (shrinkwrap) VG+/VG+ $175
Sun Ra And His Astro Infinity Arkestra* - My Brother The Wind (Saturn Research) (Close to NM) LP, Album VG+/VG+ $225
John Coltrane, Alice Coltrane ?– Cosmic Music (Coltrane Recording Corporation / Private pressing) VG+/VG+ $300
Link Wray And His Ray Men ?– Jack The Ripper (OG Swan Pressing) VG+/VG $60
Section 25 ?– Always Now (OG Factory Rrecords) VG+/VG+ $50
Miles Davis All Stars ?– Walkin' (OG Prestige 1957) VG/VG+ $140
K.C. Douglas ?– Big Road Blues (1961 Bluesville / close to NM) VG+/VG $30
Carlton And The Shoes - Love Me Forever (OG Studio One 1979) LP NM/NM $120
Horace Andy ?– Sings For You And I (Clock Tower) VG+/VG+ $13
Agustus Pablo*, Rockers All Stars - Rockers Meets King Tubbys In A Fire House (Yard Music Jamaica 1980) LP, Album VG+/VG+ $120
Various ?– Rock Steady Beat - Jamaica's New Dance Craze (OG Wirl / Jamaica) VG+/VG+ $40
Jackie Mittoo And The Soul Vendors ?– Evening Time (still sealed) NM/NM $30
The Cables ?– What Kind Of World NM/NM $25
Serge Gainsbourg ?– Gainsbourg Percussions NM/NM $25
Serge Gainsbourg ?– Couleur Café (never palyed) NM/NM $40
Various ?– Music Of The Bahamas, Vol. 3: Instrumental Music From The Bahamas Islands VG+/VG+ $15
Various ?– Negro Songs Of Protest (no booklet) NM/VG+ $25
Lightnin' Hopkins - Lightnin' Hopkins (Folkways Records / close to NM w/ booklet) VG+/VG+ $140
The Duncanaires ?– One Step Closer! . . . The Exciting Gospel Sound Of The Duncanaires VG+/VG $18
The Famous Ward Singers* - Surely God Is Able (Savoy Records) LP, Album NM/NM $40
Freddie Hubbard, Ilhan MImaroglu* ?– Sing Me A Song Of Songmy (A Fantasy For Electromagnetic Tape) NM/VG+
Eric Dolphy ?– Iron Man NM/NM $60
Ken McIntyre With Eric Dolphy ?– Looking Ahead NM/NM $140
Bridget Saint John* ?– Songs For The Gentle Man (w/ lyrics) NM/VG+ $35
Butthole Surfers ?– Double Live (UK Version / 2xLPs) VG+/VG+ $40
Gang Of Four ?– "Gang Bang" Live! (bootleg / close to NM) VG+/VG+ $30
Alex Chilton ?– Document (UK Compilation) VG+/VG+ $20
Victor Jara ?– Compañero NM/VG+ $20
Nervebreakers - We Want Everything! (Existential Vacuum) LP NM/NM $20
Various ?– Ten Years Of Black Country Religion 1926 - 1936 NM/NM $35
Various ?– Mississippi Delta Blues Vol. 1 (Arhoolie 1969) NM/VG+ $45
Various ?– Mississippi Delta Blues Vol. 2 (Arhoolie 1969) NM/VG+ $45
The Staple Singers ?– Uncloudy Day VG+/VG+ $23
Funny Papa Smith* ?– 1930-1931 The Original Howling Wolf VG+/VG+ $30
Various ?– Negro Church Music NM/NM (OG stereo w/ insert) $35
Dr. Octagon ?– Dr. Octagon (Bulk Records / 1996 / shrinkwrap) NM/VG+ $50
David Bowie ?– ChangesTwoBowie (RCA 1981 / shrinkwrap / hype sticker) NM/NM $15
Nico ?– Chelsea Girl (Polygram Greek Pressing / OG Verve cover(?) / promo drill cut) VG+/VG $22
David Bowie ?– The Rise And Fall Of Ziggy Stardust (OG RCA Dynaflex / shrinkwrap / lyric sleeve) VG+/NM $70
Wu-Tang Clan ?– Enter The Wu-Tang (36 Chambers) (Loud Records 07863 / sealed) NM/NM $16
Nas ?– Illmatic (OG pressing in shrink / original printed inner sleeve) NM/NM $60
Velvet Underground ?– Andy Warhol's Velvet Underground Featuring Nico (1971 UK MGM Compilation 2xLP) VG+/VG+ $55
Lou Reed And The Velvet Underground* ?– That's The Story Of My Life (1973 Pride LP Comp) VG+/VG+ $15
Lou Reed / Velvet Underground* ?– Street Hassle / I'm Waiting For The Man / Venus In Furs (45rpm 12") NM/VG $10
Fatal Rage - Fatal Rage (LP, Album) (Mutha Records) $700.00
Mental Abuse - Streets Of Filth (LP, Album) (Urinal Records) $400.00
Mentally Ill - Sex Cells (7", Single) (Autistic Records, Snat 5 Limited) 240.00

Alternative TV ?– How Much Longer / You Bastard (1st edition) VG+/VG $10
Angelic Upstarts ?– The Murder Of Liddle Towers (Small Wonder reissue) VG+/VG $6
The Suicide Commandos ?– Mark He's A Terror NM/VG+ $9
Hawkwind ?– Silver Machine / Seven By Seven (United Artists Records ?– UP 35381) VG+/VG+ $6
Willful Neglect - Willful Neglect (Neglected Records) 12", EP NM/NM $70
Willful Neglect ?– Justice For No One NM/NM w/ insert $45
Sonic Youth - Experimental Jet Set, Trash And No Star (LP, Album, Blue vinyl) VG+/VG+ $40
Slayer - Live Undead (12", EP) (Roadrunner / Euro press / 1985) VG+/VG $16
7 Seconds ?– Alt.Music.Hardcore VG+/VG+ $13
Silver Apples - Silver Apples (Kapp Records) LP, Album VG+/VG (w/ insert) $60
Martin Rev - Martin Rev (LP, Album) Infidelity (2) ?– JMB-228 1980 VG+/VG $25
The Faction - No Hidden Messages (I M Records) LP, Album VG+/VG+ $50
Big Black ?– Sound Of Impact (Numbered w/ booklet) NM/VG+ $60
Bathory ?– The Return...... (Combat MX8041 1985) VG+/VG+ w/ lyric sleeve $65
Bathory ?– Under The Sign Of The Black Mark (Under One Flag ?– FLAG 11 UK 1987 w/ lyric sleeve) $70
Agnostic Front - Victim In Pain (Combat Core, Relativity) LP, Album, RE VG+/VG+ $23
Buzzcocks ?– What Do I Get? UK VG+/ No PS $3
The Jesus & Marychain* ?– Trip U Up + NM/NM (Pink vinyl) $18
The Jesus And Mary Chain - Upside Down (7", Single, Yel) NM/NM $20
Ace Oom And The Eons + The Lamar Harrington Band ?– Oom Cocka Mau-Mau / Paralysed! No PS VG+ $25
Prince And The Revolution ?– Purple Rain NM/VG+ (punch hole) French 7" $3
The Shadows Of Knight ?– Bad Little Woman NM (No PS) $12
The Troggs ?– Give It To Me VG+ $5
The Fall ?– Victoria 7" NM/NM UK $4
Eater (2) ?– 'Outside View' b/w 'You' VG+/VG $15
Eater (2) ?– Thinkin' Of The U.S.A. $12
The UV Race* ?– Acid Trip NM/NM $5
Television ?– Prove It VG+/VG+ (Elektra Factory Sleeve) $7
Adam & The Ants* ?– The B Sides NM/VG+ $6
Dwight Twilley Band ?– You Were So Warm VG+/VG+ $7
Nikki Sudden ?– Back To The Start VG+/VG+ $10
Naked Raygun ?– Basement Screams 7" VG+/VG+ $5
Ramones ?– Do You Wanna Dance? VG+/VG+ $20
Joy Division ?– Transmission VG+/VG+ Textured Sleeve $15
Elton John ?– Rocket Man (DJM 1972 UK) VG+/VG+ $10
Neil Hamburger ?– Bartender, The Laugh's On Me!!!! VG+/VG+ $10
Dicks ?– Peace? (bootleg) VG+/VG+ $5
Chelsea (2) ?– Evacuate NM/VG+ $7
Cockney Rejects - I'm Forever Blowing Bubbles (7", Single) VG+/VG $8
Group Of Individual's* ?– World Civil War VG+/VG+ $5
The Damned ?– Don't Cry Wolf / One Way Love (1977 Yellow vinyl) NM/VG+ $60
Front (5) ?– System VG+/VG+ 1978 UK $6
The White Stripes ?– Party Of Special Things To Do (Third Man 2011) NM/NM (unplayed) $75
Dinosaur* ?– Repulsion VG+/VG+ $8
Bobby Conn - Who's The Paul? (Taigkyo) 7", Single VG+/VG+ $8
Syl Johnson ?– Is It Because I'm Black / Let Them Hang High VG+ $20
The Lepers - Coitus Interruptus (7", EP) NM (no cover) $23
999 ?– Nasty, Nasty VG+/VG+ UK $5
Alice Cooper ?– Eighteen / Body VG+ WLP $12
Nightmare Boyzzz, Younger Siblings ?– Split NM/NM Clear Vinyl $3
Moby Grape ?– Omaha / Someday G/G WLP $10
Riverdales* ?– Back To You VG+/VG+ $2
Screeching Weasel ?– You Broke My Fucking Heart NM/VG+ $2
Michael Jackson ?– Beat It Holland VG+/VG $4
The Green Pajamas ?– Kim The Waitress NM/VG+ $8
Zero Boys ?– Vicious Circle NM/NM OG Nimrod 1982 (shrink w/ inner lyric sleeve) $150
Thee Headcoats ?– The Earls Of Suavedom NM/VG+ $10
Thee Headcoats ?– Knights Of The Baskervilles OG 1996 NM/NM (still sealed) $20
Thee Headcoatees ?– Girlsville NM/NM 1993 (still sealed) $15
Hawkwind ?– Doremi Fasol Latido 1972 UA VG/VG (with OG inner sleeve) $15
Motörhead ?– Motörhead OG Chiswick 1977 VG+/VG (w/ inner sleeve) $50
The Microphones ?– Mount Eerie VG+/VG+ (OG sewn cover) $28
Beat Happening ?– Dreamy NM/NM (Mysterious Non-Sub Pop K Records Version) $15
Beat Happening ?– Jamboree (1996 K Records Version) NM/VG+ $15
Beat Happening ?– You Turn Me On (K Records Version) NM/NM $30