THE WESLEY WILLIS CD REPOSITORY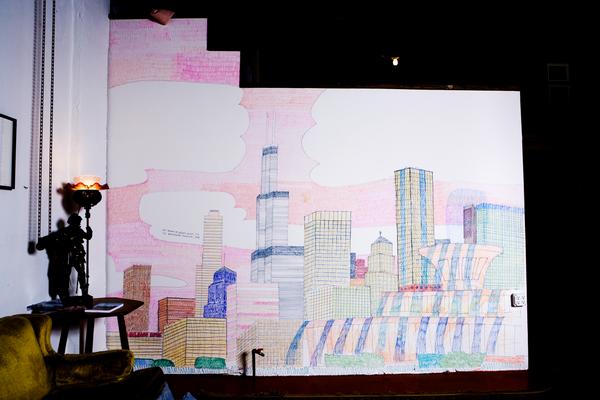 Radiohead (1994)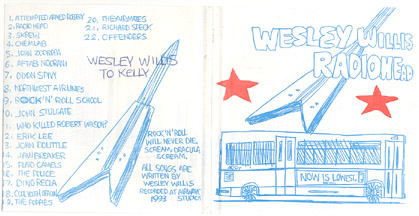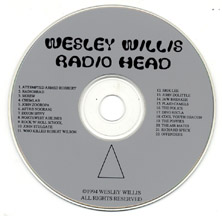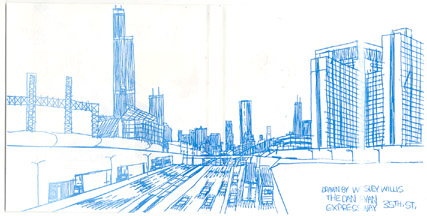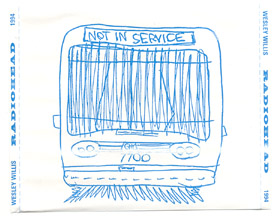 Attempted Armed Robbery
Radiohead
Skrew
Chemlab
John Zooropa
Aftab Noorani
Dixon Spivy
Northwest Airlines
Rock 'N' Roll School
John Stulgate
Who Killed Robert Wilson?
Erik Lee
John Dolittle
Jawbreaker
Plaid Camels
The Police
Dino Recla
Cool Youth Deacon
The Poppies
The Airmates
Richard Speck
Offenders
Double Door (1994)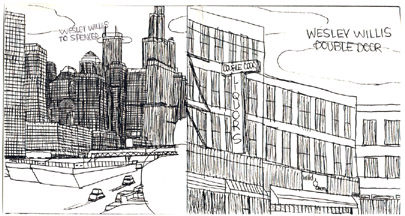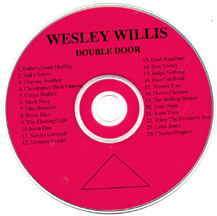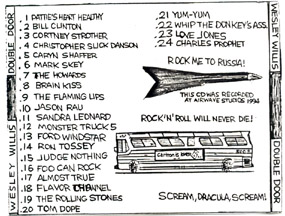 Pattie's Heart Healthy
Bill Clinton
Courtney Strother
Christopher Slick Danson
Caryn Shaffer
Mark Skey
The Howards
Brian Kiss
The Flaming Lips
Jason Rau
Sandra Leonard
Monster Truck 5
Ford Winstar
Ron Tossey
Judge Nothing
Foo Can Rock
Almost True
Flavor Channel
The Rolling Stones
Tom Dope
Yum-Yum
Whip The Donkey's Ass
Love Jones
Charles Prophet
Machine Gun Kelly (1994)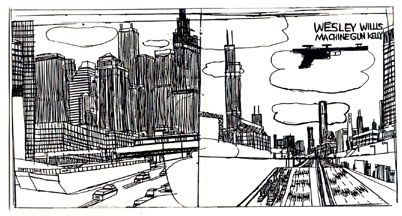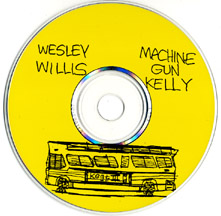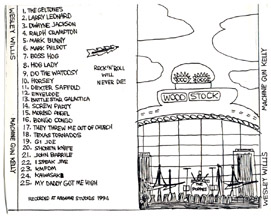 The Geltones
Larry Leonard
Dwayne Jackson
Ralph Crampton
Mark Bunny
Mark Philpot
Boss Hog
Hog Lady
Do The Watoosy
Horsey
Dexter Saffold
Envelope
Battlestar Galactica
Screw Party
Morbid Angel
Bongo Congo
They Threw Me Out Of Church
Texas Tornados
GI Joe
Shonen Knife
Josh Barrile
I Speak Jive
KMFDM
Kawasaki
My Daddy Got Me High
Rev. Norb #1 (1994)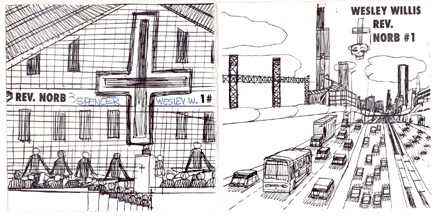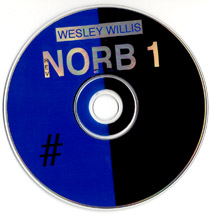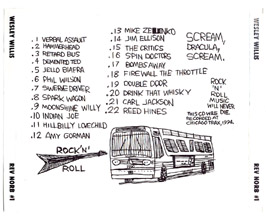 Verbal Assault
Hammerhead
Retard Bus
Demented Ted
Jello Biafra
Phil Wilson
Swervedriver
Spank Wagon
Moonshine Willy
Indian Joe
Hillbilly Lovechild
Amy Gorman
Mike Zelenko
Jim Ellison
The Critics
Spin Doctors
Bombs Away
Firewall The Throttle
Double Door
Drink That Whiskey
Carl Jackson
Reed Hines
Prisonshake (1994)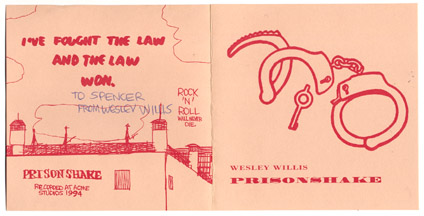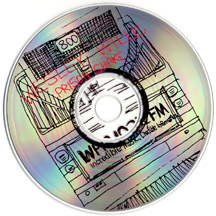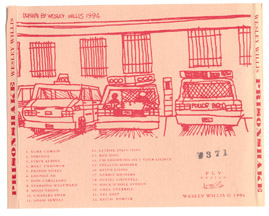 Kurt Cobain
Nirvana
Steve Albini
Bolt Thrower
Prison Shake
Lounge Ax
Don Caballero
Stabbing Westward
Mojo Nixon
Charles Swab
Adam Sewell
Lethal Injection
Bad Dog
I'm Shooting Out Your Lights
Stealth Bomber
Keith Lyons
Debbie Meiners
Russel Chintell
Rock 'N' Roll Avenue
Urge Overkill
NFL Shit
Keith Porter
Reverend Norb No. 2 (1994)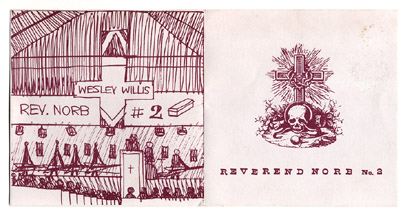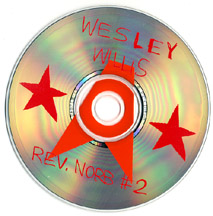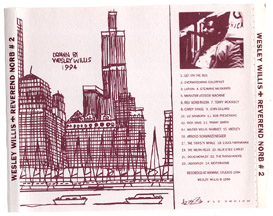 Get On The Bus
Overwhelming Colorfast
Lotion
Steaming Muskrats
Monster Voodoo Machine
Rev Norb Rozek
Terry McKinsey
Carey Chase
John Dillard
Liz Sanborn
Bob Fredericks
Rick Sims
Tammy Smith
Walter Willis Shabazz
Medley
Arnold Schwarzenegger
The Thirsty Whale
Louis Farrakhan
The Mean Reds
Blue Eyed Christ
Doug Mowley
The Rainshakers
Jadroplov
Motorhome
Mr. Magoo Goes To Jail (1994)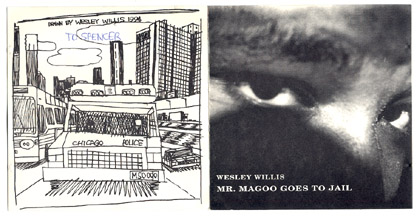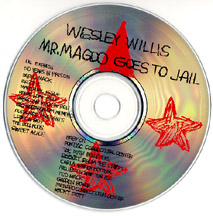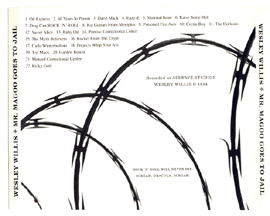 Oil Express
60 Years In Prison
Daryl Mack
Eazy-E
Material Issue
Raise Some Hell
Drag Can ROCK 'N' ROLL
Big Guitars From Memphis
Poisoned Fire Ants
Cretin Boy
The Dollrods
Sweet Alice
Baby Oil
Pontiac Correctional Center
The Myth Believers
Rocket From The Crypt
Carla Winterbottom
Projects Whip Your Ass
Ted Mack
Garden Bower
Menard Correctional Center
Ricky Gott
Daren Hacker (1995)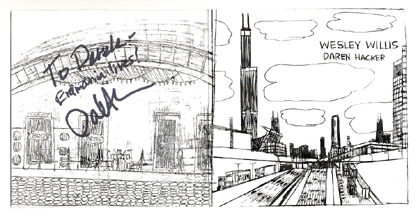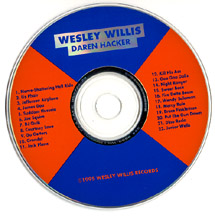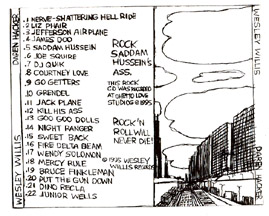 Nerve-Shattering Hellride
Liz Phair
Jefferson Airplane
James Doo
Saddam Hussein
Joe Squire
DJ Quik
Courtney Love
Go Getters
Grendel
Jack Plane
Kill His Ass
Goo Goo Dolls
Night Ranger
Sweet Back
Fire Delta Beam
Wendy Solomon
Mercy Rule
Bruce Finkleman
Put the Gun Down
Dino Recla
Junior Wells
Tammy Smith (1995)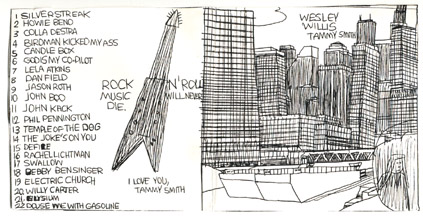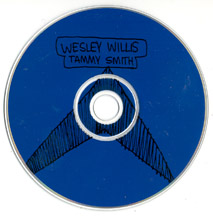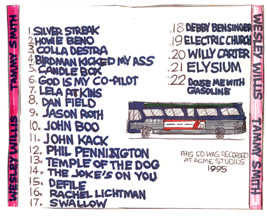 Silver Streak
Howie Beno
Colla Destra
Birdman Kicked My Ass
Candlebox
God Is My Co-Pilot
Lela Atkins
Dan Field
Jason Roth
John Boo
John Kack
Phil Pennington
Temple Of The Dog
The Joke's On You
Defile
Rachel Lightman
Swallow
Debby Bensinger
Electric Church
Willy Carter
Elysium
Douse Me With Gasoline
(alternate handmade back cover)
Fireman Rick (1995)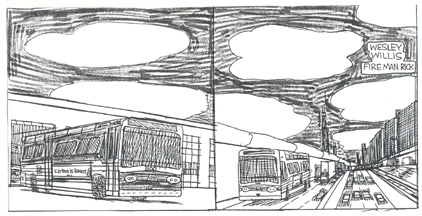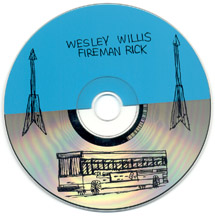 The Foo Fighters
Hovercraft
Dave Grohl
Sweet 75
Blanket Party
Hum Can Rock Hum Can Roll
Spook Me
Hell Bus
Rick Vega
The Millions
John Woof
Meat Puppets
White Zombie
Broken Hope
Carl Will
Freakout Hell Ride
Catherine Frazer
Sally Mowles
Whip The Horse's Ass
Spies Who Surf
New Rob Robbies
Pink Floyd
Roger Lee Carpenter
Drag Disharmony Hell Ride (1995)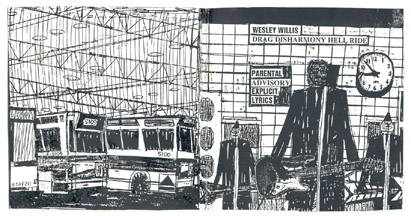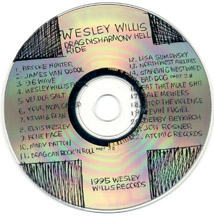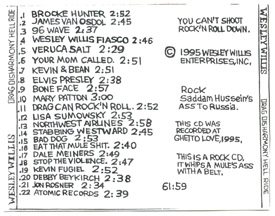 Brooke Hunter
James Van Osdol
96 Wave
Wesley Willis Fiasco
Veruca Salt
Your Mom Called
Kevin & Bean
Elvis Presley
Bone Face
Mary Patton
Drag Can Rock 'N' Roll
Lisa Sumowsky
Northwest Airlines
Stabbing Westward
Bad Dog
Eat That Mule Shit
Dale Meiners
Stop The Violence
Kevin Fugiel
Debby Beykirch
Jon Rosner
Atomic Records
Jason Rau (1995)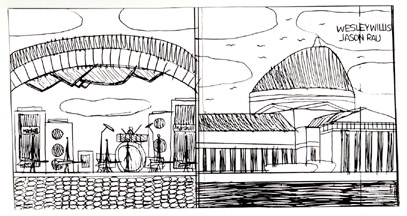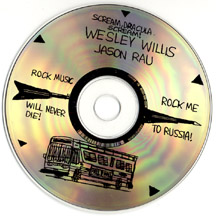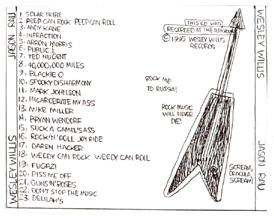 Solar Tribe
Peep Can Rock Peep Can Roll
Andy Kane
Infraction
Aaron Morris
Public 1
Ted Nugent
40,000,000 Miles
Blackie O
Spooky Disharmony
Mark Johnson
Incarcerate My Ass
Mike Miller
Bryan Wendorf
Suck A Camel's Ass
Rock 'N' Roll Joy Ride
Daren Hacker
Weedy Can Rock Weedy Can Roll
Fugazi
Piss Me Off
Guns 'N' Roses
Don't Stop The Music
Delilah's
Wesley Willis (1995)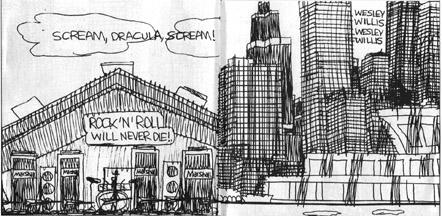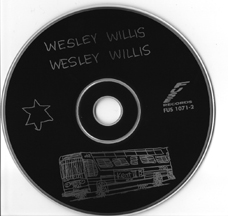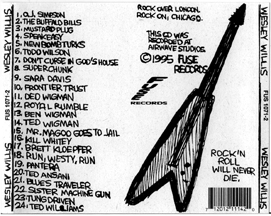 O.J.Simpson
The Buffalo Bills
Mustard Plug
Speakeasy
New Bomb Turks
Todd Wilson
Don't Curse In God's House
Superchunk
Sara Davis
Frontier Trust
Ded Wigman
Royal Rumble
Ben Wigman
Ted Wigman
Mr. Magoo Goes To Jail
Kill Whitey
Brett Kloepfer
Run, Westy, Run
Pantera
Ted Ansani
Blues Traveler
Sister Machine Gun
Tung Driven
Ted Williams
(Thanks To MC Lars)
Atomic Records (1995)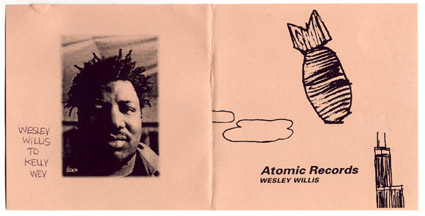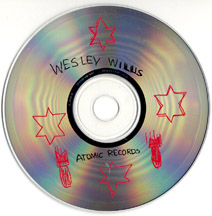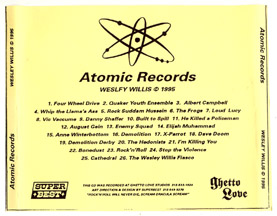 Four Wheel Drive
Quaker Youth Ensemble
Albert Campbell
Whip The Llama's Ass
Rock Saddam Hussein
The Frogs
Loud Lucy
Vic Vaccume
Danny Shaffer
Built To Spill
He Killed A Policeman
August Gein
Enemy Squad
Elijah Muhammad
Anne Winterbottom
Demolition
X-Parrot
Dave Doom
Demolition Derby
The Hedonists
I'm Killing You
Bonedust
Rock 'N' Roll
Stop The Violence
Catherdral
The Wesley Willis Fiasco
Delilah's (1995)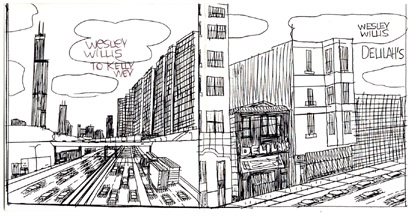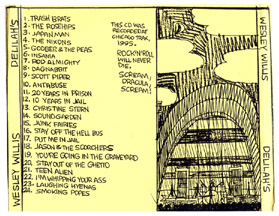 Trash Brats
The Rosehips
Japan Man
The Nixons
Goober & The Peas
Insania
Rod Almighty
Dagnabbit
Scott Piper
Antabuse
20 Years In Prison
10 Years In Jail
Christine Stern
Soundgarden
Junk Fairies
Stay Off The Hell Bus
Put Me In Jail
Jason & The Scorchers
You're Going In The Graveyard
Stay Out Of The Ghetto
Teen Alien
I'm Whipping Your Ass
Laughing Hyenas
Smoking Popes
Rock Power (1995)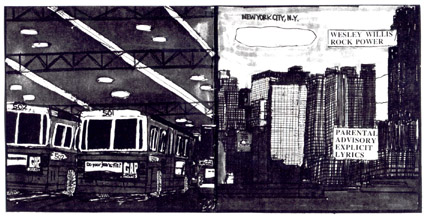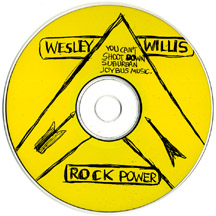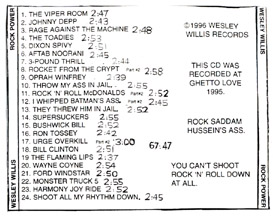 The Viper Room
Johnny Depp
Rage Against The Machine
The Toadies
Dixon Spivy
Aftab Noorani
3-Pound Thrill
Rocket From The Crypt
Oprah Winfrey
Throw My Ass In Jail
Rock & Roll McDonalds
I Whipped Batman's Ass
They Threw Him In Jail
Supersuckers
Bushwick Bill
Ron Tossey
Urge Overkill
Bill Clinton
The Flaming Lips
Wayne Coyne
Ford Windstar
Monster Truck 5
Harmony Joy Ride
Shoot All My Rhythm Down
(alternate cover)
Mr. Magoo Goes To Jail Vol. 1 (1996)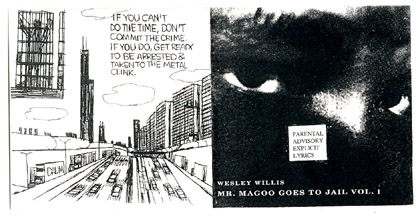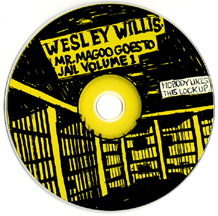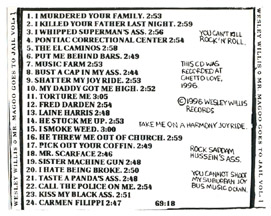 I Murdered Your Family
I Killed Your Father Last Night
I Whipped Superman's Ass
Pontiac Correctional Center
The El Caminos
Put Me Behind Bars
Music Farm
Bust A Cap In My Ass
Shatter My Joy Ride
My Daddy Got Me High
Torture Me
Fred Darden
Laine Harris
He Stuck Me Up
I Smoke Weed
He Threw Me Out of Church
Pick Out Your Coffin
Mr. Scarface
Sister Machine Gun
I Hate Being Broke
Taste APanda's Ass
Call The Police On Me
Kiss My Black Ass
Carmen Filippi
Mr. Magoo Goes To Jail Vol. 2 (1996)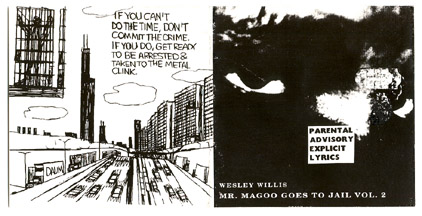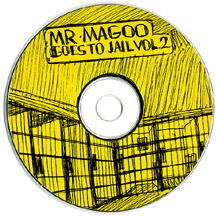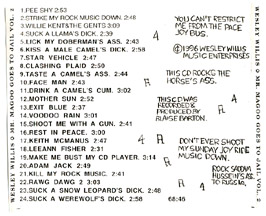 Pee Shy
Strike My Rock Music Down
Willie Kent & The Gents
Suck A Llama's Dick
Lick My Doberman's Ass
Kiss A Male Camel's Dick
Star Vehicle
Clashing Plaid
Taste A Camel's Ass
Face Man
Drink A Camel's Cum
Mother Sun
Exit Blue
Voodoo Rain
Shoot Me With A Gun
Rest In Peace
Keith McManus
LeeAnn Fisher
Make Me Bust My CD Player
Adam Jack
Kill My Rock Music
Rawg Dawg
Suck A Snow Leopard's Dick
Suck A Werewolf's Dick
Mr. Magoo Goes To Jail Vol. 3 (1996)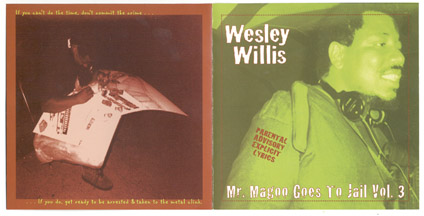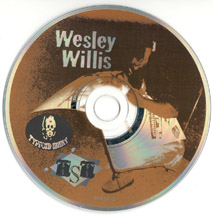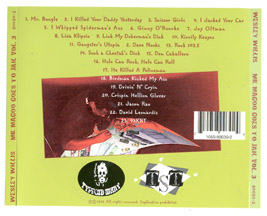 Mr. Bungle
I Killed Your Daddy Yesterday
Scissor Girls
I Jacked Your Car
I Whipped Spiderman's Ass
Ginny O'Rourke
Joy Oltman
Lisa Klipsic
Lick My Doberman's Dick
Kirrily Keayes
Gangster's Utopia
Dave Nooks
Rock 103.5
Suck a Cheetah's Dick
Don Caballero
Hole Can Rock, Hole Can Roll
He Killed a Policeman
Birdman Kicked My Ass
Drivin' n' Cryin'
Crispin Hellion Glover
Jason Rau
David Leonardis
93XRT
(inside tray drawing)
Rock 'N' Roll Will Never Die (1996)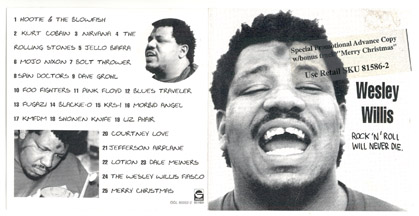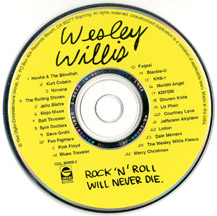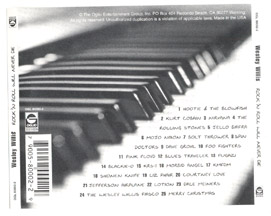 Hootie & The Blowfish
Kurt Cobain
Nirvana
The Rolling Stones
Jello Biafra
Mojo Nixon
Bolt Thrower
Spin Doctors
Dave Grohl
Foo Fighters
Pink Floyd
Blues Traveler
Fugazi
Blackie-O
KRS-1
Morbid Angel
KMFDM
Shonen Knife
Liz Phair
Courtney Love
Jefferson Airplane
Lotion
Dale Meiners
The Wesley Willis Fiasco
Merry Christmas
(inside cover)

Metal Clink Punishment Jail (1996)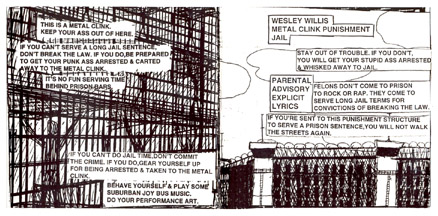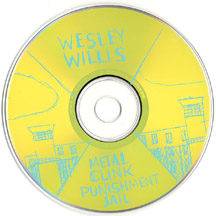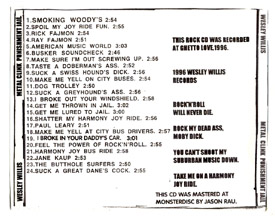 Smoking Woody's
Spoil My Joy Ride Fun
Rick Fajmon
Ray Fajmon
American Music World
Busker Soundcheck
Make Sure I'm Out Screwing Up
Taste A Doberman's Ass
Suck A Swiss Hound's Dick
Make Me Yell On City Buses
Dog Trolley
Suck A Greyhound's Ass
I Broke Out Your Windshield
Get Me Thrown In Jail
Get Me Lured To Jail
Shatter My Harmony Joy Ride
Paul Leary
Make Me Yell At City Bus Drivers
I Broke In Your Daddy's Car
Feel The Power Of Rock 'N' Roll
Harmony Joy Bus Ride
Jane Kaup
The Butthole Surfers
Suck A Great Dane's Cock
Black Light Diner (1996)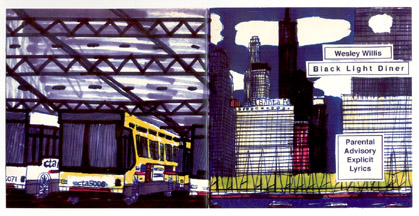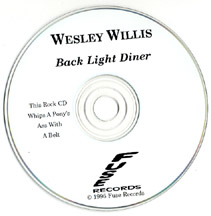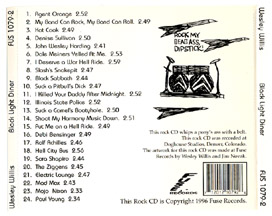 Agent Orange
My Band Can Rock, My Band Can Roll
Kat Cook
Denise Sullivan
John Wesley Harding
Dale Meiners Yelled At Me
I Deserve A War Hell Ride
Slash's Snakepit
Black Sabbath
Suck A Pitbull's Dick
I Killed Your Daddy After Midnight
Illinois State Police
Suck A Camel's Bootyhole
Shoot My Harmony Music Down
Put Me On A Hell Ride
Debi Bensinger
Rolf Achilles
Hell City Bus
Sara Shapiro
The Ziggens
Electric Lounge
Mad Max
Mojo Nixon
Paul Young
Dr. Wax (1996)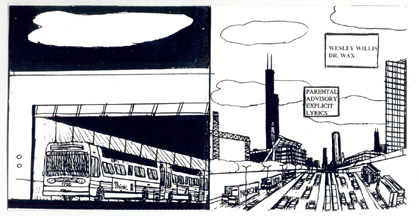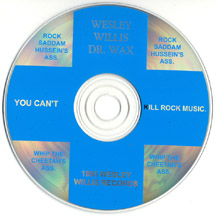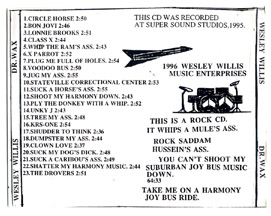 Circle Horse
Bon Jovi
Lonnie Brooks
Class X
Whip The Ram's Ass
X Parrot
Plug Me Full Of Holes
Voodoo Bus
Jug My Ass
Stateville Correctional Center
Suck A Horse's Ass
Shoot My Harmony Down
Ply The Donkey With A Whip
Unky J
Tree My Ass
KRS-One
Shudder To Think
Dumpster My Ass
Clown Love
Suck My Dog's Dick
Suck A Caribou's Ass
Shatter My Harmony Music
The Drovers
New York, New York (1996)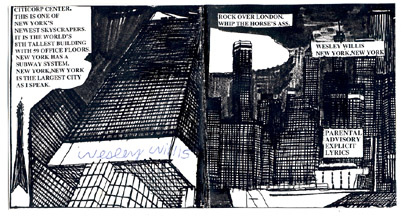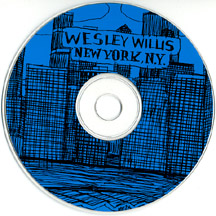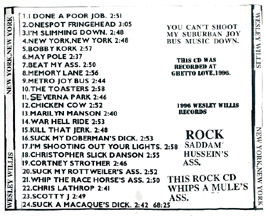 I Done A Poor Job
Onespot Fringehead
I'm Slimming Down
New York, New York
Bobby Kork
May Pole
Beat My Ass
Memory Lane
Metro Joy Bus
The Toatsers
Severna Park
Chicken Cow
Marilyn Manson
War Hell Ride
Kill That Jerk
Suck My Doberman's Dick
I'm Shooting Out Your Lights
Christopher Slick Danson
Cortney Strother
Suck My Rottweiler's Ass
Whip The Race Horse's Ass
Chris Lathrop
Scotty J
Suck a Macaque's Dick
Rock N' Roll Jack Flash (1998)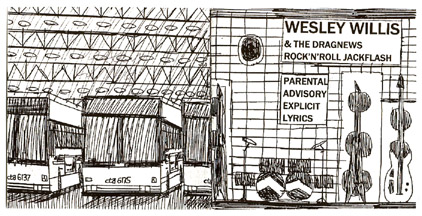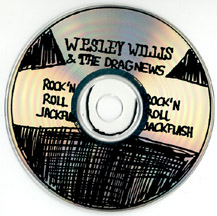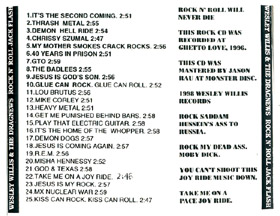 It's The Second Coming
Thrash Metal
Demon Hell Ride
Chrissy Szumal
My Mother Smokes Crack Rocks
40 Years In Prison
GTO
The Badlees
Jesus Is God's Son
Glue Can Rock. Glus Can Roll.
Lou Brutus
Mike Corley
Heavy Metal
Get Me Punished Behind Bars
Play That Electric Guitar
It's The Home Of The Whopper
Demon Dogs
Jesus Is Coming Again
R.E.M.
Misha Hennessy
God & Texas
Take Me On A Joy Ride
Jesus Is My Rock
My Nuclear War
Kiss Can Rock. Kiss Can Roll.
Full Heavy Metal Jacket (1998)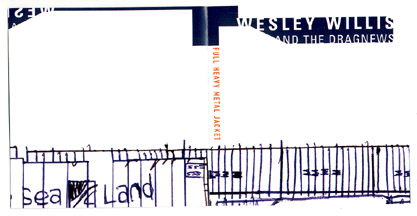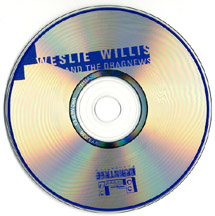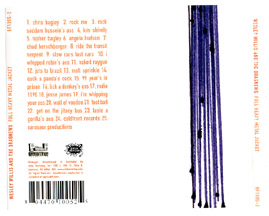 Chris Bagley
Rock Me
Rock Saddam Hussein's Ass
Kim Shively
Topher Bagley
Angela Hudson
Chad Herschberger
Ride The Transit Serpent
Slow Cars Fast Cars
I Whipped Robin's Ass
Naked Raygun
Jets To Brazil
Matt Sprinkle
Suck A Panda's Cock
99 Years In Prison
Lick A Donkey's Ass
Radio 1190
Jesse James
I'm Whipping Your Ass
Wall Of Voodoo
Fast Ball
Get On The Jitney Bus
Taste A Gorilla's Ass
Coldfront Records
Earosaur Productions
(scan of inside front cover)
Old Pike
Hillary Russell
Adina Futterman
Dovetail Joint
Cut The Mullet
Rock Of Ages
Cars Get Crushed
Drat Records
You Better Find My Pistol
Make My Joyplane Crash and Burn
Patrick Dunne
Angela Peano
Walter Willis Shabazz
Henry Rollins
Ful-Flej
The Frogs
Keep My Joyplane From Taking Off
Scratch Happy
I'm The Daddy Of Rock & Roll
Triple Fast Action
Sharyn Davis
Maureen Davis
Jim Cosme
Stay Off The Hell City Bus
Rock Power
(Thanks to Blight)
Never Kill An Ape (2000)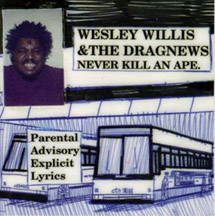 Roll With the Flavor
Don't Ask Me For Shit
Suck An Ibex's Bootyhole
Jon Dunn
Chris Dunn
Suck A Hyena's Dick
Indiana State Police
Gary Truth
Montana Highway Patrol
Wisconsin State Trooper
Judy Higgins
Taste A Mountain Goat's Ass
Play That Rock Music
Mississippi Cactus
Tami Deardorss
Suck A Panda's Dick
My Daddy Smokes Cocaine
Cook County Jail
Jay Johnson
My Keyboard Got Damaged
Never Kill An Ape
Shaq O'Neal
Suck An Ape's Dick
Fu Manchu
Arnold Schwarzenegger
The Wesley Willis Fiasco - Live E.P. (2001)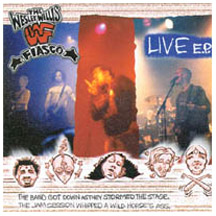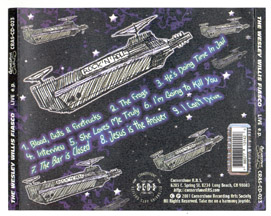 Blood, Guts & Firetrucks
The Frogs
He's Doing Time In Jail
Interview
She Loves Me Truly
I'm Going To Kill You
The Bar Is Closed
Jesus Is The Answer
I Can't Drive
ASCAP (2001)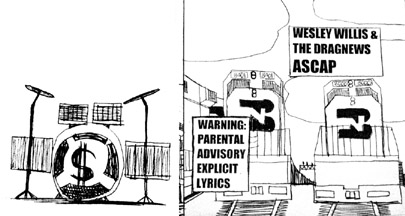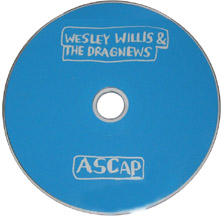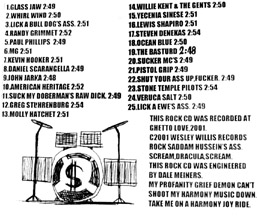 Glass Jaw
Whirl Wind
Lick A Bull Dog's Ass
Randy Grimmet
Paul Phillips
MG
Kevin Hooker
Daniel Scarangella
John Jarka
American Heritage
Suck My Doberman's Raw Dick
Greg Stuhrenburg
Molly Hatchet
Willlie Kent & The Gents
Yecenia Sinese
Lewis Shapiro
Steven Denekas
Ocean Blue
The Basturd
Sucker MC's
Pistol Grip
Shut Your Ass Up, Fucker
Stone Temple Pilots
Veruca Salt
Two Rare Tracks Update! Here's a message that I recently received from Robert Spees:
Hi Derek, I wanted to send this very rare undated American Recordings promotional cassette that Wesley
Willis probably made while in New York City in 1996. The seem to be B-Sides that Didn't make the cut
on Fabian Road Warrior. I did my best to transfer these with my old tascam via a canopus of all things,
so the tracks are a little lower in volume than I would have liked them to be. But it's better than nothing.
Thanks Robert!
If you would like to add a CD not found here, please get in touch.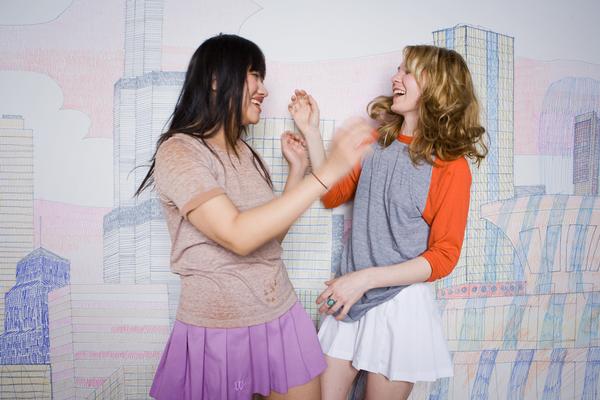 (Photographs by Jim Newberry)
CLICK HERE for a gigantic zipped file of Wesley Willis lyrics, compiled by Søren Heinze. The lyrics were taken
from a multitude of websites; mainly songemeanings, lyricsmania, and youtube. In particular the youtube
user spayspay is to thank for providing a lot of the less common lyrics.

37,324 PEOPLE HAVE WHIPPED THE MULE'S ASS WITH A DAMN BELT.
Rock over London, Rock On Chicago; Remco, it's the go ahead & get it store.