INTERNATIONAL HOUSE OF PAINTINGS / 666 S. Jackson Seattle, WA 98104 / 773.595.9708 (text preferred)
Proof That It Really Existed / A Photo Show
by Kyle Johnson, Lauren Max, Robin Stein & Jim Newberry @ International House of Paintings 10/25/2012
Derek Erdman's International House of Paintings continues to prove that it's a serious new force in the Seattle art scene with it's fifth show since it's birth two months ago. In addition to a regular knitting circle, movie drawing nights and a public meeting place, IHOP has already been called "a cultural hub" by a major Seattle magazine. Proof That It Really Existed, IHOP's first photo show, came together like the rest of the shows: by Derek Erdman asking photographers who's work he admires to show at the humble space in the International District. The photographs vary wildly in style, Robin Stein's photos come from stills of a video she shot for the band Naomi Punk from Olympia. Kyle Johnson chose a number of nature photos. Chicago's Jim Newberry will be showing city street scenes from the 1980s. Lauren Max's scenes of a summer past will be on display. Proof That It Really Existed opens on 10/25 at 7pm and will remain on view for two weeks. Derek Erdman's International House of Paintings is located at 666 S. Jackson in Seattle, WA. The zip code is 98104.
Hailing from the Pacific Northwest, Kyle Johnson creates images that are intriguing and classically executed. Whether it's portrait or travel work, Kyle's aesthetic pairs textured natural settings with a distinct photographic perspective. He has recently shot work for Popular Mechanics Magazine, Sub Pop Records, LL Bean, & Wallpaper* Magazine.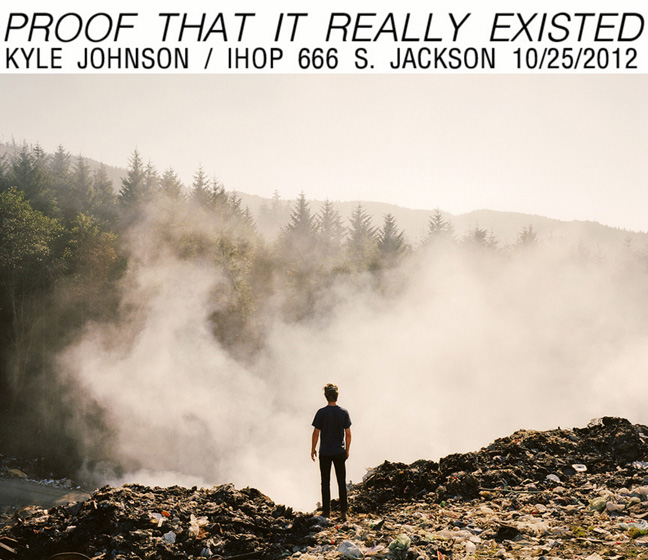 Lauren Max grew up in Olympia, WA, and moved to Seattle soon after she graduated high school to attend Seattle Central's Commercial Photography program to further pursue her passion and gain knowledge in photography. When originating new work, she draws strongly on sense of place, looking to the Pacific Northwest's geography, landmarks, and culture for inspiration, This diverse landscape is something that has always surrounded her, a place that she can always seek comfort in, as well as surprises. Hopelessly curious, she's addicted to experimenting with new ideas each time she shoots. Often her approach to a shoot has a loose vision that allows her to remain open to new possibilities. Lauren doesn't know exactly the shot she wants until it's discovered within the moment. Though finding one's voice is an ongoing process, Lauren has established in her photography a tone of optimistic irony, her style is like bringing balloons into a graveyard--adding levity to the heavy.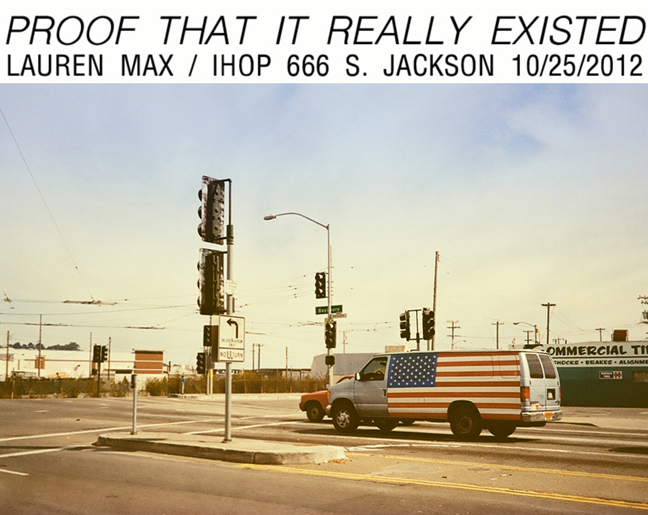 Jim Newberry is a freelance photographer with a studio in Chicago. His interest in photography began as a young child, when his father--James Newberry, who founded the photography department at Columbia College Chicago--gave him a camera and taught him how to use it. Having a keen interest in music, Jim has worked with quite a few record labels, including Anti, Atlantic, Drag City, Luaka Bop, Matador, Shout Factory, Sub Pop, Thrill Jockey, and Touch and Go. Jim's work can be seen at: www.jimnewberry.com His work has also been published in numerous books, as well as periodicals including Chicago Reader, Esquire, The Guardian, Interview, London Times, Mojo, New York Times, Rolling Stone, Spin and Village Voice.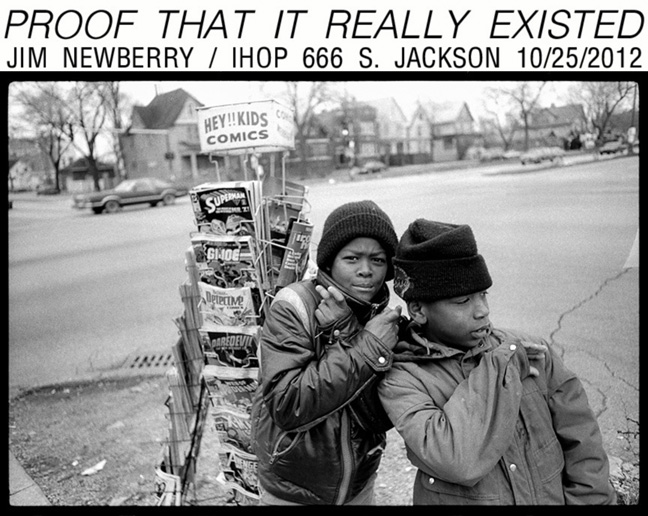 Robin Stein is a multi-disciplinary artist based in Seattle, WA. Primarily working with photography, moving images and sound, his work is rooted in an inquisitive and adventurous exploration of geography, history, and human interactions with the built and natural landscape. His photography, installations and music have been recognized and exhibited widely, having shown in venues in New York City, Los Angeles, Chicago, Mexico City, Seattle, and Portland.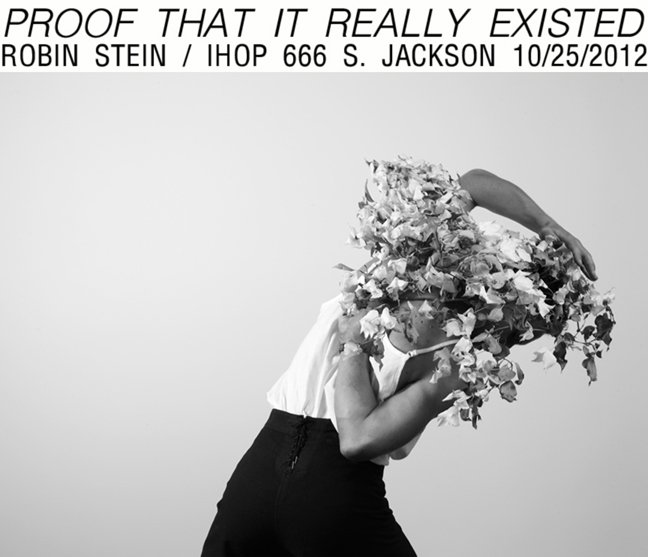 Higher resolution photos are available for print / web purposes.
MEDIA QUOTABLES:
Bob Haley Jr.: I've seen a lot of art galleries, and this is one of them.
John R. Nicholson: I laughed, I cried! It was better than Cats!
Mike Force: It's a pleasure attending. It's no worse than a volcano.
Frankie Crescioni: It's a slightly better experience than the other IHOP, and they don't even have pancakes.
Jordan Morris: I've been there.
Dan Korn: I would go a thousand miles to see it! Unfortunately, it's two thousand miles away.
Max Schutze: You can't sue us because we're a different industry than restaurants and we don't even have a toppings bar.
Steve Thornton: I was afraid there was going to be a man with a sword, but there wasn't. Five stars for safety!
Jordan Morris: I went there, but it was closed.
NO THEME / NO PROBLEM - A Group Art Show - October 4th, 7PM


The second ever show at the International House of Paintings, NO THEME / NO PROBLEM combines the talent and good nature of three of Seattle's finest graphic designers along with mesmerizing and brilliant dueling video work of two well known GIF masters. This show will feature framed and unframed prints and drawings on walls as well as television sets showings images, hot dogs, and peanut butter sandwiches. Come join IHOP along with Tom DesLongchamp, Jill Labieniec, Brittany Kusa, Jessica Phoenix, and Frankie Crescioni (aka Seņor Gif!) for an evening which you will later remember and think to yourself, "I attended that event."
Brittany Kusa is an illustrator living in Seattle, WA. She is originally from Kalamazoo, MI, where she was raised by a hamburger, who taught her everything she knows about art.
Jill Labieniec grew up in a small New England town which is home to cows, dirt roads and a revolutionary war spy. Her silly imagination and love for putting it down on paper led her to Florida where she received a BFA in illustration from the Ringling School of Art and Design. Upon graduating, she joined her longtime friend on an adventure to the pacific northwest where she saw her first river otter and ate her first corn dog. Jill currently spends her days as a freelance illustrator who enjoys picnics and daydreaming of sailboats.
Hi there. I'm Tom DesLongchamp, and I'm from South Seattle. I studied art and animation at RISD. I like to make every kind of art, except graphic design. I especially love drawing and animating. Most of the animations I have in this show are gifs from my holyGifs.com blog. If you want to see all of my work, please visit my website at tomthinks.com. When I'm not making things, I'm hanging out with my wife Jessica Phoenix and my two cats: Reuben and Roscoe. I live in Ballard. I hope you enjoy my work.
Born in Fort Benning, Georgia in 1984, Francisco Antonio Crescioni (or as he known on the street "Frankie") went to college at the University of Minnesota where he learned about cinema-media culture with a focus in "new media." He currently is working on a way to interface MIDI-instruments with a visual programming language (Max/Msp/Jitter) to control manipulate digital imagery. He likes Seattle but wished more people were into acid house."
Jessica Phoenix is a designer/illustrator from Stow, Massachusetts who loves music, happy hour and cutting out and assembling tiny pieces of paper, even though it gives her tremendous neck pain. She moved to Seattle from Rhode Island in 2007 with her husband, Tom DesLongchamp, after they both attended the Rhode Island School of Design. She and Tom currently lives in Ballard with two man-cats and she spends most of her time sleeping, hanging out with Tom and working at Compendium Inc., a local gift and publishing company. More of her artwork (although most of it is old, unfortunately) can be seen at her website jessicaphoenix.com.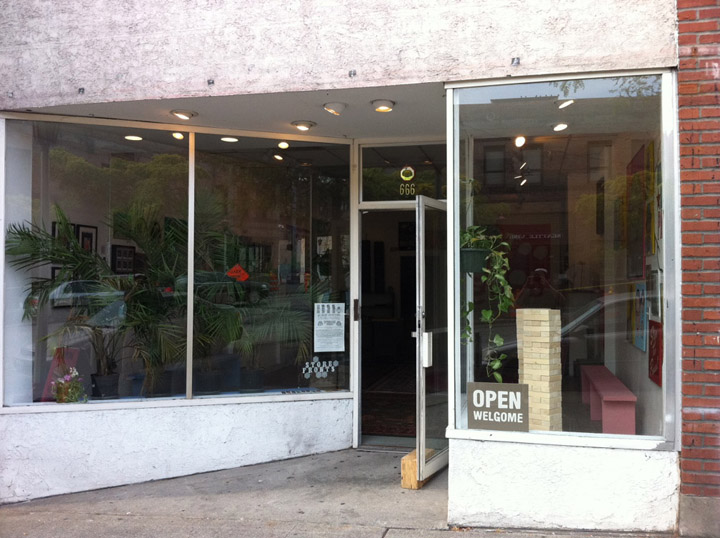 SEPTEMBER 29TH: City Arts wrote something nice about IHOP. Thanks City Arts!
PREVIOUS ART SHOW: #1 INSIDE JOB, LET'S ROLL (Available viewing from 9/11 until 10/01).
Click here for info & items available for purchase
MONDAY, SEPTEMBER 24TH: Larry Mizell's first viewing of the 1980s kung-fu classic THE LAST DRAGON.
Join us at IHOP for a projected presentation of Berry Gordy's 1985 incredible movie featuring Bruce Leroy,
the Shogun of Harlem and a pre-Rudy Huxtable Keshia Knight. The movie starts at 8:30! Don't be a slouch,
get here on time. UNLIMITED POPCORN PROVIDED BY IHOP. Click here for a preview video called
Sho'nuff Goes to the Movies.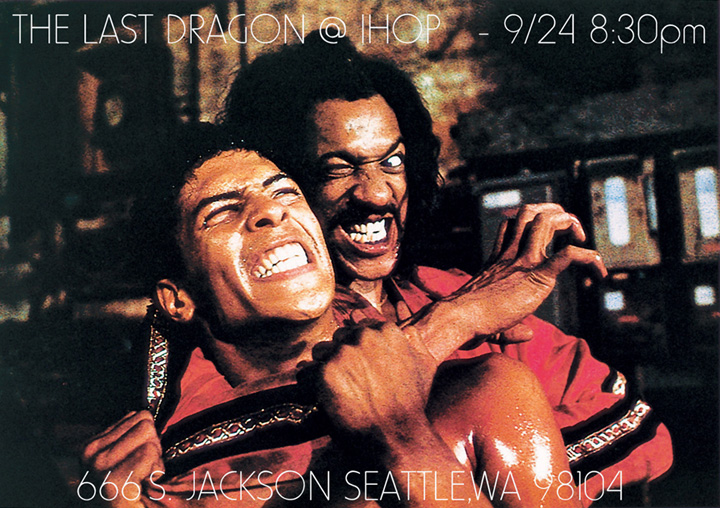 IHOP approved links: IHOP on Facebook, Seattle Storefronts, Lacey Swain's YARN BARN.
(This website was made with Dreamweaver 1.2, a calculator and two pieces of string.)