11.28.11 Long time cohort Julia Rickert wrote an important lawyerin' paper with Federalist Society co-founder Steven G. Calabresi that hasn't even been released yet and it's already making more waves than the moon! My favorite commenter quote, "Presumably Steven Calabresi and Julia Rickert would be horrified to see a "whites only" restroom in the building where they work every day. I wonder if they react identically to the (gender)-segregated restrooms that currently exist in that building." WHEN ARE WE GONNA GET GENDER-NEUTRAL BATHROOMS UP IN HERE? In other news, my birthday is 12/06, here is a list of things to get for me. Other things: Kate Gosselin: What happened to her face?, Kid Griffey, "get ham", REGGAE IS VILE, Strait Holiday Party, "Textile Industry", HE HAS RESIN.
11.21.11 Tonight at the Crocodile! TOTAL POSEURS! Me + Dave Hernandez playing HC/KBD punker tracks, 5pm, 21+. OTHERWISE, I've managed to offend the NW bluegrass community, though Lacey claims, "His letter reads pro Erd to me." See also: Tim Cook's Brat Packs, Lisa Brandt's giant wedding painting, Olivia Hussey, ANTI-BACON & this delightful picture of the darling Emily Nokes. MEANWHILE, Stranger things have happened: Kim Kardashian's Insides, Sanford & Son: "The Blind Mellow Jelly Collection", Happy Birthday, Garnet Mimms!, The Jacuzzi Boys: Glazin' VS. Glazin', Fall Video of the Day: "Marquis Cha-Cha", Pertaining To Shows: The Legendary J&H Productions Tape, "Get Your Cheese Away From Me", Let's Talk About Selling Records, Jimi "Jimmie" Hendrix is the 99%!, The Beach Boys' Smile Finally Released Again, Two Dollars in the Funhouse Urinal: Y/N?, The People With the Masks: Halloween 2011.
10.29.11 "Derek, you simply must update your website more." - Bertie Rickert, 2011. OH, IS THAT SO? Okay, here's the wrap-up from FEBRUARY 2011. Here are also recent things: DTTTC's "Big Ass Head" video, Jake Austen in the CHI TRI. Here are the oblig Stranger things that have happened: The List of Things Worse Than the Black Keys, The Black Keys Allegedly TP House :(, 10/12 Whoa the Horror, Talkin' Punk to the Masses, 10/05 Whoa the Horror, 9/27 Whoa the Horror, Youth Crew Tuesday: Cro-Mags "We Gotta Know", Free Clothes, Illinois Woman Dies After Injecting Hot Beef Fat Into Her Face, Youth Crew Tuesday: Bold "Nailed To The X", Just Let It Close: The United States Postal Service, Caperin': I'm Going To Save You $25, The Desperate Bicycles: "Cars", FRIENDLY G.G. ALLIN, Youth Crew Tuesday: Judge "Bringin' It Down". Caperin': Scans of Copies, Sly Stone Vs. The Raincoats: "Runnin' Away", Youth Crew Tuesday: Still Moving Cop-Out, Extra Rare Seattle Punk Footage From 1981, Caperin': Molly Ringwald VS. Elmer Edward Solly, Youth Crew Tuesday: Seminal Cleveland Ohio Hardcore Overview, Michael Winslow: The Radar Appears To Be Jammed, Caperin': A Memorial For Nobody I (Really) Know - A Comet Gain Interview, Sub Pop Licensing Director Visits Alleged O.J. Simpson Murder Site, Victoria Liss VS. the Receipt Creep: Capitol Hill Debacle, Hard Times at the Central District Safeway, Youth Crew Tuesday: Beastie Boys Polly Wog Stew EP, Caperin' - Death Comes Caperin', The Magic of Amy Jean Porter, MAYBE BEST THING EVER: Jethro Tull "Aqualung" (Live), Do You Want To Party? IT'S PARTY TIME, Six Days Until Halloween: The Changeling (1980), Toothpaste For Dinner Vs. The Oatmeal.
09.01.11 Even more new paintings in the paintings section. Amie Barrodale wrote a story for The Paris Review and I am a character in it. Check out THIS PEEG PICTURE. As usual, Stranger things have happened: "Youth Crew Tuesday: 7 Seconds "Not Just Boys Fun", "Caperin': The Actual Dregs of Humanity", "Grave Babies "Farewell Tour 2011" + Interview", "Today is Christine Chubbuck's Birthday", "Youth Crew Tuesday: Gorilla Biscuits "Start Today", "Hole's "Doll Parts" Covers MEGA-POST", "Caperin': When You Get a Backrub From a Psychic, The Medium is a Masseuse", "2/3 of the West Memphis 3 to be Freed After Admitting Alleged Guilt", "VIDEO THUNDERDOME: "Go For A Soda" VS "Dog Police". NOTICE: I have moved and now have a new address. It is 1651 23rd Ave, Seattle WA 98122. Send mail, post-haste!
08.22.11 GOBS of new paintings in the paintings for sale section.
08.16.11 NBC Chicago gives to you: "Rap Master Maurice on Starting Your Own Paypal Empire" ALSO OTHER THINGS: Stranger cover #3, Timothy Rysdyke's Hillebrity, Youth Crew Tuesday: DYS "Wolfpack", "Caperin': An Incomplete Guide To PNW Beeches", "Happy Birthday John Joseph Wardle / Jah Wobble", Youth Crew Tuesday: Uniform Choice "Screaming For Change", "Caperin': Half-Hearted Food Reviews & Jan Terri Recap.", "Caperin': Corduroy Pillows = Headlines", "Fatally All Mixed Up: Amy Winehouse"
07.21.11 Look: OLD FOOD PHOTOS. See also: plastic bag debate.
07.09.11 This Thursday is the opening of "OLD FOOD" at Vermillion. Have a look at these collectible cards: 1 2 3. Also, the link in the last update for the BBC RMM appearance didn't work, but I got a copy of the MP3 and you can hear it h-e-r-e. Other things include: LC SILK, Lauren Max is a wonderful shutterbug & I miss the #1 mitten. OH MAN, I LOVE THIS VIDEO SO MUCH. Stranger things have happened: Come Back to the Frisko Freeze, Neko Case, Neko Case, Happy Birthday Beck Hansen!, Night Of The Dingo #1: OBITS, Smiths / Morrissey Covers - YouTube Mega-Post, WHOA: Happy Birthday, Tommy Keene!, Happy Birthday, Yngwie Malmsteen!, Brilliant Boob Hatches Master Plan, Caperin': 2011 Grocery Store Round-Up, Can somebody please help me identify this video?, NighTraiN & Atomic Bride: Saturday Night at the Funhouse, Happy Birthday, Aaron Huffman!, Caperin': I Would Die 4 U2.
06.17.11 Happy birthday, mama! If you live in Seattle, listen to a bunch of stories about bad fathers this Father's Day. Here's a drawing and an interview with my mother regarding said matter. Stranger things have happened: "Gear Dudes", "Teens Invade Cle Elum Coinstar For Snacks", "Bag of Grass on the Ground: Is It a Trap?", "Despite Complaints, The Head and the Heart Deliver the Goods", "Who Had a Greater Crowd Draw, Mad Rad or Archers of Loaf?", "Caperin' VS Sasquatch - Part 1: "Let's Get Wild", "IRL, Tig Notaro > Trailer Park Boys", "Caperin' VS Sasquatch - Part 2: "Through the Roof!", "Happy Birthday, Curtis Mayfield!", "Caperin': Seven Days Without Caperin' Makes One Weak", "Patti LaBelle Sued Over Suitcase Attack", "Caperin': Nickelback - Fact or Fiction?", "WIN $11: Guess This Classic Video Screen Shot", "WIN $16: Guess This Classic Video Screen Shot", "Kid Congo & the Pink Monkey Birds Begin West Coast Tour Tonight". SEE ALSO: Giant shiny hamburger + cat photo for your desktop background. Welx! In other local news: teenagers rescue cat in Belltown, take it to Safeway. HOLY F, I WAS ON KOMO NEWS AND THE BBC IN THE SAME WEEK. I am so tired of doing things.
05.26.11 TONIGHT: You Get What You Pay For #6 @ the Pony. Other Wonders include, "So, in a way, i'm retired as well", On The Fence: Tom Petty, Caperin' regarding Morrissey. Oh, and pretending to be autistic is my literary voice.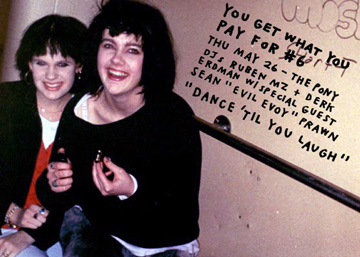 05.19.11 Last minute notice! Obscure Characters Of Television: portraits by Kyle Johnson, Shannon Perry, C.M. Ruiz & Derek Erdman tonight at Vignettes. Also: COMPANY #2 at the Hazlewood featuring Derek Erdman, Sarah Moody & Ulrika Larsson "playing records" from 9pm-12am. Stranger things have happened: Caperin': The Umpire State (YER OUT!), Black Flag 1986 Tour Film Finally Made Available.
05.04.11 LOOK TONIGHT: "Reading Party Special Guests for May 4: Ellen Forney and Derek Erdman". Also Saturday: "Walking Off" @ One Mile Gallery in Kingston, NY 5/07/2011, if you find yourself in the area STOP BY FOR SNACKS. See also: "ABC Television's 20/20 Report On Hip-Hop From 1981", "Caperin': Different Break-up Comforts For Everybody", "Oh, no: "She's Mad". Osama Bin Laden: HOME RUN!
04.28.11 You Get What You Pay For #5 - TONIGHT AT THE PONY. Free Hoeckel Cat paintings / $5 mixtapes compiled by the magic hands of Ruben Mendez. Rad jams, siiiick laughs, hot singles, culture mountain, ETC. Stranger things have happened: "Atlanta Woman has Chance Encounter With Diddy at Toys "R" Us", "Caperin': I Was Beaten up all of the Time", "Fall Video of the Day: 'Iceland'", "Duh-dum-duh-dum-duh-dum-duh-dum-dum-dum: In The Air Tonight", "Bob Dylan on guns & on drugs", "CAPERIN': The Bearer of Bad Tidings", "Hardcore Thrift Score in Burien, WA", "On Las Vegas".
04.11.11 Most of the things that happened in March VS. Most of the things that happened in Columbia, SC. Stranger things have happened: "Unnatural Helper in NEAR SOUP DISASTER!", "Caperin': Have a look at all of my shoes. ", "Happy Birthday Christopher "Kid" Reid!", "Caperin': Put a Duck in a Microwave and See if it's Bill Withers", "Happy Birthday: Patty Donahue of the Waitresses", "Caperin' II: Oh, so naiv im rudel.", "The Curious Conundrum of Philip Taylor Kramer", "Happy Birthday, Vanessa Williams!", "Happy Birthday, Billy Corgan!", "GOD: Not so bad after all!", "Ex-wife of Black Keys Drummer Grosses Out the Internet", "Posse + Colleen Green + Pudding Pops = MARY HARTMAN", "MENTORS VIDEO MEGA-POST", "Sublime Is Just Awful, Right?".
03.21.11 "So you read an article having to do with people who stayed in your apartment in Seattle. You proceeded to bag on both of them by doing exactly what you accuse them of. You are a hack." - Robin Peringer 2011.
03.15.11 Dianetics 2: Back In The Habit VS New Caperin'. EEKS, also: Roll Of Tape Bracelet, Internet Gross Out. HOT TOPIC DELUX: "'We're Killing Everybody We Can,' Seattle Police Declare"
03.03.11 "Saltines is not a food group." - Cienna Madrid. Oh look! New Caperin'!
02.16.11 "You Get What You Pay For #2" - Tomorrow @ The Pony. ALSO, 1/2 of February 2011 wrap-up.
02.13.11 "I've never watched the Grammys in my whole life." - Julia Rickert 2011. HAPPY BIRTHDAY GEORGIE!
02.07.11 If you like hardcore punker music then you'll LOVE this new hardcore punker podcast TOTAL POSEURS with Dave Hernandez & Derek Erdman (+ Ruben Mendez + Lacey Swain!). The best part is when Lacey tells the story of the tattooed baby in the second half. If you like extra old & rare and totally weird children's books, you'll love THE STORY OF LITTLE KETTLEHEAD by Helen Bannerman. Also, great things on the Stranger's Line Out: Who Is Better At Ruining A Music Documentary, David Fricke Or Thurston Moore? / How Do You Feel About Kate Bush?
02.03.11 Zippy Giant Burgers will soon be in White Center! This is very great news as our household enthusiastically endorses said burgers. Also, there was CAPERIN' & Charles Dukowski's birthday, AND GEORGE AND LIZ CLAYTON'S BIRTHDAY. Here are also "lemonz", "I Am Sorry" & "Pretty Good Cursive". As well as: Aurora's Midnight Ride, dinner, weather, DROSS & the night I fell over and went to sleep in the middle of a conversation. I AM ON IMDB, my mother is on Facebook, be her friend.
01.21.11 Okay, you should read these: 1/2 January Wrap-Up, Caperin' 1/17, Soup & Bread is coming to Seattle! Also, ANTIDUCKFACE / Happy Birthday Robert Palmer! November 2010 wrap-up coming soon, it was too moving to just flippantly talk about.
12.31.10 Most of the time the whole world is just jokes, but there's absolutely nothing funny about this DECEMBER PICTURE WRAP UP. Happy new year, rabbit rabbits. This year is the year that we win/rule, truss it.
12.30.10 Derek Erdman + America's best weekly paper = Caperin': I speak of the pompatus of (stretch) gloves, My Personal Year in Music 2010, Happy Birthday, Ellas Otha Bates!, ETHICS QUIZ: Can pregnant women legally drive in the HOV lane?.
12.23.10 Year end Transfer Station Wrap Up 2K10.
12.22.10 I have at least 11 photographs to write about that will make people exclaim, "OH."

12.13.10 Papal visit without having to leave your seat.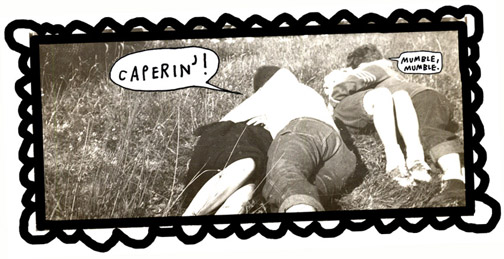 12.11.10 At 6am a man called the 24 Hour Free Psychic Hotline and I discovered that I can't tell if I'm joking about life or not. It's 20 minutes long, but you can listen to it here.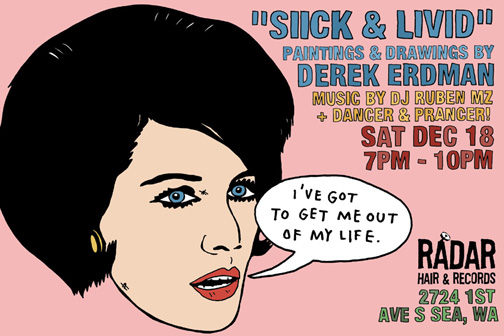 "SIICK & LIVID" Paintings & Drawings: 12/18 Radar Hair & Records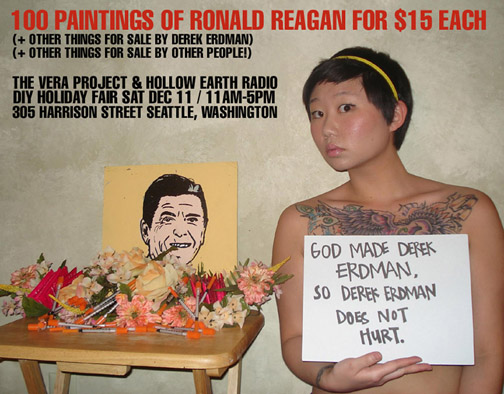 Vera Project/Hollow Earth Radio DIY Holiday Fair: 12/11
12.06.10 Everything is happening everywhere, I just want to go back to the bed.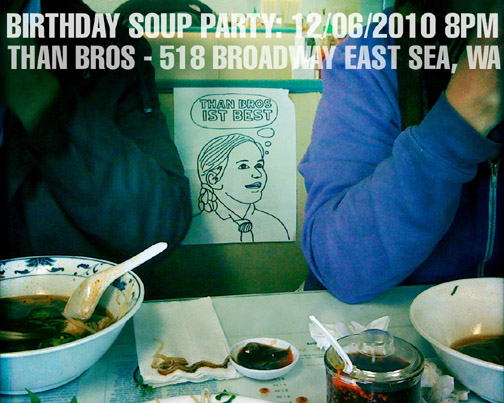 BIRTHDAY SOUP PARTY: 12/06 8PM - THAN BROS BROADWAY
(Pssst: it's almost my birthday. Send me things in the mail)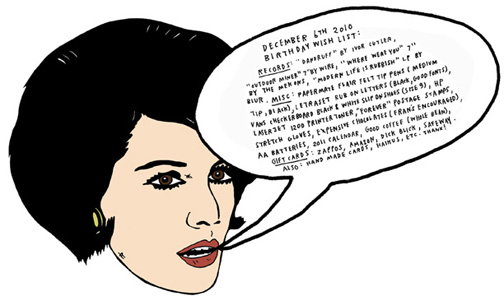 11.29.10 There is a new Caperin' and it's the best one yet. Giant photo update coming soon, I am promising you.


11.23.10 CAPERIN': Givin' Thanks for the Pranks: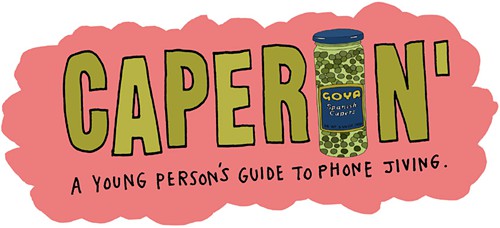 11.16.10 BEHOLD, content yourself with this dizzying array of delights: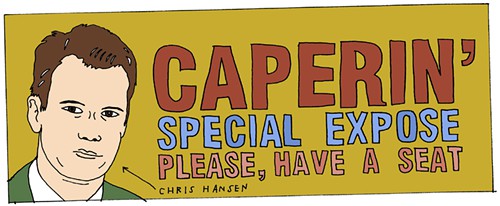 11/15/10 Caperin' - EXTRA CONTROVERSY! People: oh, what a laugh.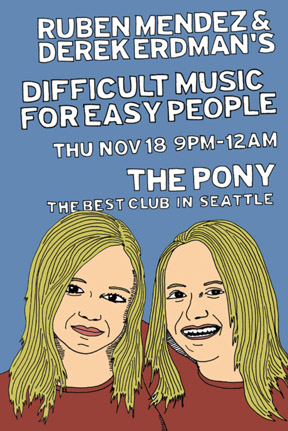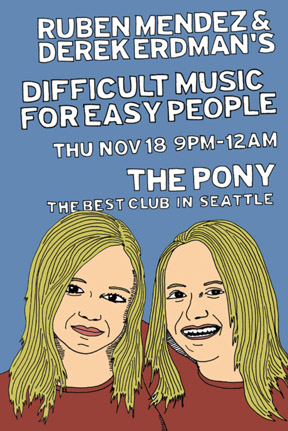 "Ruben Mendez + Derek Erdman's Difficult Music For Easy People" -
Ruben Mendez + Derek Erdman = (OH) Boy Division. Chicago house + sounds without melody.
Terror vibes, blood on the floor, five knuckle shuffle, WE ARE UNITED.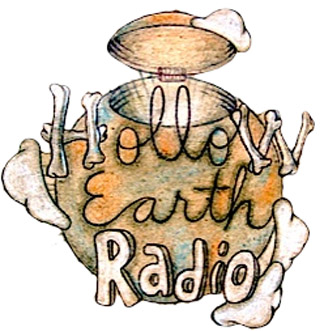 Seaport Beat // November 17th // 10am: DJ Amber Kai has another special guest: Derek Erdman.
He's a prolific pop-artist, prankster, and revenge rap master! He'll share prank calls and revenge raps and some stories while Amber eats breakfast on air. Deep prank cuts! Telephone manipulation revealed! Conversations about Morrissey! & MUCH MORE.
11.11.10 There will be a Mekons movie! You can help to make it! The Mekons are delightful. I went on tour with them in 2008, here are pictures. Look, it is in The Stranger! ALSO: NEW JOKE BOT. Bow to no man, save for Joke Bot. Joke Bot > 1991 era Sonic Youth (& beyond). It was just downhill after 1991.
10.26.10 New Caperin' VS new capers. Okay, that's enough.
10.18.10 Everything has been happening all of the time: (see) the last week in files. Ruben MZ has a TMBLR & introduced me to the best video ever. "Panasonic is best mechanics, Philips is bad, very bad." WHOA: "anglais vocabulaire racisme discrimination apartheid Etats Unis Royaume Uni Afrique du Sud". HOLY F, NEW CAPERIN'. Uh, the Food Network wrote me earlier asking me if I'd like to do a food blog in my "style". What I've come up with seems like I don't want to do it AT ALL.
10.10.10 JUST LOOK: A free drawing of Carol Channing for every resident of Seattle, WA. I did so many things this weekend, but under contact you'll have to read about them in my column called CAPERIN' W/ Derek Erdman in the Line Out section of The Stranger website from now on. But here at least is a picture recap of things that happened, not to mention the awfully wonderful defacement of Destiny Squillante. I have only listened to the cassette BUTTS all day long, and I intend on doing that for the next 3 weeks at least. WHAT'S GROSS? This. WHAT'S NOT GROSS? This. Gordon is a moron!
10.03.10 HOT WACKS: "Great Times Not Near The Green River", Taco Time Call Off, Kring Meet In La Stranger, Hardly Art Top 5 (NEAT). I guess I will just live and love RIGHT HERE. I miss you, Generation A.
09.21.10 I've officially moved to a town without blue USPS mail drop boxes. How do people mail things in this land of drizzle? Conversely, here is what has been happening. Aside from Walkin' Around In The Yard #1 & #2. But wait! CAT LAND! Also, emails from my old boss at Sweaters.com.
09.16.10 Moving Et Wedding Travel Notes (sorry Dom, it was no laughing matter and is alas SHORT ON JOKES). Extras included: New Keller / Frank, Birthdays TZ, SC. The Erdman Love Family shall rise again, oh yes. LERTS & I love my mother for keeps. The Belle sent peaches & they just got mushed everywhere! Broomsticks this Friday, can't wait. Don't worry 'bout me, I'm in great hands. I just bought a Forester, it's time to rule.
09.09.10 Hey, Lacey & Ruben! Tomorrow I am going back to Chicago for a wedding. Tonight is Tyvejyk at Le Crocodile. I have been in Seattle for 3 days & I'm already going to have sex! PLUZ: Krazy Punx logo, LERTS, Keller & Frank, "some goons". Rap Master Maurice is on the radio all of the time now, I cannot keep up with the rap orders. I am drowning in raps. I am about to eat a hamburger from Loretta's. VIVA LA 14TH STREET TACO TRUCK.
08.27.10 There are great times over here! I have no idea what is happening my life all of the time anymore, almost everything I own is in a box and I gave my blender to Geoff & Mel. "Children abused, killed as witches in Nigeria."
08.19.10 This week in colour, NHQ art show rap-up. I'll be back in a month, don't buy anything until then.
08.11.10 VOILA: week of wonder. 5 days ago while I was at a birthday party, my car was broken into. The only thing in the car to take was a bag of packages that I had to take to the post office. I wrote to everybody who was to receive packages about the bad news, AND THEN people wrote back to tell me that they got their packages! So get this, somebody broke into my car and SENT MY MAIL. The Huffington Post called me a "rad dude", Stevie said the article was "not entirely accurate". Other fresh press linx: 1 2, WW quotes & prices. YES Sarah Gardiner Jugga-night live auction recording! Otherwise, here's a page of pictures & things I wrote under them. UPDATE: I am not having a going away party, only the art show. Go to that, but don't hug me and say goodbye because that's really depressing.
08.02.10 Here's a preview of Without Wax for you to look at. Otherwise, life is just grand: Shannon & Rachel, point n' sign, Ixnay On Clinton Wedding Day-zay, it is Caitie's birthday! The Hyde Park Bike is officialy D-E-A-D, I fell in love at this play but also found a picture of my first "girlfriend" (you guess). Everybody against ROMPERS, thanks for the record Schubb, it's perfect. SOUND CLIPS: "Best Friends With My Cat Lately" / "Like A Shopping Spree". I just wrote my last Chicago rent check, I hope. I need to get somewhere to stretch out & wait.
07.27.10 Hey Julie Christie, the rumors are true: I'm getting married on October 2nd in Las Vegas (RELATED: I have an extra ticket to the Matador Festival if a person can write and tell me best why they want it). Otherwise: last week Juliet Hulme talk-about. Bonus page: wonderful dead people from Ohio. Everything is ending!
07.21.10 Typical annual Pitchfork Festival wrap-up right here. I asked Longmont Potion Castle to make a recording for my voicemail & he did it and it totally rules. Otherwise, is this the last mystery CD (track)? GIANT CAT. Ew gross battle: racist $5 bill VS. Tony Fitzpatrick.
07.15.10 How do I get so sick all of the time? What did I do? NEAT: Last Fall Night 7/19, paper cat, WW Poster, Don't Bet On It, G'Night Irene 1 / 2, RIPCG, Robin Yount, PRE-MCA BUMMER, Posterz, kitchen talkin'. I saw plasma all over Caitie's arm. See you at Pitchfork this weekend, I have cats!
07.08.10 Here is the important, Longmont Potion Castle interview, Comedy Bummer #2, LeBron James bench. "Why are you moving to Seattle? It stinks here!" - Elisa Ambrogio 2010. Update: Message from a 'lette, 2010.
06.30.10 Tonight at the Hideout, I am the bingo master. Just like this. Viva La Britt Whitford!
06.27.10 I have never been more sick than this week, when my temperature reached 103 and I slept for 15/16ths of the last 6 days. Thanks to everybody who took care of me, especially the Tabulator. Mother, I am certain that your cat is safe, please don't worry too much, okay? Here are the pictures & things. I hope that the world is glad now.
06.18.10 SCOOP: I went to OHIO but then came back. Who is crazy for CFA? BRITT WHITFORD! I am DJing next Thursday at Intiut, you can come. GLORE BITZ / NP FOREVER. Without Wax Commercial #1 & Jabberwocky video. You are so enthralled, I can feel the 1s & 0s.
06.12.10 Georgie and I were in the car today on the way to the Original Awful Pancake House and both noticed that Ira Glass really sounds defeated lately. MAN! KANSAS CITY KNOCK OUT IN THE MIDDLE OF JUNE! Also, happy birthday mum, new paintings: EFELANT, Dietnetics: L. Ron Chubbard, OHIO, Orange Crush Cap, Poison. Also updated: new RMM RAPZ. Here's a picture of the JUST AWFUL PARTY HOUSE across the street during a just awful party. Amy Lang gave me a fully autographed copy of the Cruiser's Creek 12"! 1900s ampersand, GEORGEZ OF YORE 1 2, Talkin' Cancer, No Naps For TABBR, Pilsen Pizza Party, Hannah Woodroofe says BONSOIR. I can't believe how all up on Helen Bannerman I have become, AS HIGHLIGHTED BY LINKS: The Story of Little Kettle-Head, Struwwelpeter, The Day Lee Morgan Died. TONIGHT! DANNY'S AT 10PM! DO IT! I will love my destiny.
06.10.10 Your horses, hold them. I just won a lottery!
06.06.10 NEXT SUNDAY 6/13: Extended Players (Shannon Caulfield & Derek Erdman @ Danny's), Britt Whitford induced civil war: NC v WI v MA. This is not my mother on rollerskates, Gripster @ the grave, Andy Slater blood & car, 3 3:33. That lady died, shadow play this Thursday! I made this! My favorite part of the weekend was in the attic & that girl kept saying: HIT HER! HIT HER! (photo detail). I ate a mango, look at these two & then this happened. I am going to eat burnt ends in a hot tub and then the buckeye state, so don't ask me for things PLEEZE.
06.01.10 I have absolutely fallen in like with this weekend. I sold a record on eBay for $913 and there was a wonderful graduation party & a wonderful house sale (where I made $913!) & a wonderful BBQ. I was also on REGRETSY (also REGRETSY FB) & people were like: I HATE THIS PERSON but later were like: I LOVE THIS PERSON. In extra BAD NEWS, on the way back from the BBQ, Tabbr saw Andy Slater get hit by a car at the corner of Western & Division & we were all in the car & helped and he's totally going to be okay. In Alanis Morissette's definition of irony, I then came home and took an INTERNET DRIVER SAFETY COURSE so my license won't get taken away & YOU HAVE TO LISTEN TO THIS SOUND CLIP that was part of it because it is so awesome. Also, this made me so mad because it is totally not true. DID YOU KNOW: In 1835 an assassin failed to kill Andrew Jackson as he walked to the White house from the Congress. The 67 year old president proceeded to beat the heck out of him with a cane until he was restrained by members of his party. The man, who misfired 2 pistols, was then disarmed by Davy Crockett. IT IS TRUE! When it is laundry day, I wear a BOLD t-shirt. Oh, just be my friend on facebook, because all I'm doing is talking all day on that thing. There is a new FREE PSYCHIC HOTLINE MESSAGE every week, except last week when it was off the hook. Literally.
05.26.10 So much wonderment all of the time lately: Julia's Law School Graduation Party, Julia's $10 Law School Booklet (LAW ZINE), Newberry / Erdman Moving Sale #1, 21 LIVE CDs BY THE FALL. Other winners: "Tommy Betty VS The Grid Table", Nora Hate T-Shirt. I love this Lee Godie photo & I always will. Update: Extract this folder to see how bad at art I was in 2006.
05.24.10 Tonight at the Charleston: snacks & free paintings of OHIO. Well, what a wonderful week. I made married people, went to Wisconsin, Playboy came to my house & Seattle continued to call. OTHER COMICS: Stop & Chat VS Where Is This?, and then also "prays", 100 OV PATTY, "Always Shred", NTL. Hey look: new mystery CD & track (THANXX). Things to buy from my house: foosball table ET street light. Please NOTE: My mother is dying to have this book for her birthday on 6/15, please buy it for her, as a gift! More greatz: WHOA WELD, Jimmy Reed singles, LIGHT LOPE. Rap Master Reject, WOT #5 & GIF PARTY. Parveen Arvanites: "here you go. it's because i love you, friend.", Angeline Gragasin: "Remember the thing you told me Hannah made you after telling her that thing?". Update: Barack Obama Doesn't Care About Sea Turtles. Big Sur, sooner than later. LOML (sideways 8). If you are exicited about me making gobs of money, you will JUST LOVE this Michael Cosmic record called "Peace In The World". If you find yourself caught in love, make your way to Kansas City for burnt ends. Call it a day, Ketchup. FREE PSYCHIC HOTLINE predicted the death of Brittany Murphy's husband a week ago. Where have YOU been? Oh, Canada. Right.
"Who Will The Next Fool Be?" - Derek Erdman @ The Charleston May 24th 2010






05.18.10 I have so much to talk about, but I just want to go to bed. Here are things without 'splaining. LOOK AT THAT!
05.03.10 To make everything easier for everybody, I just lumped everything together instead of having to mumble about scraps like a blockhead: APRIL 2010 WRAP UP (the best month of my life), MEMPHIS+ (A Shelby Delight & more), IOWA-IOWOW, Talkin' Hotel Art Show Blues #35 & #37. I am sifting through my possessions and came across some weird old Beauty Pageant Tapes that are actually kind of good. OH! New paintings & drawings. If you are a person that videotaped the Comedy Bummer, please sell me a copy. NEW HUMAN UPDATE: Kori Wiltz & Chris Grumboski invented Emily Julia (George) Grumboski on May 01, 2010. It is so wonderful when the world works the way that we think it's supposed to. way to go K+C!
CHECK OUT & CLICK ON THIS LONE STAR STATEMENT:


Comedy Bummer @ Club Nutz 4/29/2010 (Part of Art Chicago)


Neon & Worried Hotel Art Show 5/01/2010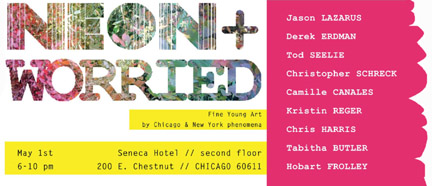 Hot Jams, Candy & Free Paintings Of Lebanon @ The Charleston 4/26/2010 (info link)


04.26.10 IT IS SO OFFICIAL: MTV will not run "11 & Pregnant". I do reckon they will carelessly run "R. Kelly & Aaliyah On Chat Roulette". They're also paying for myself & The Gripster to dress up as Juggalos for TGOTJ #10. We will have our own tent sponsored by Carvel to give away over 1,000 Cookie Puss ice cream cakes. Speaking of THE HORROR: Double Tripplehorn. Although I have yet been able to wrap by brainz around Memphis & Iowa, there is a place called Ace Of Cups in Cairo, IL although no longer this magic card in the Quad Cities D.A.V. (because I took it). M. Frost is forever the ticket master! I worked in a record store for ages and this CD cover always gave me the super creeps. In my mind I would have to constantly respond, "no, I do not wanna ride". NOTE TO YOU: if you are selling baby clothes, do it on rocks & old cigarettes. What on earth is happening with these controversial screen shots (#1 #2)? The bathroom was ho-hum, so I added 11 paintings of Lebanon. I have just been painting Lebanon all of the live-long day today. Also, I ate some bagels & you missed it, a painting of Lebanon was for free! I NEED A LAWYER ALERT: In 2000 I made a comic called Gangsta Luv, a story about 2 male Latino rival gang members who fall in love. It seems that a new movie starring Benjamin Bratt called La Mission has stolen THIS VERY IDEA. So I ask for the umteenth time: WHOM DO I SUE? Some other kinds of wonderful: DIETNETICS, TEXAS VS THE LA 4+, Laura Louise went to Santa Fe & then shot a gun #1 #2 #3. Just look at: this green picture, Celts Cube, Kool-Aid Jones, JESUS, my best package, new glasses(es), Words Of Tam #2 & Words Of Tam #3. UPDATE OF THE FUTURE: Derek Erdman's Psychic Hotline is a hit! These guys 1/2 thought so. ANOTHER UPDATE: Whomever keeps sending please for me to stay in Chicago, please don't stop. OH MAN STUFF IN THE TUBES: Different Kinds Of Strangers, Lost Sister Audi In Marie Claire, Thea Lux Strikes Again, Danceteria Flyers. I FINALLY FELL IN LOVE SO I MADE A VIDEO ABOUT IT.
04.14.10 I can't believe it: ALL OF MY CDs FOR SALE. Please just make fun of my Frank Black CDs in your head, not out loud, to my face. If you can make a pot roast, that's wonderful. UPDATE: "MTV File under: LOLz! See what this guy thinks the worst part about living with Justin Bieber would be. What do you think it would be? (Be nice!)" EGADS.
04.13.10 Sometimes you meet 999 people and all of them are flat like paper or at least pancakes and then you meet a person like Parveen who bids on your Bobby Blue Bland LP on eBay and she can't pay because she lives in that cruel City Of Angels that makes you pay top dollar for everything, so you send her Call On Me for free and she is actually appreciative in way that people just aren't anymore, and things just look UP UP UP. Kinko's nametag from yesteryear! I was a real consultant! UPDATE: Whoa, look at it: Words Of Tam #1. UPDATE AGAIN: Hey look, new glasses. Finally, an answer. I am glad that I waited. #3 UPDATE: "Laugh Riot! Actual Riot!" - Brian Stiles 2010
04.12.10 I would love to give you the catch-up on the last 4 days in detail but I am seeing 11 (as I speak) and having "tunnel visions". Here's is a SP, nonetheless: crying > dog races > fried chicken > jerry lee lewis' kitchen > babyland (THE BEST video educator) > lamplighter > mississippi river (a video of me swimming in it by SKL > cairo, il. Look at these eBay auctions, THEY ARE NOT MINE: 1 2. Does anybody not understand this comic? I can't tell if it's OBV enough. OH PARVEEN. UPDAAATE: The best song in the world is Go Outside by Cults. I just listen to it over and over and over and over again. DOUBLE UPDAAATE: Shan! Iowa! So soon!
04.07.10 "Years ago, boredom enthusiast and abstract comedy snoozer Derek Erdman visited one of those countries that you personally often get confused with one of those other countries. His primary concern was having fun in the mountains with his handler, but it did not escape Derek's notice that while his belly was swollen with hamburgers, the children's bellies in said country were swollen with starvation." ( Joey Linsey 2010) Who from The Monitor Group called me this morning? What is The Monitor Group? Wait, he just called back. He wanted advice on what to eat tonight. I told him to have Piece Pizza. He's all alone! Nobody in Seattle ever says anything bad about me. Amanda MANDERS Rybin asked me to make a portrait of "The Queen Of Never Being To Herself" Charlene, and I did, but then I realized that I TOO had never been to myself. After a good night's sleep, I got to myself this morning and really, it wasn't exactly what I expected. DO NOT WORRY THE VIOLENT HOUR IS NOT CLOSING, but man did I ever drink 11 Pimm's Cups there with Shannon last week. RELOCATION ONE ACT PLAY - Lacey: You'll hate Austin. You'll see. How do you feel about roller derby? Derek: The only time I've ever barfed into my own lap was because of roller derby. Lacey: Be prepared for a constant lap full of barf in Austin. (curtin) LOOK WHO IS BACK: "Have you read the "Repent Harlequin" story by Harlan Ellison? $150,000 worth of jelly beans raining from the sky." (Sri Thakkilapati 2010). I missed you a lot, Sri. REBZ ANTI-EXERCISE 1/2 ACT PLAY - Rebekka: I wish I could run Derek: Is your leg broken? Rebekka: Nooooo. I'm just out of shape. Derek: It's sounds like you're in jail but you're also the warden. Rebekka: I like that. JIM NEWBERRY PHOTO ALERT: Bataille & Erdman in a high school. You might as well face it, it was Sarah Frier's birthday. Update: This MTV comic is going to by me an Airstream! I found out that the Great Lakes can look LIKE THIS, it was no joke. This just in: Next Friday I am going to Iowa to meet the former mayor of a rather small town.
04.03.10 Aside from dates and birthday parties and tennis and sleeping, I have little time to do anything else other than storm the streets with Marian Frost & tell people that we are with "a census" and ask them a number of questions, only to write down just their answers. Earlier Marian met THE FRIEND CHICKEN! Other exciting things to happen in the last decade includes Rap Master Maurice's 1st prime time TV mention on last week's Parks & Recreation, as well as Lacey Swain's birthday 1 2 3, Jeremy P @ The Charleston, Party Of Helicopters' DEREK ERDMAN AS THE AMERICAN NINJA (mp3), Burt Reynolds & A Coke, Come Back To Me On A Sunday. Regardless of appearing in the saddest picture ever, Kate Levitt is arriving on a jet plane this evening and then we leave for a 10pm boat trip to Beaver Island which will take forever, but I am prepared with snacks. I am finally going to sleep in a lighthouse! Who is rather nice & sent this in the mail? Listen, you can hear it (mp3). As I am about to skip town, I have been giving away so many things for free on the DEFCFP. Oh, just go ahead and look at these old pictures: 1 2 3 4 5 6 7 8 9 10 11 12. I have a new weekly comic on MTV.com called "WHOA, THE HORROR". I don't know when the first one will run but I'm sure I'll be telling you all about it. Tam Schubb did all of her drugs in Grade 8. MAN, READ THIS: Liz Clayton's wonderful Magik Markers tour talk. Oh wow, do I ever love Hanna Von Goeler (look at the 'currency' section). I am so taken with the smooth version of Enter Sandman that I sometimes just listen to it on repeat for well over 4 minutes straight. If you live in Memphis TN, I will be there for cheeseburgers from April 8th to the 11th, let me know if you want to Lamp Light. Except for you, Cat Allen. We're no longer friends (geez j/k!). KEEP BUYING EBAY RECORDS, THANKS. Don't touch my bikini! UPDATE: A George Speaks. DOUBLE UPDATE: Ooh look, there goes Concorde again!
03.26.10 I AM GOING TO BE SO RICH IN THE YEAR 2014. You see, my roommates are crazy lazy. So, sometimes they ask me to do chores for them. Of course I don't let them off easy as they'll be rather wealthy in the future. Usually they need laundry transferred from the washer to the dryer. I am willing to do this for them FOR $50 IN THE YEAR 2014. They think it's funny because I could forget, but no. Sorrow for them will come in the end. LOOK AT THIS STUFF: Beth Hoeckel appreciation page, #1 answering machine message, #1 post card. This / that. Buy some of my records on eBay, lunkhead.
03.25.10 The world according to Marian Frost VS the country according to Marian Frost. Poutine night was a roaring success! Old Georges: 1 2.
03.23.10 After nine long years, my daughter has finally called me on the telephone. I think this is a joke / no joke: (part 1) (part 2) (part 3). I went to Whole Foods today and there was an electronic display that said: MASSAGES FOR HAPPY PEOPLE and I walked right up to it and said: STOP BOSSING MY MOODS. It was then that I bought a $32 block of cheese. Tonight is poutine night with an authentic Canadian. JOB UPDATE: I have a mountain of transcription work if somebody wants it. You have to love typin'. Contact for specifics.
03.22.10 I recently met my 1/2 sister, we talked on the phone for an hour last week and it just happened that she was in Chicago for 2 hours at Midway Airport on Thursday. Over Burrito Beach Cabo Shrimp burritos, I learned deep secrets about my family: my grandfather on my father's side was Forrest and Leroy Raffel. This weekend was the 5th annual pizza weekend! I visited 16 pizza parlors in Cook County in the last 3 days. Most of the pizza was rather tasty but my favorites were Leonard's Pizzaville, Pizzatowne & Prism Pizza. Nothing else at all has happened in my life for the last 11 months. It hurts to be in love when the only one you love turns out to the the ghost of Wildwood Water Park in Columbia Station, Ohio. Stop calling me on the phone: AEP, I Smell Trouble, VERY MUCH, Cardiss Collins, "ardnutac", Thank God For Us, great old receipt, Kate Levitt, SBD, MOVIE TALK #1. Who is this mystery emailer? YOU TELL ME. Joanna is going to fix me, it's her mission (it's about time somebody does IT).

03.17.10 Somebody please let me know if they see Get Him To The Greek. Word about town is there are some of my paintings in it & I'm assembling a team of lawyers to sue my way to owning a helicopter, if you know what I mean. LOOK at this Witchbeam contest! When the book of life will need to be rewritten, Jason Polan will be the one asked to write it. There's one light left & that's the science law. FREE SQUIRREL GIVEAWAY PROGRAM.
03.16.10 Oh, Margaret. George Sanders is a jerk. DOWN WITH GEORGE SANDERS. Via Jodi Shapiro: I hope you are not moving to be with this chick. Via Zachariah Chapa: I have a fever and its reminding me of my 23rd birthday. Thanks for coming to Chuck E Cheeses! Via Parveen Arvanite: he keeps my protein in his brain, caught doing klingon/english lit. homework with my worf lunchbox. Update: I met the girl with a seating map, Old Food Packages, LSJTD, Barney Bubbles, maybe awful 1990s hot mix: notes, side a, side b. "Oh my god, i'd so fuck Rudyard Kipling. Rudyard Kipling went to Yellowstone." - Tam Schubb. Erdman on The Ghost & Mrs. Muir: "They were running out of money & the sea captain wrote BLOOD AND SWASH to save the day and then that woman took up with other dude. She's a total fucking asshole if you ask me. " GIANT ART SHOW ON FRIDAY, YOU GO.
03.08.10 Toronto kalimba player Laura Barrett really dislikes a few things about the United States. "The Smarties candies here are hard fruit candies, in Canada they're chocolate with a candy coating, like M&Ms." She also complained of the lack of Coffee Crisp bars and mentioned that some highway billboards are much taller here than they are in her home country, and also complained that many Americans are chubby and dumb. Budding mathematician Tom McGettrick has decided that people are much less interesting to him than numbers. "Numbers aren't malleable, I'm out here looking for a universal truth!" he explained as the stretched sleeve end of his cardigan dipped into the gazpacho he was eating. Bucktown resident Steve Art recently learned how to levitate. "I don't think I'm interested in telling anybody else how to do it, or ever let them watch me levitate," he commented. "I float on my own terms." Claire Rodriguez, a 9th grade student at Pulaski Elementary Fine Arts Academy got absolutely stoned in an alley on the way to school last Tuesday. "I like to smoke marijuana before school," she said. "It really helps me to understand gym." Portland resident Tamarah Schubb has seen every major motion film ever released. Her recent comments on Brewster McCloud include: "HE DIES, which hello Icarus, we know was coming. but what's with Sally Kellerman's scars? Is she gabriel? Do all heroes have to die? Because Frank Shaft died with one eye blue and one eye brown. There needs to be some film criticism going on over this movie. Altman is dead. Criterion better be packaging up something good. Get elliott gould on the phone!" IT IS TRUE, I AM SELLING ALL OF MY THINGS, CALL A DOCTOR. Callie Roach: "Purposeful Street Banging". We're finally going to win this class war. Just last night I woke up thinking, I WANT TO SEE GUS GRISSOM IN SUCCESSION. Tammy was later like: Alice Sweet Alice, all of the free music, life without lyrics. If you Canadian & are listening to CBC radio One at 10am CST, you will hear me all up on it. Two hours ago, Claudia Miriam Gonson told me that I shouldn't move to NYC because I would go crazy there. THANKS A LOT FOR THE SUPPORT. Happy birthday Bob Mehr!
03.04.10 Mortreal's Mira Burt-Wintonick hates hearts of palm. "I accidentally ordered an entire plate of these things in Armenia one time. The little devils (the palm hearts not the Armenians) tricked me into ordering them by calling themselves 'a Millionaire's Salad' but I've never felt like such a pauper in my life," she recently quipped. "Let's just say they don't call it "swamp cabbage" for no reason." Canada's Peter Mallodeen is a terrible co-worker, report employees of Todd's Compu-Fix on Bloor St. in Toronto, Ontario. "He's always late and he smells of meat," reported co-manager Thomas Smutle. Other employees have stated that he's known to be careless with the belongings of others and invasive of private space. Chicago manicurist turned actress Clara Peller had interpreted her Wendy's agreement as allowing her to participate in any commercials for products that did not compete with Wendy's hamburgers. She subsequently signed a contract with the Campbell Soup Company to appear in an advertisement for Prego Pasta Plus spaghetti sauce. In the Prego commercial, Peller examines the Prego sauce and after wondering "Where's the beef?" declares, "I found it! I really found it". However, after the Prego commercial aired on television in 1985, Wendy's mananagement decided to terminate her contract, contending that the Prego commercial "infers that Clara found the beef at somewhere other than Wendy's restaurants". Chicago illustrator Lilli Carré eats popcorn for dinner every night. "I've been doing it for 17 years and I'm certainly not going to stop now," she recently admitted. When asked if she eats other things along with the popcorn, she turned briskly and said, "of course not". Seattle's Tim Cook was recently spotting sitting on a bench next to a person named Astrid. "We're just sitting here, really. There's really not much to say about it," he noted. After 15 minutes, both Tim and Astrid walked to Dick's Hamburgers where they both ordered and ate Deluxe Burgers. Velazquez, Hernandez & Roman walk into a bar. The bartender says, "WHAT'LL IT BE?" Each of them men ordered the same drink, Sasparilla, which was served in this particular bar in a plastic upside-down cowbow hat with a twisty straw. Todd Sanders is a marriage counselor in Evanston, IL. He recently installed a two-way mirror in his office and he allows his friends to view meetings with his clients. I recently watched a woman admit that she was an amateur social climber who "wanted to be Gala but ended up Beth Truss." Also notable: The Sarah Gardiner Power Hour has begun, "the depz", "over over". I'm selling all of my records and moving across the country. You can buy them here. I was worried about moving, but: "You'll be fine, sluts & handkerchiefs." Erin Hosier 2/28/2010
02.22.10 OH, THE MAGIC! The teenager REBZ can do and will do anything that she wants to, as well as move to THE NOLA. Oh look, hot life/love: my favorite valentine, Where's The Beef Bib, HFCMAW, Erin M VS "The Magic Place", Dana K by the car, BK bag, MERCKX, Eel Cat & greppes, this old thing, TINA, Chandra Wilson's best book, Happy Birthday Ruben & Ed, "Giant Haystacks Stops The Haitian Earthquake Of LL Tobins's Birthdate", Le Bag, Lempke, Saddle Shoe, Gardiner PC, Tretorn / Worth Keeping. Wine Rack 1 & 2, NEG ZORK. FYTF, Peter Max & The Cars, TRUE NON LYING FOOD EATER, 88 Skinheadz. UPDATE: "The reason I love Derek Erdman is because he doesn't take life for granted. He wants to love you." Edward Anderson 2/21/2010 "Are you still single? My sister is really up for grabs." Leah Shuckster 2/21/2010 DOUBLE UPDATE: I am from this place. I want to love you. UPDATE AGAIN: "You are not or have you ever lived in Parma." Patty Preston 2/23/2010. Two hours later after my response to her: "ok lol". I love my mother.
02.12.10 Curses cursor, I was tired of living in a pogrom. No, that's good because: buttons, monster(s), Giant Haystacks! Giant Haystacks VS The Haitian earthquake 1983, K-Dog #2, Hot Greppes, URS. We made vegan beef steaks for the Super Bowl party. "Hi derek, I love the music from Joy Division!" - My mother 02/11/2010 Update: Rebekka Eileen Federle is doing it. Update #2: uh oh, I ate this.
02.09.10 "To those humans in whom I have faith: I wish suffering, being forsaken, sickness, maltreatment, humiliation. I wish that they should not remain unfamiliar with profound self-contempt, the torture of self-mistrust, and the misery of the vanquished. I have no pity for them because I wish them the only thing that can prove today whether one is worth anything or not - that one endures."; "I love you more than you know". I've been on the phone for the last 6 hours with Myra McDonald whose father is the president of Proctor & Gamble. Remember that satanic controversy in the 1980s? Well, there was totally something to it, I'll tell you what. Regardless: $35 For Frencher, LPD!, Epistle To Dippy #2, Mormonz VS Fair Warning. You will miss me when I burn. Update: Enough with the Jerkalos already, fer serious.
02.03.10 There are a large number of raps that have not made it to the rap page, so hold on to your horses. Man, I watched the heck out of Erin Brockovich this morning. I'd like to take this space to thank my mother for my rice cooker. Momma, it's one of my favorite things in the world, thank you so much. In other words: Seattlites #1 & #2, FREE ANGELA PETRELLA, things on a stove, kidz on a bus, a waste of 1995, THE BIG BALUT. When I was 13, Marcy Landolfo beat me up, so I interviewed her about it. Not to mention, Kari F. has a Tumblr and she's going to use it. You'd better believe it.
01.22.10 There is nothing going on but the rent...& LL Tobin in a Brownie uniform! Check it: Ruben Mendez is a color, die gross, Erin M's "human being", Lilly Gray & the Jugga-Shuckster. Update: HAPPY BIRTHDAY LIZARD CLAYTON!
01.18.10 In 2004 I saw a lot of Haiti with Chuck & George. We found it to be a wonderful & magical place. Here are pages and pages of giant photos of our trip. Today I gave away my copy of Think & Grow Rich to a person called Leah Shuckster. Here are other things: scandies, the back of the big pig, Sarah G VS tacos, terrifying tea, Patty's birth card, the bloodening. I am moving to Austin & Seattle! Go ahead and look at these things for sale on eBay.
01.11.10 I was obsessed with Omegle for 4 hours, but now it's totally boring. Why do things get old so fast? But not Kari F., NO WAY. Chicago Cold War wrote about a hot burner in my neighborhood, totally awesome. I am going to Ohio today. See you there!
01.06.10 Extra fascinating gang graffiti photos. I went to court today for running a stop sign. It was fun!
01.02.2010 Today is a numeric palindrome, oh great. By order of Sally Von Timms, I IMPLORE you to attend the special benefit performance of the 2009 holiday panto titled HO, HO, HO THE HUMANITY on Sunday January the 3rd. Actor Shelly Long will attend! Amy Louvier: thanks a whole lot for the beyond wonderful birthday package. JUST LISTEN to this Eli Porter ringtone for your cellular telephone. Directions. Oh great, more: cakeballs #2, "hey do you want some of this", A LOT OF SADDLE SHOES, the Hipster Grifter needs advice and hates my voicemail message. Christmas trip to Vermont! EXXX-TRA RAD UPDATE: Trading Angela With Starlee Kine! Window To The Sky! When I get emails from Paul Tempest about our childhoods, I'm glad that I've been blessed with a terrible memory. Notice to future employers: in junior high school I pulled 3 fire alarms but only got caught for one. 2010 is going to be the year of honesty!
12.21.09 Whoa, my 11 year old cousin Jeremy sent me this email tonight: Subject: merry christmas "bummer" Body: merry christmas derek! so what do you want? i want a laptop or a aluminum yoyo can you look for a zombie yoyo please that will be the most greatest present ever and you will be the greatest cousin ever can you try hard and try to find an aluminum yoyo please!! well i hope you have a wonderful christmas merry christmas and please look for a zombie yoyo it doesn't matter what color just try really hard merry christmas jeremy! Update: Via Jason Polan, Sasha Morgan became a fan of Robert Pattinson. Double Update: EVERYONE WHO HAS TRIED RYE TRISCUITS AND LIKED 'EM SAY "YEH!". God, I love this picture.
12.19.09 There's 7 sticks of butter in the refrigerator. Why? Because my roommates are re-buyers. Happy Birthday Steven Art! Uh oh, Willie D's going to jail. He's going to sit alone in his four cornered room staring at candles. You missed the panto, you big dummy. It ruled.
12.16.09 Notice: According to a flyer taped to the waiting room wall, The Fullerton & Western Medical Center does body piercing by appointment ONLY. Hi! Happy Birthday! Thanks for all of the wonderful birthday gifts. There were so many and they were all wonderful & then there was karaoke and it sounded like this: 1 2 3 4 5. 15th ANNUAL HOLIDAY PANTO AT THE HIDEOUT 12/17 & 12/18. You come, yes? Here is a bunch of things: In The Army Now, old birthday party flyer, Georgie's sushi card 1 2 3 (do not replicate), George n' notes, Patty Duke had a birthday! Walking Taco, DON'T BUY BERBER, The American Gallery of Juror Art, Princess Sleeves McGee, Bob Peck is famous, Amanda Egge sent me a gorilla suit! Now I am always wearing a gorilla suit. I went to Napa with Sub Pop and all you get is this grainy picture of Ruben Mendez. Feral Kari Ferrell is free and reaching for the stars. They shine so bright, oh so very bright. Update: You can watch the Germs movie on YouTube, but you won't want to. OH SO BAD.
ALERT: MY BIRTHDAY IS ON DECEMBER 6TH. THINGS TO SEND TO ME:
Size 9 black & white checkered slip-on Vans, expensive chocolates, homemade cards, homemade paintings, gorilla suit (medium height), Canon PowerShot S400-S500 digital camera (not interested in new models), postage stamps, old photo books with pictures that are good for drawing, old school year books, blank DVDs, letters from you sent via the mail with highly decorated envelopes, new toothbrush (medium head), mix CDs / tapes, rye Triscuits (family size box). THANKS A LOT! Address is here.
11.27.09 Rap Master Maurice was on CBC's WireTap (listen here) and the onslaught of rap orders from The Great White North has been through the roof. Luckily Kelly Sawatsky from Swift Current, Saskatchewan has become Rap Master Maureen. OH MAN! I went to The Seattle and saw Mudhoney & Tad's new band and ate crab legs for breakfast and slept on a deflating balloon bed and got my life saved by Lacey & Ruben & Sasha & other people and pets. I love that place, here are pictures of it: 1 2 3 4 5 6 7 8 9. Bonus things: Dr. Toph Eggers came in to my house, my new best friend is Lauren Marsella, Kurt Cobain Death Bridge Syringe, now I am CASTRO, bear painting in Gabe Wingfield's house: 1 2 3 4, MEXICAN GARBAGE GUTZ, Rap Master Maurice on Wikipedia courtesty of Bob Peck / photo by Jim Newberry. More bonus things: not haunted house, stretch gloves, STRAWBERRY, the unmitigated genius of Whitney "Hamburger" Walker. That hamburger man has gone bananas!
11.11.09 Today I was prescribed Lithium, tomorrow I'm going to Seattle. I've already heard 5 Nirvana jokes, so SPARE ME. Rad Karaoke Jam #1 report (to the detriment of the participants): notes, Audio #1. Terror receipt, M MUG, Fall Nite #17, Alexis In Europe. Goodbye stepmother. Goodbye stepmother forever. UPDATE: Limited time only Rad Karaoke Jam report Audio #2 & Audio #3. Be sure to check out Wilcox do Rapper's Delight at 1:15:42 of Audio #2, it's a mind bender. WOW, BEST COAST IS #1.
11.01.09 A great thought hit me over the head last night in the middle of a raging Halloween party: I love the country that I live in. A lot of proper people in suits and dresses made it great ages ago, and we're left to have fun and live off of the fat of the land. I saw so many people that I haven't seen in ages and when I told them that I really haven't done anything for the last two months, nearly all of them noted that by occupational right as a picture maker, it's totally OK for me to lay in bed for weeks at a time. Thanks a lot to all of the wonderful people on the phone as well, especially the kid from Wisconsin into goth music who exclaimed on the phone last night: WE'RE NOT GIVING OUT ANY CANDY TONIGHT. I love the people. Information is everywhere, here is some more: OOPS Upside Your Head, RAD KARAOKE JAM #1, Grimy x2, Yappy Hour. Halloween hot pix: Pilsen Bee, Goon Squad, Hallway Rarebit, Sals Et Jim, Actual Sausage Factory Blood Basement. 4 more hours of Samhain, enjoy it friends. LIFE ACHIEVEMENTS, EGADS: I'm going to be in The New Yorker & on WireTap. Get out of town!
10.28.09 LIFE CRISIS ON THE MEND: it seems that telephone conversations with strangers, karaoke and banana bread takes care of everything. Sasha Morgan and Jake absolutely kill it every Wednesday night on Hollow Earth Radio from 9pm-11pm CST. Time Out Chicago JUGGA-RECAP! A wonderful Roky Erickson interview! PLEASE NOTE: no paintings will be made and no services performed until further notice. Sorry about that.
10.23.09 Oh, never ending life crisis. My output is at a stand still and the only thing I can bare to do anymore is lay in bed and talk on the phone to strangers. Thanks for calling if you called and thanks for talking if I called. Here are things: "BABIES / NO BABIES", old food, RMM fail, Sloth graphic / rap, IHSB. If you need to call, it's here. Do it, I'll tell you some things.
10.21.09 Why? Because we must.
10.13.09 What a wonderful day. I spent most of the morning listening to The Idiot, which is a nice way to spend the morning of a wonderful day. Bradley Banks also loves The Idiot and has gone far out of his way to let people know. TELL ME ABOUT IT / CONDITION OTH. Today's phone list: Steven I., David M., Hannah W.
10.12.09 AR Wedding photos (mostly Culver's): 1 2 3 4 5 6 7 8 9. I'd like to publically apologize to Starlee Kine for throwing up on the phone. At least the cancer is gone! Face The Truth Arkansas on YouTube. I am speaking at Columbia on Tuesday night, come and hear me talk about housepaint and pants and the cigarettes that I've started smoking because black is how I feel on the inside. Erika Bradley is drinking out of cups! VIV ALBERTINE OF THE SLITS AT SCHUBA'S THIS WEDNESDAY. I have an extra +1 if somebody wants to go.
10.08.09 A person from The Better Boys Foundation came over this evening to buy a bunch of paintings, though this isn't news at all. The news is that they are showing Hoop Dreams on October 16th and Steve James, William Gates, Arthur Agee & Frederick Marks will all be there. If you live in Chicago and have that night free you really won't be able to think of a better thing to do. Me & Lindsay Shutt & April Mcardle are starting a t-shirt company next month, so totally look out for it. OH NO TERRIFYING SPIDER. I am going to Arkansas now. I have an art show in San Francisco in February 2010. I'm going to call it, "I'M SCRATCHING MY NAME ON YOUR GRAVESTONE". I always knew a big boat would come and take me away.
10.06.09 NEW CAT ALERT: Viva Kitty Corner / Catty Wampus. George & I were just dying about the wording of this wonderful Amish Heater Stove Mantle Look Alike Heat Saving Replica Device. Thanks to Amy Lombardi for making go to SF, though my camera died while I was still in Chicago, I can report that I did indeed stand 5 feet from Billy Bragg & Nick Lowe with a belly full of snack-sized Butterfingers: 1 2 3 4 5 6. Man, I never-ever read books, but this weekend I finished Heather O'Neill's Lullabies For Little Criminals & found it rather beautifully harrowingly wonderful and sad. I don't review books for a reason, eeks. UPDATE: I agree with Sasha, the love songs are better than the political ones.
10.03.09 Rabbit rabbit, I missed rabbit rabbit. I have $222 in my Sheila Sachs money pouch, I am going to SF for 2 days thanks to Amy Lombardi. MESSAGE TO THE MASSES / FREE PAINTING: "Mind Your Bees" (first to contact gets it in the mail). 4 months ago Patty was selling a candle making kit on Craig's List (har har) & was close to getting duped by a Nigerian Scamster and I still find myself talking to him. Free record give-away program of my current favorites: Opal "Early Recordings", Ivor Cutler "The Velvet Donkey", The Idle Race "The Birthday Party". Baseball player wrap-up: Jose Cardenal, Lenn Sakata, Peter Rose. Master Newberry hipped me to the mean but clever "Little Roach" by Joe Frank. For Starlee: Nixon & Koala, Nixon & Panda. Who is shopping for an upright bass? ME DUMMY. UPDATE: Click here for terror.
09.28.09 When you find yourself in times of trouble, Enterprise Rental will pick you up, with a 10% off discount coupon, Let It Be. Jason Polan absolutely hates this drawing of Arsenio Hall, but it is a work of brilliance. Regardless, I give to him CHET LEMON. Sara-Kaye Larson ran away from home so many times and she kept most of the notes left behind. + The USA according to her, southern cooking. Bonus Baseball Things: Jose Cardenal, Lenn Sakata, Pete Rose, I swear somewhere between this wood lies the truth, but win or lose, what's the difference? OH, L. Whitaker & Nixon for Starlee Kine. UPDATE: Maybe Parting Won't Help by Dom K. DOUBLE UPDATE: "You can enjoy the fact that you have minor celeb status at the Shell Refinery in Deerpark, Texas" - Joey Rodriquez
09.27.09 Reeally, please somebody tell me, why does the road turn? "Because all things are impermanent." - Dom K. UPDATE: Due to the deluge of concerned messages, I still very much like the band Beach House.
09.19.09 Patty called to express her disappointment regarding my negative treatment of Christopher McCandless. She had no opinion on Beach House. I love you, mama. Dom wrote expressing his disappointment that he coudn't forward to the ADVICE MASTERS interview part of the linked radio show. Both of these people look at my website at public libraries, awesome. Tonight I am DJing in small bits at The Fall Tribute Benefit for Lawrence Peters. It's going to be GREAT.
09.18.09 Two days ago I noticed that the band Beach House is coming to town. I'd be happy to see that band live, because I really enjoy their records. I have a friend who knows the band well and I asked her if she could get me on the guestlist for one of their two shows here in Chicago because tickets are $25 but close to $93 after online fees. Her response was: I will trade you a guestlist spot if you bring the band drugs (!). Today I was listening to Beach House and for the first time noticed the lyrics to the song Astronaut on Devotion. They begin: "Come over to my house, I'll pour some tea for us, one sugar or two?" I have decided that I no longer like Beach House, so I'm going to start liking the Rolling Stones again. A lot of people like the story of Christopher McCandless, the privileged 20-something that wandered into the Alaskan wild looking for, um, himself. Well, it turns out that a new journal written by him has been found and he wasn't on a mystical mind adventure at all, he was just a really big fan of the television show Northern Exposure. Upon finding out that Cicely, Alaska didn't really exist, Mccandless noted in his last journal entry, "I am indeed an idiot, I will now die on an old bus in the woods". Yesterday I was on an Internet radio show (!) being interviewed about ADVICE MASTERS. I don't think they understood the complex charm of ADVICE MASTERS, I think they mostly just made fun of me! If I could ask one thing of The Guy In The Sky, it would be that I never be caught in a picture looking at a cellphone. What is wrong with you people? JOAN HILLER APPLE YES.
09.14.09 The world can thank Molly Ferguson for the rebirth of Rap Master Maurice, who came back to life only to find that his #1 champions were taken off of the air. That's weak dog, and he said so! Via Alyssa Morin: YBD. Gross indie-rocker in "relationships": 1. TGFSM!
09.11.09 I would like to extend my thanks to anybody who has supported my recent mountain of life tragedy with a chance to win this free drawing: NAPOLEON HILL'S LUNCHEON IN CHINA. On a scale of 1-10, it's a 4!Other things: confused 9/11 SKLERD FAX CLUB transmission, "after the bread", China VS Mexico, Old Ivan Shishkin VS Stanley Mosk, DEREK ERDMAN #1 ART REVIEW. So awesome.
09.02.09 I spent a lot of the day watching The Color Purple in 20 minute batches. That movie can really make you cry! It's a real tearjerker! NOT A TEARJERKER: Awesome Hawaiian Kyler Tsort writes the #1 email of the day and gets his wish granted FOREVER (link is 90MB music mix from 2003, click AYOR). Some people from Ohio have already begun reviewing LESSER KNOWN ATHLETES OF THE NATIONAL FOOTBALL LEAGUE'S YESTERYEAR & boy are they griping (BEFORE EVEN SEEING THE WHOLE BOOK!): "Jack Youngblood is not lesser known'. In fact he's pretty famous for playing in a Superbowl with a broken leg. Please be sure to correct this error in future additions of your book." - Dom K. Whoops, sorry about that Jack! ACTUAL NOTARY PUBLIC DENISE K ADDS: "Hi Derek! Dick Ambrose is a Cuyahoga County Judge. I remember being surprised at seeing a bio in one of the law magazines at work that he played football. I don't know all that much about football, but I did like the "you make the call" segments from long ago. I tried to find one on the internet, but could not. Do you know of a place where I could find one to watch? Have a super evening!" - Denise Dear Denise, I looked all over for some "You Make The Call" clips and couldn't find any as well, FOR SHAME. But one thing IS for sure: ALCOA CAN'T WAIT FOR TOMORROW. ALCOA CAN'T WAIT. UPDATE: If you like my website and read it often and would like to do something nice for me, please buy me a used copy of The Symbol Sourcebook by Henry Dreyfuss from Amazon. You can find my address here. Tell the seller to include a nice note as well! Don't worry if you think somebody else is going to buy it. You're the one.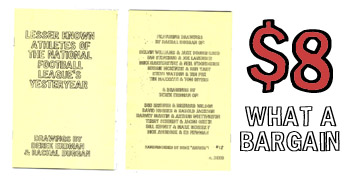 08.31.09 EXCLUSIVE UNLIMITED EDITION BOOKS ANNOUNCEMENT: Rachal Duggan & Derek Erdman Present "Lesser Known Athletes Of The National Football League's Yesteryear" NO JOKE. Here's a good story: In 1991 Rachel Stutzman (née Ruben) & I ditched school (Bedford High & Lakewood High respectively) to go to Coventry & hang out in the nearby graveyard to eat lunch (oh, teens). While we were there Rachel played for me a tape that her two year older and rather hip brother had given to her, Teen Beat's Tube Bar Deluxe. While the main attraction of the CD was a series of prank calls to a Jersey City bar (along with the awesome Screamer & Joe Curran), there was another piece of audio tacked on, a tape of a girl who had submitted an audio resume to an ad she saw in the back of Sassy Magazine advertising to be part of a zine called Teenage Gang Debs (which seems to have been run by an Erin Smith and had a pre-occupation with the Brady Bunch). I'm not really sure of the specifics of why people were submitting what seemed to be a resume to a zine, but the people that received it thought this recording was odd or funny enough to send to everyone near our nation's capitol, ending up in the hand of Mark Robinson. The track on the CD sounds like a dorky teen unsure of herself, at an awkward point in her life when not everything makes exact sense. I had a hankering to hear this recording again, but El Loco Internet turned up nada, EXCEPT FOR THE PERSON THAT MADE THE RECORDING. She included in her list of life accomplishments that it was indeed her voice on the recording of Tube Bar Deluxe and she seemed not at all embarrassed by it. I wrote to her and she gave me a copy of the recording that I had longed to hear, as well as the comfort in knowing that she was an extra well adjusted middle school librarian who still holds dear all of the values of being awkward. So I interviewed her. And she is TOTALLY AWESOME. As usual, there are other things: Steve Panovich Juggalo Dream, Old things from Pilsen (thanks Graham): 1 2 3 4 5 6. Old Julia Child, sweet Padres shirt, the place where the guy kept the person for 18 years, 5 year old box from Calbee, Roctober Preview Advert, proof of Brandon Wagner. OH, SO SAD: 1 2 3 4 5.
08.19.09 OH DAG: exclusive interview with an authentic 'lette. Quandary of the day: Patty out of jail or $2000? WHAT A DILEMMA. In life it turns out that you reap what you sow, WHO KNEW.
08.17.09 As I've probably mentioned 43 times, I was a gigantic Smiths/Morrissey fan as a late teen. So obsessed that I (besides wearing, uh, giant cable knit sweaters) learned every nuance of every song, so if a version with a different lyric was available (Stretch Out & Wait) or a b-side with a longer ending (Will Never Marry) was discovered, I'd be beside myself. Just yesterday I discovered Konstantin Raudive's 1970 flexi-disc "An Amazing Experiment in the Electronic Communication With The Dead" (available from #1 website WFMU blog) contained the sample at the end of Rubber Ring and 16 years later I was still covered in glee. I think I listen to the Smiths more when I am down and lately my brain has been on a bullet train to Bummer Heights. Sometimes when I get depressed I get an inkling to move to another place, this time I fixated on Wilmington, NC. I've only talked to one person who is from near there and she said it was a nice place to go. I needed more information, so at 11:30pm last night I called as many 24-hour businesses in that city that I could find. I only talked to 4 people with varying degrees of success (though I must warn you, these are rather boring telephone calls): "Sheriff's Office" (OUCH), "Buddy's Wreckers" (UH OH), "Kangaroo Express" (EGADS), "Walgreen's" (NOT BAD!). Joanie Hiller-Depper sent me a 4 pack of Fred Meyer Jelly Belly Cotton Candy Pudding. She sent it Parcel Post which is like 1.5x Media Mail for things other than books. The ladies at my post office call it Partial Post, unfortunately I fear not by accident. It seems that when you mail things this way, it can take up to 542 weeks to arrive and it's usually crushed to pieces. As the case with Joan Hiller-Depper's Fred Meyer Jelly Belly Cotton Candy Pudding. It came smashed and oozing pink goo that promptly made 1/3 of my house smell like Ciales Poultry at 2141 W. Armitage here in Chicago. Other things: Terry Crowley, John Shelby, Juan Samuel & the unfinished "Helen At The Greek Beach". Oh man, it's going to rain something fierce! UPDATE: Judson Claiborne's Song For Dreaming - totally awesome. DOUBLE UPDATE: If you didn't read all of the comments at the bottom of the WFMU blog post, sit yourself down and do it. Seriously, make a turkey sandwich, get a Coke and let "kyu sun ariolahe" take you for a mind ride.
08.10.09 EXCLUSIVE JUGGALO GATHERING PHOTOS & VIDEO. I did not stage these things, they are real.

URGENT PUBLIC NOTICE: Whoa, the Insound exclusive prints are in (click to look & buy):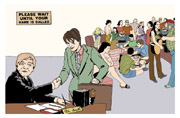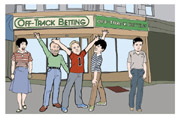 Visit the other 8 parts of Entry Archive here. (it's really, really, really long. You'd be a fool to miss it.)